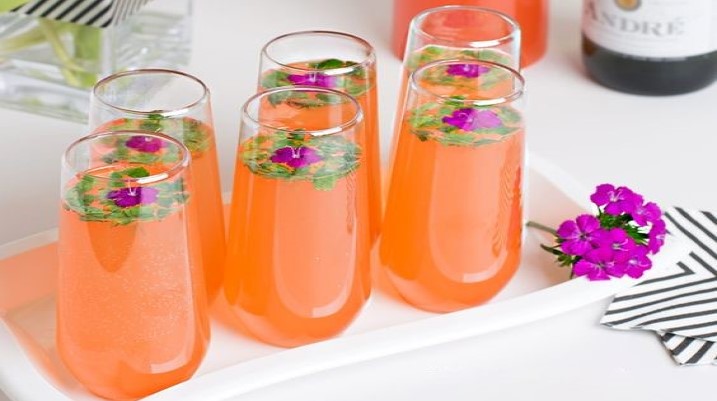 Taste of Sunshine: Grapefruit Mimosa Recipe for Lively Party Moments
When hosting a lively and memorable party, few things can rival a perfectly crafted cocktail's charm and refreshing nature. The clinking of glasses, the laughter, and the vibrant flavors dancing on your taste buds—these are the moments that make celebrations truly come alive. And what better way to infuse a touch of sunshine into your party than with the delightful Grapefruit Mint Mimosa? 
The Ultimate Grapefruit Mint Mimosa Recipe
In this blog post, we invite you to embark on a journey of taste as we explore the tantalizing blend of grapefruit and mint and share a recipe that will elevate your party moments to new heights. Get ready to sip on the taste of sunshine with our Grapefruit Mint Mimosa recipe!
Exploring the Grapefruit Mint Mimosa
Mimosas are a classic brunch cocktail with sparkling wine and fresh orange juice. They originated in Paris in the 1920s and are named after the mimosa flower, symbolizing celebration and joy. We aim to elevate this traditional drink with an exciting twist.
Unique Twist with Grapefruit and Mint Flavors
Try the Grapefruit Mint Mimosa for a refreshing twist on the classic. Tangy grapefruit juice and invigorating mint leaves complement the effervescence of sparkling wine. Each sip is a burst of sunshine, with a perfect balance of sweet and tart.
Reasons Why This Cocktail Is Perfect for Parties
Why choose the Grapefruit Mint Mimosa for your next party? Let us give you a few compelling reasons. Its vibrant presentation instantly sets the celebratory mood, with vivid grapefruit hues and aromatic mint garnish that add elegance to any gathering.
Moreover, the Grapefruit Mint Mimosa is incredibly versatile, perfect for brunch, bridal showers, or casual get-togethers. It seamlessly adapts to any theme or ambiance, creating a lively and cheerful atmosphere that captivates your guests.
Furthermore, the recipe's simplicity allows for easy preparation, giving you more time to enjoy your guests' company. With just a few ingredients and simple steps, you can impress your loved ones with this unique and delightful libation.
Recipe for the Grapefruit Mint Mimosa
Ingredients Required
1 bottle of chilled sparkling wine (preferably dry or semi-dry)

2 cups of freshly squeezed grapefruit juice

1/4 cup of fresh mint leaves, plus extra for garnish

1 tablespoon of granulated sugar (optional for added sweetness)

Ice cubes (optional for serving on the side)
Step-by-step Instructions for Preparation
Gently crush the fresh mint leaves to release their fragrant oils in a blender or using a muddler. Be careful not to over-muddle, as this can result in a bitter taste.

Combine the freshly squeezed grapefruit juice with the crushed mint leaves in a pitcher or a large mixing bowl. Add a tablespoon of granulated sugar and stir well to dissolve. This step is optional and can be adjusted based on your preference for sweetness.

Place the pitcher or bowl in the refrigerator for about 15 minutes to allow the flavors to meld together.

When you're ready to serve, take out the pitcher or bowl from the refrigerator and stir the mixture quickly.

Fill each stemless champagne flute halfway with the chilled sparkling wine.

Slowly pour the grapefruit and mint mixture into each flute, filling the glass almost to the top. The sparkling wine will create a beautiful effervescence as it combines with vibrant grapefruit juice.

Garnish each flute with a fresh mint sprig for an extra aroma and visual appeal.
Tips for Adjusting the Recipe to Personal Preferences
Adjust the sweetness: 

Add sugar for a sweet cocktail, or skip for tart and tangy. Mix grapefruit and mint.

Play with the ratios:

 Adjust the ratio of sparkling wine to grapefruit juice to your liking. Add more juice for a stronger citrus flavor, or increase the wine for a lighter, fizzier taste.

Experiment with sparkling wines:

 Try out different types of sparkling wine, like prosecco or cava, for mimosas. Each type has unique features, so experiment to find your favorite blend.

Add ice cubes for extra chill: 

Serve mimosa with ice cubes on the side for guests to control dilution and temperature.
Enhancing the Presentation
The Role of Stemless Champagne Flutes in Serving the Grapefruit Mint Mimosa
When serving the Grapefruit Mint Mimosa, the choice of glassware is essential for presentation. Stemless plastic champagne flutes are an excellent option for several reasons. Their elegant design adds sophistication to your party, while their stemless feature offers convenience and reduces the risk of spills and breakage. Additionally, stemless flutes beautifully showcase the vibrant colors of the Grapefruit Mint Mimosa, enhancing its visual appeal.
Advantages of Using Plastic Serving Trays for Convenience and Aesthetics
Use plastic serving trays to display your Grapefruit Mint Mimosas for a stylish and practical presentation. Lightweight and easy to handle, these trays make serving your guests effortless. With various shapes, sizes, and designs available, you can find the perfect tray to match your party theme or color scheme. Whether you prefer a sleek and modern design or something more whimsical, plastic serving trays balance convenience and aesthetics, enhancing your party moments.
The Practicality of Disposable Cocktail Napkins for Easy Clean-up
Disposable cocktail napkins are essential for a hassle-free party experience. They catch spills, protect surfaces, and provide a hygienic option for guests enjoying the Grapefruit Mint Mimosa. With no laundry to worry about, you can focus on the festivities. Choose napkins matching your party theme, or choose vibrant colors reflecting the cocktail's liveliness. Thanks to disposable cocktail napkins, enjoy the party moments without the post-party cleanup stress.
Other Serving Suggestions
Variations of the Grapefruit Mint Mimosa recipe
Tropical Twist:

 Try a tropical twist on the Grapefruit Mint Mimosa using a fruit-flavored soda like pineapple or mango instead of sparkling wine. Add a slice of fresh pineapple or a sprig of basil for a touch of exotic flavor.

Berry Bliss: 

Try swapping grapefruit juice with a mix of strawberries, raspberries, and blueberries. Muddle with mint leaves for a tasty and colorful drink.

Spicy Infusion: 

If you like your food to be spicy, you can spice up your grapefruit and mint mix by adding a pinch of chili powder or a slice of jalapeño. Adding a spicy twist to the flavor will give your taste buds a memorable experience.
Pairing the Cocktail with Complimentary Appetizers or Brunch Dishes
Citrus-infused Salad: 

Pair a citrus fruit salad with a Grapefruit Mint Mimosa for a refreshing and zesty combination.

Smoked Salmon Crostini: 

Toast bite-sized crostini with cream cheese, smoked salmon, and a sprinkle of dill. The richness of the salmon pairs beautifully with the vibrant flavors of the cocktail.

Brunch Quiches: 

Make mini quiches with spinach, feta, or roasted veggies. Pair with Grapefruit Mint Mimosas for a perfect balance of flavors.
Mocktail Version for Non-alcoholic Alternatives
Make a mocktail version of the Grapefruit Mint Mimosa so everyone can enjoy it, regardless of whether they drink alcohol. Here's a quick recipe.
Ingredients:
2 cups of grapefruit juice

1/4 cup of fresh mint leaves

1 tablespoon of granulated sugar (optional)

Chilled soda water or sparkling water
Instructions:
Combine the grapefruit juice and fresh mint leaves in a pitcher or mixing bowl. If desired, add a tablespoon of sugar and stir until dissolved.

Allow the mixture to infuse in the refrigerator for about 15 minutes.

When ready to serve, strain the grapefruit and mint mixture into ice-filled glasses.

Top each glass with chilled soda water or sparkling water.

Garnish with a mint sprig or a grapefruit slice for a lovely presentation.
The Grapefruit Mint Mimosa is more than just a cocktail; it's a taste of sunshine that brings joy and liveliness to your party moments. So, gather your friends and loved ones, raise your glasses, and let the refreshing flavors and vibrant colors of the Grapefruit Mint Mimosa create unforgettable memories. 
Cheers to lively celebrations and the taste of sunshine!