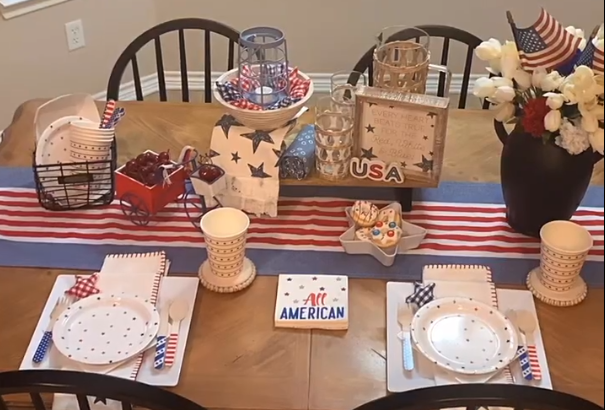 Fire Up Your Table: Red, White, and Blue 4th of July Table Decor Ideas
Elevate your 4th of July celebration with a patriotic table setting that captures the spirit of the occasion. From vibrant reds to crisp whites and brilliant blues, transform your table into a patriotic masterpiece as fireworks light up the sky and excitement fills the air.
Setting the Stage: Stunning Red, White, and Blue 4th of July Table Decor Ideas
In this blog post, we bring you a curated collection of inspiring ideas to help you "fire up" your table and create a memorable 4th of July dining experience. Whether you're hosting a backyard barbecue, a picnic in the park, or an indoor celebration, we have the perfect decor suggestions to make your table shine with patriotic pride.
So, prepare to ignite your creativity and celebrate Independence Day in style. Let's dive into the world of breathtaking table decor ideas that will make your 4th of July gathering a truly unforgettable experience. 
Patriotic Disposable Tableware
When hosting a 4th of July celebration, convenience and ease are essential. That's where patriotic disposable tableware comes in, providing both practicality and a vibrant touch to your table decor. Let's explore some fantastic options that will elevate your table setting.
Patriotic Disposable Napkins: The unsung heroes of any gathering, disposable napkins in red, white, and blue add a pop of color while offering convenience. These patriotic napkins save you from laundry hassle and showcase your patriotic spirit. There's a wide variety of options, from classic solid colors to designs featuring stars or American flag motifs. Place them neatly on each plate, or get creative with folding napkin techniques to impress your guests.
Plastic Plates with Red, White, and Blue Stars: Make a bold statement with plastic plates adorned with red, white, and blue stars. These eye-catching plates add a festive touch to your table and eliminate worries about breakage or cleanup. Whether serving burgers, hot dogs, or a delicious barbecue feast, these star-spangled plates will enhance the patriotic ambiance and make your food presentation even more appealing.
Birchwood Flatware: For those who seek an eco-friendly alternative to traditional cutlery, birchwood flatware is an excellent choice. These sustainable utensils add a rustic touch to your table decor while aligning with the natural hues of red, white, and blue. Birchwood flatware is lightweight, durable, and compostable, making it a mindful option that aligns with your patriotic values and reduces environmental impact.
Plastic Serving ware: Complete your patriotic table setting with plastic serving ware designed with patriotic motifs. From serving platters adorned with stars and stripes to bowls featuring the colors of the American flag, these pieces add a cohesive and festive element to your spread. They are functional and are eye-catching decorative accents that tie the theme together.
Patriotic Accents and Decorations
Flags: Add a patriotic touch to your table decor with miniature American flags in jars or vases. Use larger flags as table runners for a bold statement. Raise a full-sized flag outside your home to complete the patriotic atmosphere.
Red, White, and Blue Table Runner: Choose a red, white, and blue table runner to tie your table decor together. Whether striped, star-patterned, or a mix of both, the runner adds a patriotic touch and sets the stage for your festive spread.
Vibrant Flowers: Add the natural beauty and color to your table with vibrant patriotic flowers. Choose red roses, white daisies, and blue delphiniums. Arrange them in jars or vases as a captivating centerpiece, or scatter individual stems for a casual look. The floral arrangement adds elegance and freshness to your display.
Additional Patriotic Decorations: Enhance the ambiance with more patriotic decorations. Hang red, white, and blue bunting, or create a festive backdrop. Use clusters of patriotic balloons or scatter confetti on the tablecloth. These small details create a joyful and patriotic atmosphere.
Patriotic Figurines: Add whimsy to your table decor with patriotic figurines like the Statue of Liberty, Liberty Bell, or Uncle Sam. Use them as centerpieces or scatter them around the table. Enhance the theme with mini fireworks or a red, white, and blue candle arrangement.
DIY Touches and Personalization
DIY Patriotic Napkin Rings and Utensil Holders: Get creative with DIY patriotic napkin rings and utensil holders. Use red, white, and blue ribbon, twine, or fabric to make charming accents. Add small patriotic embellishments like stars, flags, or themed buttons for a festive touch.
Customized Disposable Tableware: Add a personal touch to your disposable tableware by customizing them with festive stickers, ribbons, or decals. Use adhesive paper or vinyl stickers in patriotic designs to decorate plastic cups, plates, or utensils. Tie red, white, and blue ribbons around the cups or cutlery sets to elevate their appearance. 
Personalized Place Cards: Add a personal touch with DIY personalized place cards. Use red, white, and blue cardstock to create the base. Incorporate patriotic elements like stars, stripes, or mini flags. Write or print guest names and place them on plates or attach them to patriotic holders or mini flags.
DIY Crafts for Charming Ambiance: Create a charming ambiance with DIY crafts that bring whimsy and glow to your table. Paint mason jars in red, white, and blue, or wrap them in patriotic fabric or ribbon. Place LED candles or fairy lights inside for a warm glow. Paint glass votive holders with patriotic colors for a delightful shimmer.
Food Presentation Ideas
Incorporating Red, White, and Blue: For a patriotic food presentation, include red, white, and blue elements. Use strawberries, raspberries, and blueberries to make vibrant fruit trays or skewers. Arrange them in flag-inspired patterns or alternate colors. Use red and blue edible flowers or herbs to garnish salads and dishes.
Patriotic Desserts: Impress guests with visually stunning and delicious patriotic desserts. Make a flag-themed cake with red and blue layers and white frosting, or decorate a white cake with a fresh berry flag design. Create fruit skewers with strawberries, marshmallows, and blueberries for a lighter option. These desserts will steal the show on your table.
Vibrant Red, White, and Blue Drinks: Serve vibrant red, white, and blue drinks to quench your guests' thirst and complement the decor. Tint lemonades, mocktails, or clear sodas with food coloring. Serve in clear glasses, and garnish with small flags or festive stirrers for added flair.
Appetizer and Snack Arrangements: Get creative with appetizers and snacks, arranging them in patriotic patterns. Create a cheese platter with red and blue berries around white cheese cubes. Arrange tortilla chips, salsa, and white dip in the shape of the American flag. Impress guests with these playful and thoughtful arrangements.
Frequently Asked Questions (FAQ)
1. How can I make the table decor child-friendly and safe? 
Choose BPA-free plastic plates, cups, and utensils that are durable and child-friendly. You can find various options at Smarty Had A Party online store. Also, Avoid sharp or fragile decorations. Opt for soft fabric accents or kid-friendly patriotic-themed items instead of sharp or fragile decor. This way, you can minimize the risk of accidents.
2. Do any specific color schemes or themes work well with red, white, and blue table decor? 
Red, white, and blue work well with patriotic or nautical themes. You can also incorporate rustic elements or go for a classic Americana look.
3. How can I incorporate 4th of July-themed desserts into the table decor? 
Display 4th of July-themed desserts as focal points on the table. Use flag-themed cakes, cupcakes, or fruit skewers with red, white, and blue fruits. Decorate desserts with mini American flags for added patriotic flair.
4. How can I incorporate lighting into my 4th of July table decor? 
Add ambiance with string lights, lanterns, or mason jar luminaries. Use patriotic colors or opt for warm white lights. Place them as centerpieces or hang them above the table for a festive glow.
May your 4th of July celebration be filled with joy, laughter, and a sense of unity as we unite to honor the land of the free and the home of the brave. Happy Independence Day!