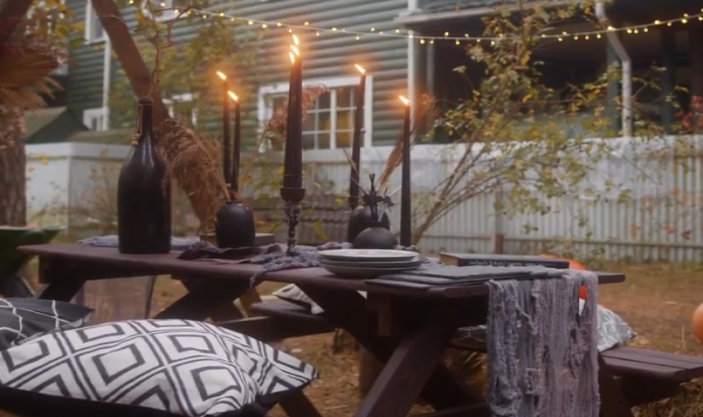 Spooky Soiree: Outdoor Halloween Party Tips for a Hauntingly Good Time
Welcome to the realm of Spooky Soiree, where enchantment meets the eerie—a guide to curating the perfect outdoor Halloween party that promises a hauntingly good time. As the crisp autumn air descends and leaves rustle with secrets, it's time to transform your outdoor space into a spectral sanctuary for a celebration.
Moonlit Magic: Creating an Atmosphere for Your Outdoor Halloween Extravaganza
In this blog post, we delve into the art of creating an atmosphere that bewitches your guests. Get ready to conjure up a night of magic, mystery, and memories. Welcome to the Spooky Soiree—a guide to outdoor Halloween party tips for a hauntingly good time.
Atmosphere Essentials
The heartbeat of any memorable outdoor Halloween party is its atmosphere—a careful blend of mystique and charm that lingers in the air long after the night has waned. To achieve this otherworldly ambiance, focus on the essentials that enchant your guests and set the stage for a hauntingly good time.
Fairy Lights: Illuminating the Night with a Magical Glow
Step into the enchanting world of Moonlit Magic by adorning your outdoor space with the soft, ethereal glow of fairy lights. Drape them over trees, weave them through shrubbery, and let them dance along fences. The subtle, twinkling illumination will not only guide your guests through the night but also infuse an air of magic into the surroundings, casting a spell that transports everyone to a realm of Halloween wonder.
Pumpkins: Carving Out Jack-o'-Lantern Brilliance
No Halloween celebration is complete without the iconic presence of Jack-o'-Lanterns. Embrace the art of pumpkin carving to bring forth whimsical and spooky faces that peer out from the shadows. Strategically place these creations along pathways or atop wooden surfaces, allowing the flickering candlelight within to weave a tapestry of brilliance and shadows, adding an extra layer of mystery to your outdoor Halloween haven.
Black Candles and Candle Holders: Casting Spooky Shadows
Elevate the eeriness of your Moonlit Magic setting with the subtle flicker of black candles ensconced in ornate holders. Choose varying heights and styles to create a dynamic interplay of light and shadow. The resulting effect will be hauntingly beautiful, casting an enchanting spell that transports your outdoor space into a realm where the line between reality and the supernatural blurs.
Black Halloween Table Decor: Adding Elegance to the Macabre
Extend the atmosphere to your dining area with black Halloween table decor. From gothic centerpieces to eerie place settings, embrace the macabre elegance that black decor can bring. The contrast against the rustic backdrop of wooden tables will create a visual feast that captivates the eye and adds a touch of sophistication to your outdoor Halloween gathering.
Wooden Tables and Torn Table Runners: Rustic Charm Meets Haunted Elegance
Create a rustic yet elegant tablescape by opting for wooden tables adorned with torn table runners. The juxtaposition of rugged textures and elegant accents complements the overall theme of Moonlit Magic. Consider incorporating weathered wood for an extra touch of authenticity, transporting your guests to a mysterious outdoor realm where the spirits of Halloween come to life.
Place Settings with Smarty Had A Party
Now that we've woven the enchanting tapestry of Moonlit Magic throughout your outdoor space let's turn our attention to the heart of any Halloween gathering—the dining table. Elevate your outdoor feast with the convenience and elegance of Smarty Had A Party's disposable party supplies, ensuring that your guests indulge in a seamless blend of spookiness and sophistication.
Smarty Had A Party's Disposable Dinnerware Sets
Step into the world of hassle-free elegance with Smarty Had A Party's exquisite disposable dinnerware sets. These collections are designed to transcend the boundaries of traditional disposable tableware, offering a range of stylish options that effortlessly complement the Moonlit Magic theme.
Gone are the days of compromising style for convenience. Smarty Had A Party's sets include everything you need for a complete table setting, from plates and cups to napkins and more. Embrace the freedom to focus on creating memorable moments while leaving the worry of cleanup behind.
Plastic Silverware: The Elegant Touch for Effortless Dining
Add a touch of refinement to your outdoor Halloween feast with Smarty's plastic silverware. Crafted with precision to mimic the appearance of real silver, these utensils bring an air of sophistication to your table without the need for post-party polishing. Your guests will appreciate the seamless transition from eerie outdoor ambiance to a dining experience that balances style with convenience.
Whether they're slicing through sinister slices of cake or indulging in other Halloween treats, your guests will savor the sophistication of quality plastic silverware that complements the overall aesthetic of Moonlit Magic.
Fancy Plastic Drinkware: Sipping in Style under the Moonlit Sky
Raise a toast to a night filled with magic and mystery with fancy plastic drinkware. These elegant vessels add a touch of glamour to every sip, ensuring that your outdoor Halloween party maintains its enchanting allure from the first cocktail to the last hauntingly delicious brew.
Choose from a variety of styles, from classic tumblers to stemmed glasses, all designed to enhance the drinking experience without sacrificing the convenience of disposable tableware. Let your guests revel in the sophistication of their surroundings as they sip their favorite potions under the mesmerizing glow of the moonlit sky.
Entertaining Enchantment: Outdoor Halloween Party Games
As the moon rises and casts its ethereal glow on your Moonlit Magic outdoor Halloween party, keep the enchantment alive with a selection of thrilling and chilling games to captivate your guests.
Classic Games with a Spooky Twist
Add a spooky twist to classic favorites for a hauntingly delightful atmosphere. Try a Halloween scavenger hunt in your moonlit garden or turn bobbing for apples into a "Ghostly Grasp," where guests use only their mouths to retrieve apples with ghostly faces. Put a Halloween spin on ring toss or bean bag toss by using pumpkin or witch hat targets, making familiar games exciting under the bewitching moonlight.
DIY Halloween Game Ideas to Keep Guests Engaged
Personalize your outdoor Halloween party with creative DIY games that demonstrate your commitment to a memorable evening. Make a "Witch's Hat Ring Toss" using pointed hats and glow-in-the-dark rings for added mystique. Try a fun "Mummy Wrap" station where guests compete to create the spookiest mummy using toilet paper. Set up a "Spider Web Walking" challenge with glow-in-the-dark yarn between trees, challenging guests to navigate through tangled webs blindfolded. The endless DIY possibilities allow you to tailor the games to your unique Moonlit Magic theme.
Incorporating Moonlit Magic into Your Outdoor Game Setup
Enhance the ambiance by strategically placing fairy lights around the game area, casting a gentle glow on the participants. Utilize carved pumpkins as markers or path lights, guiding players through the hauntingly beautiful landscape of your outdoor space.
Consider using black candles and candle holders to mark game stations, creating an atmosphere of spooky elegance. The flickering candlelight will add an extra layer of enchantment to the outdoor games, making them as visually captivating as they are entertaining.
Frequently Asked Questions (FAQ)
1. What are some budget-friendly options for outdoor Halloween decorations?
Creating a spellbinding outdoor ambiance doesn't have to break the bank. Consider repurposing everyday items into eerie decorations, such as old sheets transformed into ghostly figures or mason jars filled with battery-operated tea lights for an affordable yet enchanting glow. Thrift stores and dollar stores can also be treasure troves for budget-friendly decor items that add a touch of magic to your outdoor space.
2. Can I mix other colors with black for a more vibrant outdoor setup?
Absolutely! While black sets a mysterious tone, mixing in other colors can add vibrancy and dimension to your outdoor Halloween setup. Consider incorporating deep purples, blood reds, and eerie greens to complement the darkness. This eclectic blend can enhance the visual appeal of your decorations and contribute to a more dynamic and visually captivating atmosphere.
3. How can I create a spooky yet inviting atmosphere?
Achieving the perfect balance between spooky and inviting is an art form. Utilize warm lighting, such as the soft glow of fairy lights or the flicker of candles, to create an inviting ambiance amidst the eerie darkness. Incorporate familiar elements like pumpkins and friendly scarecrows to add a touch of whimsy. Striking this balance ensures that your guests feel both thrilled and welcomed in your haunting outdoor haven.
4. Why choose Smarty Had A Party's disposable party tableware for outdoor events?
Smarty Had A Party's disposable tableware sets are designed with both elegance and convenience in mind. Perfect for outdoor events like your Halloween party, these sets eliminate the need for post-party cleanup while providing a sophisticated touch to your table settings. Durable and stylish, Smarty Had A Party's products allow you to focus on hosting an enchanting evening without worrying about the aftermath. Explore Smarty's range of options to discover how easy it is to elevate your outdoor dining experience.
May your future gatherings be as magical as the moonlit night that embraced your Spooky Soiree. Until next Halloween, when the spirits rise again, continue to celebrate the magic that lies in the simplicity of shared moments and the enchantment of a well-crafted celebration. Happy haunting!