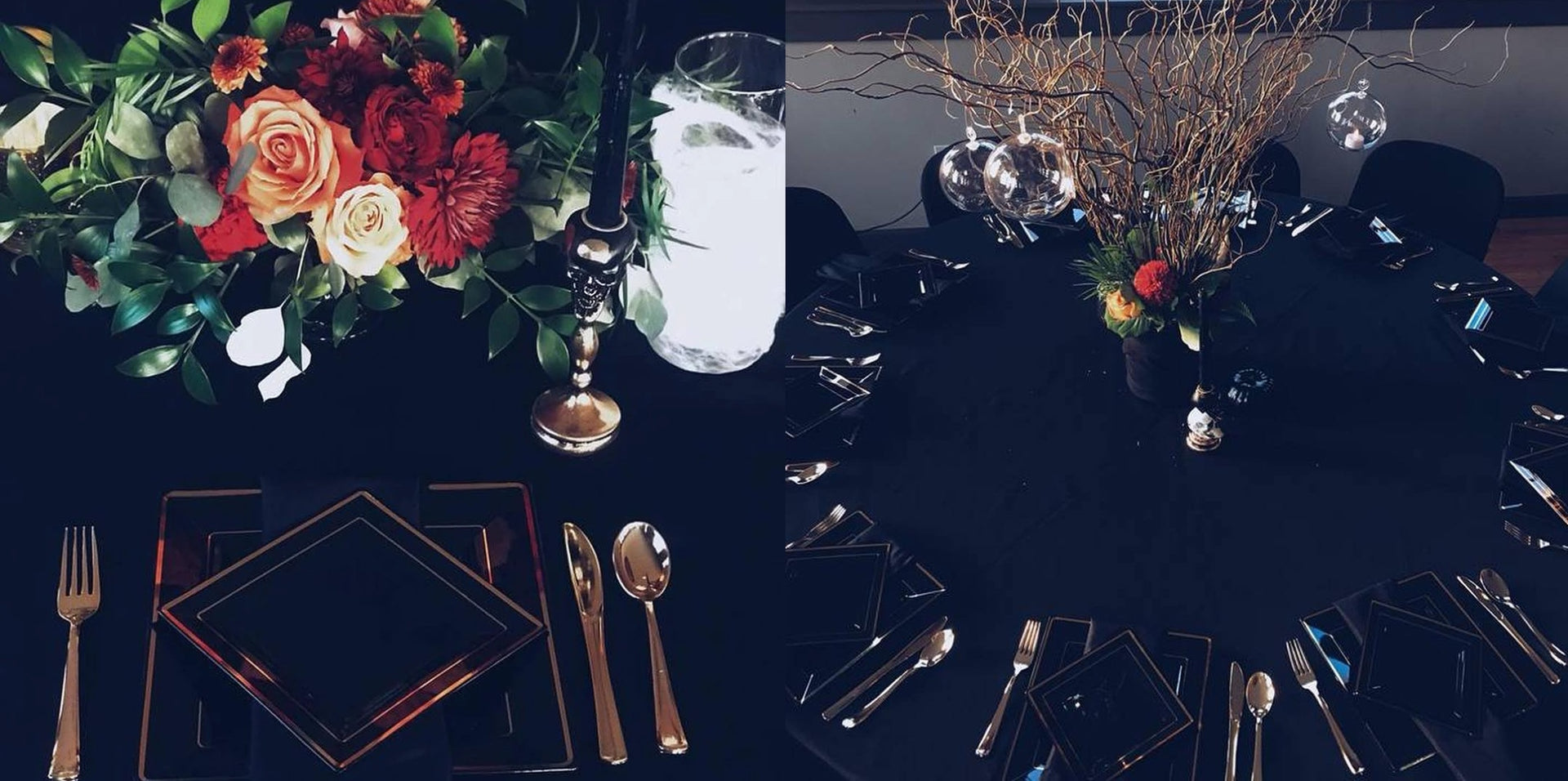 Gothic Glam: A Stylish Halloween Table Setting for the Modern Host
As the leaves fall and the air takes on a crisp edge, the season of spookiness is upon us. Halloween, a celebration of all things eerie and mysterious, provides the perfect opportunity to showcase your creativity in setting a table that is not only hauntingly beautiful but also exudes modern elegance. In this blog post, we will guide you to curate a stylish Halloween table setting for the contemporary host with a taste for the extraordinary.
Enchantingly Elegant: Fashion-Forward Halloween Table Setting Ideas
Join us on a journey through the shadows as we explore the key elements that make up this Gothic Glam Halloween table setting. Embrace the darkness of modern hosts, and let's conjure up a Halloween celebration that is both haunting and high fashion.
Enchanting Elements
Gothic Glam Halloween Centerpieces
For a sophisticated yet eerie Halloween table, opt for a centerpiece featuring twisted branches reminiscent of moonlit forests. Enhance the look with rich burgundy, deep purple, and midnight blue flowers, allowing them to cascade over the table. Add moss or dark fabric at the base and include LED lights for a touch of adventure. Achieve a perfect balance in arranging branches and flowers for a natural yet haunting atmosphere. Place the ensemble on a dark tablecloth to elevate the ambiance and highlight subtle details that tell the story of your hauntingly elegant soirée.
Gothic Glam Spooky Illumination
As darkness envelops your Halloween table, set an enchanting tone with candlesticks featuring skeleton heads and black candles. Opt for designs like skeletal hands or skulls to create captivating shadows when illuminated. Vary the heights and sizes for depth, strategically arranging them for balance. Candlelight is essential, casting enchanting shadows on branches, flowers, and tableware, transforming your gathering into an extraordinary and mysterious event.
Mysterious Table Coverings
Black Plastic Tablecloths for Gothic Glam
The canvas upon which your Gothic Glam masterpiece unfolds is the mysterious expanse of black plastic tablecloths. While the idea of plastic might seem unconventional, this choice not only aligns with the modern host's practicality but also offers a perfect backdrop for the dramatic elements of your Halloween table setting.
Advantages of Using Black as the Base Color
Black is inherently mystique, associated with the night sky, mystery, and elegance. Using black tablecloths creates a dramatic foundation that highlights other elements. It also masks imperfections and spills, ensuring a flawless setting. A practical and stylish choice.
Tips for Achieving an Elegant Look with Plastic Tablecloths
Texture Matters:

 Choose subtly textured plastic with damask patterns or matte finishes for sophistication.

Layering Magic:

 Combine different shades of black or introduce a secondary dark color for visual depth.

Tablecloth Draping:

 Opt for longer lengths that cascade gracefully, adding luxury and concealing table legs.

Accessorize the Edges:

 Embellish with lace, ribbon, or faux cobwebs for a mysterious Gothic charm.
Haute Cuisine in Black
Fancy Plastic Black Dinnerware Sets
As we unravel the layers of Gothic Glam for your Halloween table, let's delve into haute cuisine in black. Elevate your dining experience with fancy plastic black dinnerware sets that blend sophistication with the macabre. 
Selecting Stylish Yet Practical Dinnerware
The term "fancy plastic" might seem like an oxymoron, but it's a game-changer in modern hosting. When selecting your dinnerware, opt for sets that mimic the elegance of fine china while retaining the convenience of disposable use. The beauty of fancy plastic black dinnerware lies in its aesthetic appeal and practicality, allowing you to focus on the festivities rather than post-celebration cleanup. Consider plates with intricate designs or subtle textures that add a tactile dimension to the table. The weight and feel of the dinnerware should mirror the sophistication of a formal dining experience, ensuring that each bite is accompanied by a touch of luxury.
Enhancing the Visual Appeal of the Table Setting
Layered Sophistication:

 Embrace the art of layering by incorporating different plate sizes. Begin with larger dinner plates as the base, followed by smaller salad plates or bowls. This adds depth to the table and creates a sense of abundance.

Contrasting Elements:

 Introduce elements that contrast with the black dinnerware to prevent the table from feeling monotonous. White or gold accents like napkins or chargers can create a striking visual impact.

Strategic Placement:

 Consider the placement of each piece concerning the centerpiece and other table accents. Ensure that the dinnerware complements rather than competes with the surrounding elements.

Playful Elegance:

 Be bold and incorporate playful elements into your table setting. Consider skeleton-shaped dessert plates or subtly eerie motifs that add a touch of whimsy without compromising sophistication.
Disposable Opulence
Disposable Gold Silverware
In pursuing Gothic Glam, every detail counts, down to the utensils your guests will use. Embrace the paradox of disposable opulence with gold plastic silverware that marries convenience with an unmistakable touch of luxury. These disposable treasures elevate your Halloween table setting and simplify the post-celebration cleanup.
Benefits of Disposable Silverware
Effortless Cleanup:

 Bid farewell to the arduous task of washing dishes late into the night. Disposable silverware allows you to savor the haunting memories of your Gothic Glam gathering without dreading a mountain of dirty dishes.

Consistent Aesthetics:

 Matching sets ensure a cohesive and polished look for your table setting. With disposable silverware, you can achieve a level of uniformity that may be challenging with traditional, mixed-and-matched cutlery.
Incorporating Gold Accents for a Touch of Luxury
The allure of gold extends beyond jewelry and decor; it can make a powerful statement in your choice of disposable silverware. Look for gold-toned forks, knives, and spoons to bring an extra layer of opulence to your Gothic Glam Halloween table.
Consider strategically placing the gold silverware at each table or neatly bundling it in stylish containers. The interplay between the dark Gothic elements and the gleam of gold creates a harmonious contrast that enhances the overall visual appeal.
Napkin Elegance
Disposable Linen Napkins
The elegance of a Gothic Glam Halloween table extends to the details, and nothing exemplifies this more than the choice of napkins. Opt for disposable linen napkins that seamlessly combine practicality with sophistication. These soft and luxurious napkins add a tactile dimension to your table setting while simplifying cleanup.
Advantages of Disposable Linen Napkins
Luxurious Texture:

 Disposable linen napkins offer the rich texture associated with traditional linen without worrying about stains or damage. Your guests will appreciate the touch of luxury beneath their fingertips.

Convenience Redefined:

 The disposable aspect ensures that your focus remains on enjoying the festivities rather than dealing with laundry piles. Tossing away used napkins becomes a hassle-free conclusion to a stylish evening.

Customization Options:

 Disposable linen napkins often come in various colors and patterns. Choose a shade that complements the overall color scheme or introduces a subtle contrast to elevate the visual appeal of your table setting.
Eerie Drinkware
Cups Wrapped in a Spider's Web
As the moon rises and your Gothic Glam Halloween table takes shape, it's time to turn your attention to the vessels that will hold the elixirs of the evening. Elevate your plastic drinkware beyond the ordinary with cups wrapped in a spider's web—an eerie touch that seamlessly integrates the spirit of Halloween into every sip.
DIY Tips for Spiderweb Cup Decor
Materials Needed:
Clear plastic cups

Black yarn or string

Craft glue

Plastic spiders or spider stickers

Scissors
Spiderweb Wrapping:
Start at the top of the cup and affix one end of the black yarn with a small amount of craft glue.

Carefully wind the yarn around the cup, creating a spiral pattern as you work your way down.

Secure the other end with glue, ensuring a tight and neat finish.
Spider Embellishments:
Add plastic spiders strategically onto the web using craft glue. Place them at various points to create a realistic, creepy-crawly effect.

Consider incorporating spider stickers or decals directly onto the cup for added drama.
Frequently Asked Questions
1. Where can I find fashionable party tableware?
You can discover a trove of fashionable party tableware at the Smarty Had A Party online store. From elegant disposable dinnerware to stylish accents, they offer a curated selection to elevate your Halloween table setting.
2. How can I make my Halloween table setting stand out?
Personalization is the key to making your Halloween table truly memorable. Consider incorporating unique touches such as custom name cards, themed place settings, or handcrafted centerpieces. Let your creativity shine, and your table setting will undoubtedly stand out.
3. Are disposable dinnerware sets stylish?
Absolutely! The world of disposable dinnerware has evolved, offering a range of stylish options that marry convenience with elegance. Explore designs, textures, and colors to find disposable dinnerware sets that complement your Gothic Glam theme and add a touch of sophistication to your table.
4. Can an elegant Halloween table setting be created on a budget?
Absolutely! Crafting a glamorous Halloween table setting doesn't have to break the bank. Explore thrift stores and discount retailers for affordable yet stylish decorations. DIY projects, like hand-painted pumpkins or homemade table runners, can also add a personalized and budget-friendly touch to your Gothic Glam setting.
Until next Halloween, when the leaves fall again, may your celebrations be as enchanting as the Gothic Glam you've woven into your home. Happy haunting!