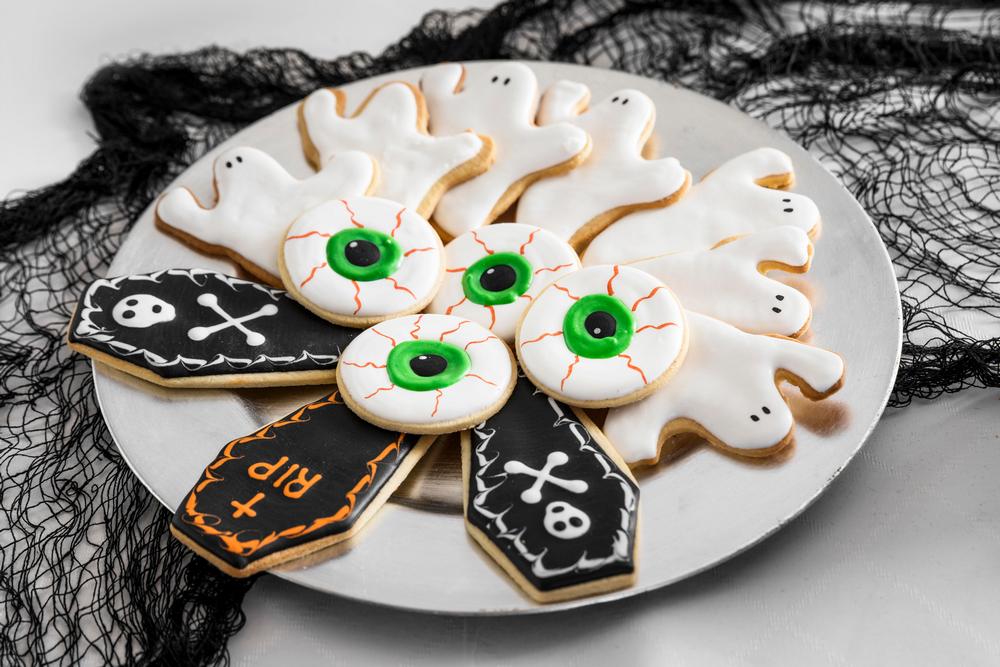 Spooktacular Sweets: Irresistible Halloween Cookie Recipes
Welcome to a world where sugar and spice take a spine-chilling twist! As the air turns crisp and the leaves rustle with secrets, it's time to dive headfirst into the enchanting realm of irresistible Halloween cookie recipes. Prepare to be spellbound by the aroma of cinnamon, the crackle of ghostly meringues, and the rich, velvety darkness of chocolate graveyard brownies.
Monstrously Delicious: Elevate Your Halloween Cookie Game
Halloween isn't just a holiday—it's a celebration of creativity, a canvas for concocting treats that delight and spook in equal measure. In this delectable journey, we'll guide you through the art of crafting monstrously delicious cookies that tantalize taste buds and transform your kitchen into a cauldron of culinary magic.
Whether you're a seasoned baker or a kitchen novice, our curated collection of Halloween cookie recipes promises an adventure for every level of expertise. So, roll up your sleeves, don your favorite witch's hat, and join us on this thrilling journey. Welcome to "Spooktacular Sweets," where the only thing scarier than the ghosts is how quickly these irresistible cookies will disappear!
Monstrous Cookie Creations
Classic Pumpkin Spice Delights
Ingredients:
2 cups all-purpose flour

1 teaspoon baking powder

1/2 teaspoon baking soda

1/2 teaspoon salt

2 teaspoons ground cinnamon

1 teaspoon ground ginger

1/2 teaspoon ground nutmeg

1/2 cup unsalted butter, softened

1 cup granulated sugar

1 cup canned pumpkin puree

1 large egg

1 teaspoon vanilla extract
Instructions:
Whisk together the flour, baking powder, baking soda, salt, cinnamon, ginger, and nutmeg in a medium bowl.

In a large mixing bowl, cream the softened butter and granulated sugar until light and fluffy.

Add the pumpkin puree, egg, and vanilla extract to the butter-sugar mixture. Mix until well combined.

Gradually add the dry and wet ingredients, mixing until just combined.

Drop rounded tablespoons of dough onto a prepared baking sheet and bake at 350°F (175°C) for 12-15 minutes or until the edges are lightly golden.

Allow the cookies to cool completely before decorating.
Decorating Tips for Pumpkin Cookies
For an extra flair of spookiness, consider using orange and black icing to create pumpkin faces on your cookies. Experiment with different expressions like smiles frowns, or even sinister grins. A sprinkle of edible glitter can add a magical touch, turning your classic pumpkin spice cookies into shimmering delights.
Ghastly Ghost Meringue Cookies
Ingredients:
3 large egg whites at room temperature

1/4 teaspoon cream of tartar

3/4 cup granulated sugar

1/2 teaspoon vanilla extract
Instructions:
Preheat your oven to 225°F (110°C) and line a baking sheet with parchment paper.

In a clean, dry mixing bowl, beat the egg whites and cream of tartar on medium speed until soft peaks form.

Gradually add the sugar, one tablespoon at a time, beating quickly until stiff, glossy peaks form.

Mix in the vanilla extract.

Transfer the meringue mixture to a piping bag fitted with a round tip.

Pipe ghost shapes onto the prepared baking sheet.

Bake for 1.5 to 2 hours or until the meringues are crisp and lift off the parchment paper easily.
Decorating Ghostly Faces
Once your meringue ghosts are cooled, use black icing to create spooky faces. Simple black dots for eyes and a mouth will suffice, but feel free to get creative with different expressions for each ghost.
Ominous Eyeball Cookies
Ingredients:
1/2 cup royal icing (white)

Black food coloring

Red food coloring (optional)
Instructions:
Prepare royal icing by mixing powdered sugar with water until you achieve a thick consistency.

Divide the icing into two bowls.

Add black food coloring to one bowl to create the eye pupil.

Use a small round tip to pipe black dots onto a baking sheet lined with parchment paper.

Allow the black dots to dry completely before moving on to the next step.

Once dry, add a small amount of white royal icing around the black dots to create the eyeballs.

Add a touch of red food coloring to the white icing and carefully pipe tiny veins on the eyeballs for a bloodshot effect.
Placing Eyes on Various Cookie Bases
Add the eyeballs to your favorite cookie bases for a quirky and eerie effect. Whether it's the classic pumpkin spice cookie or the ghostly meringue, adding edible eyes will surely make your treats the talk of the Halloween party.
Graveyard Chocolate Brownie Cookies
Ingredients:
1 cup unsalted butter

2 cups granulated sugar

4 large eggs

1 teaspoon vanilla extract

1 cup all-purpose flour

1/2 cup cocoa powder

1/2 teaspoon baking powder

1/4 teaspoon salt
Instructions:
Preheat your oven to 350°F (175°C) and line a baking pan with parchment paper.

In a saucepan, melt the butter and stir in sugar until well combined.

Remove the saucepan from the heat and let it cool slightly.

In a large mixing bowl, beat the eggs and vanilla extract.

Gradually add the butter-sugar mixture to the eggs, stirring continuously.

Sift the flour, cocoa powder, baking powder, and salt in a separate bowl.

Add the dry ingredients to the wet ingredients, mixing until just combined.

Pour the batter into the prepared baking pan and smooth the top.

Bake for 20-25 minutes or until a toothpick inserted into the center comes with moist crumbs.
Graveyard Decorations with Royal Icing
Once the brownie cookies have cooled, transform them into a spooky graveyard with tombstone-shaped royal icing decorations. Use black icing to write eerie messages or RIP on the tombstones. You can also create little crosses for an added touch of graveyard realism.
Fashionable Serving Ideas with Smarty Had A Party
The enchantment doesn't stop at baking; it extends to presenting your monstrous creations. Elevate your Halloween cookie game with sophistication and style thanks to Smarty Had A Party's exquisite disposable partyware.
Disposable Charger Plates
Enter a world where elegance meets convenience. Smarty Had A Party's disposable charger plates are not your average dinnerware—they're the secret weapon to turning your table setting into a visual feast. These plates are the perfect foundation for your spooktacular spread, adding a touch of opulence that will leave your guests spellbound.
Elevating Presentation with Fancy Plastic Dinner Plates
Who said disposable can't be fancy? Prepare to be amazed by Smarty's fancy plastic dinner plates. Crafted with precision and a keen eye for design, these plates bring a level of sophistication to your table that is unparalleled. Available in various styles and colors, they provide the perfect canvas for showcasing your delectable Halloween cookies.
Practical and Stylish Plastic Servingware
Practicality meets style with Smarty's plastic servingware. From elegant serving platters to stylish utensils, this collection is designed to make your hosting duties a breeze. Say goodbye to the hassle of washing dishes and hello to a world where disposable is synonymous with chic.
Creative Tablescapes with Smarty Had A Party's Tableware
Unleash your creativity and build captivating tablescapes with Smarty Had A Party's versatile disposable party supplies. Mix and match colors, experiment with different textures, and let your imagination run wild. Create a bewitching atmosphere that complements the spookiness of your Halloween cookies, turning your table into a work of art.
Budget-Friendly Elegance: Why Disposable Can Be Chic
Smarty Had A Party proves elegance doesn't have to come with a hefty price tag. Discover the beauty of budget-friendly elegance as you adorn your table with disposable charger plates and dinnerware that rival their non-disposable counterparts. It's a cost-effective way to add a touch of luxury to your Halloween celebration.
Frequently Asked Questions (FAQ)
1. Can I make Halloween cookie dough ahead of time?
Absolutely! Making Halloween cookie dough ahead of time can be a smart time-saving strategy. Prepare the dough according to your recipe, shape it into a disc, wrap it tightly in plastic wrap, and refrigerate. Most cookie doughs can be stored in the refrigerator for 72 hours. You can also freeze the dough for extended storage; just be sure to thaw it in the refrigerator before baking.
2. How do I store decorated cookies to maintain freshness?
Preserving the freshness of your decorated Halloween cookies is crucial for serving them at their best. Once your cookies are fully decorated, and the icing has set, store them in an airtight container. Place a sheet of parchment paper between layers to prevent sticking, and consider adding a slice of bread to the container. The bread helps maintain moisture, preventing your cookies from becoming overly dry.
3. Can I reuse Smarty Had A Party's disposable products?
While Smarty Had A Party's disposable products are designed for convenience, some items, like certain plastic dinnerware, may be sturdy enough for limited reuse if hand-washed. However, remember that many Smarty's products are intended for single-use to ensure hygiene and convenience. 
4. What other occasions suit Smarty Had A Party's elegant disposables?
Smarty Had A Party's elegant disposables are versatile and perfect for various occasions beyond Halloween. Consider using them for birthdays, weddings, anniversaries, baby showers, and any other celebration where you want to elevate the presentation without the hassle of traditional dishware. The wide range of styles and colors perfectly matches every event.
Go ahead, cast your baking spells, decorate with abandon, and savor the magic of Halloween in every delicious bite. Until our next culinary escapade, happy baking, and may your sweets be as spooktacular as the season itself!