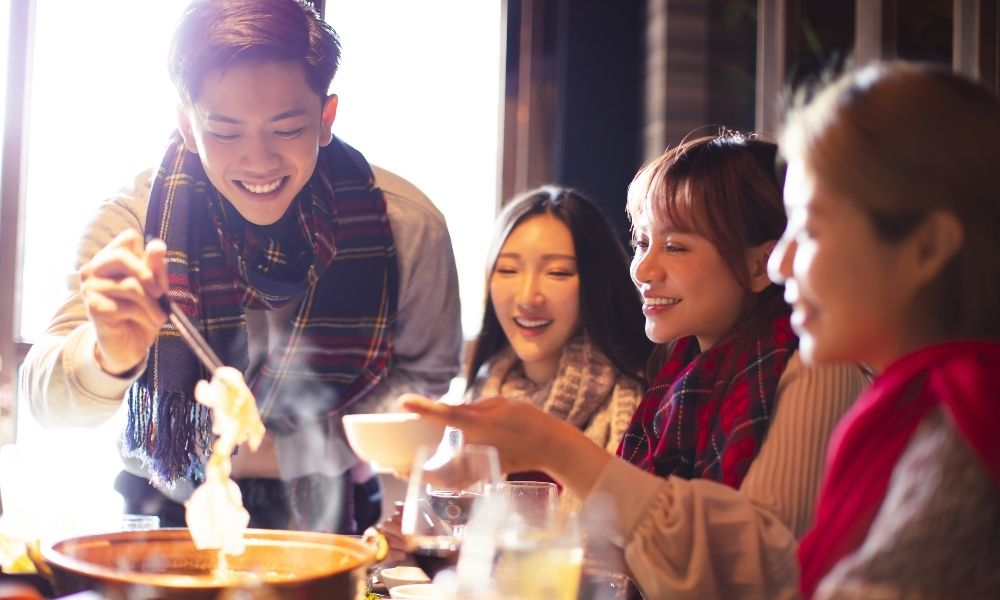 Soup's On: Tips for Hosting a Soup Dinner Party
So much for immortality through that famous Warhol art—over the years, soup has tragically developed a rather inelegant reputation. The ubiquity and affordability of canned soup have made any bowl seem like a meal of last resort. But, of course, as we've come to take our sodium intake more seriously, sometimes canned soup isn't even a last resort. Even at fine restaurants where you should expect high quality, the question "Soup or salad?" often draws the latter response. After all, no one has ever stood in line at a salad kitchen.
But as winter sets in throughout the country and we all start searching for culinary comfort, your resident spin doctors at Smarty Had a Party believe there's still a strong case to make for soup as fine home dining. Of course, you won't get it from a can, and you certainly won't serve it from those microwave-safe bowls with hairline cracks. It's time to fall back in love with homemade soups all over again—and this time, you can bring a few of your favorite friends and relatives around to share in the ardor. How about "Soup's On" as the theme for your next dinner party? Perhaps a soup bar is a little unorthodox if you've grown accustomed to roasts, but that's all the more reason to take the plunge and try something new. Check the calendar—it's still early in 2022. You have all year to be traditional. Until then, we would like to share a few of our tips for hosting a soup dinner party—from what to cook, how much of it to make, and where to serve it.
Which Soups 
Are
 On, Anyway?
Hosts' biggest dilemma when laying out their soup selections is avoiding the mundane. Case in point: chicken noodle soup. It's hard to go wrong with chicken noodle soup. Even canned fare has always hit the spot on those days when we're home, sick from school or work. For an event that aspires to a little more than lunch on a sick day, however, it's hard to go right with it, too.
The same goes for cream of mushroom—any good Midwestern Lutheran can rattle off a dozen casserole recipes that use that reliable staple. A Minnesota potluck is not your party's theme, so we must strike cream of mushroom from our list. Let's get creative. Offer recipes one can't easily find or replicate in the canned goods aisle. Here are a few we'd love to see you try:
Split-pea: Forget those big cubes of ham floating in army-green goop. An actual Québecois-style pea soup features a smoked ham hock, yellow peas, and a touch of clove for a distinct note of warmth in a smoother and more velvety texture than you're used to.

French onion: Some discriminating diners say you can judge a restaurant by its French onion soup quality. Challenge yourself to pass with flying colors—

bleu, blanc, et rouge

, to be specific—by making your own, complete with crusty bread and melted cheese.

Butternut squash: Autumnal in character but still a perfect winter soup, this combination of squash, apples, potatoes, and a classic mirepoix, boiled in chicken stock and puréed to perfection, is smooth and satisfying.

Minestrone: A vegetarian option that even carnivores can dig into, the fresh flavors of minestrone will light up a palate that may have grown too accustomed to the sodium-laden store-bought alternatives.
Depending on how adventurous your guests' palates are, you may want to dip your toes into more exciting fare—a fiery jambalaya, a rich but piquant chicken tortilla, or even a peppery mulligatawny. If you smoked a turkey for the holidays last year and froze what you didn't eat, there may be some turkey soup in your future.
Decisions, Decisions
So many soups, so little time—bringing a pot from concept to completion can take as many as eight hours if you're relying on your slow cooker. Even if you're strictly working with the stovetop, soup from scratch can take at least 90 minutes with all that chopping you'll have to do. Your time is finite, so your guests' options will not be infinite. Don't give yourself too much to do—we suggest giving your party three soups to choose from, alongside the necessary side salads, rolls, and hors d'oeuvres. Think of your three-pot soup bar as a three-ring circus: if guests don't like one act, they'll like the next one. Whichever three recipes you commit to preparing, make sure they vary sufficiently and send everyone home happy.
Making a troika of soups from scratch can be daunting—that's before you get to the salad and rolls. However, your work doesn't end there. One of our biggest tips for hosting a soup dinner party is to make sure not to forget the little details that make soup dinners such a delight: the croutons, the dollops of sour cream, shredded cheeses, bacon bits, and other little fixings that some guests like to supplement their soups with.
Serving the Soups
At Smarty Had a Party, we like to write about food. We also love to write about what you serve that food on and in. Let's talk dinnerware. As we prepare the meal to present it, image is everything. This is especially true with soup, where there are no perfect arrangements on each plate—simply a generous ladling of a delicious dinner. Your soup bowls have to do the job of conferring elegance on this occasion. Our selection of elegant disposable bowls will help you do just that.
Don't stress out about overloading the dishwasher or not having enough suitable bowls for all your guests. Simply rely on our catalog of single-use options that fuse style with ease. Our "clear wave" bowls, with their undulating edges, bring an eye-catching note of postmodernism to the dinner table, while our ivory, gold-trimmed bowls step back and let the soup be the star. If sustainability matters to you, our line of palm leaf products extends to soup bowls, allowing you to bypass plastic altogether for a green alternative that suggests artisan woodworking for one unforgettable night. The menu is coming together, you know what else you'll need, and you can already imagine filling up those attractive bowls. This soup is just about on.