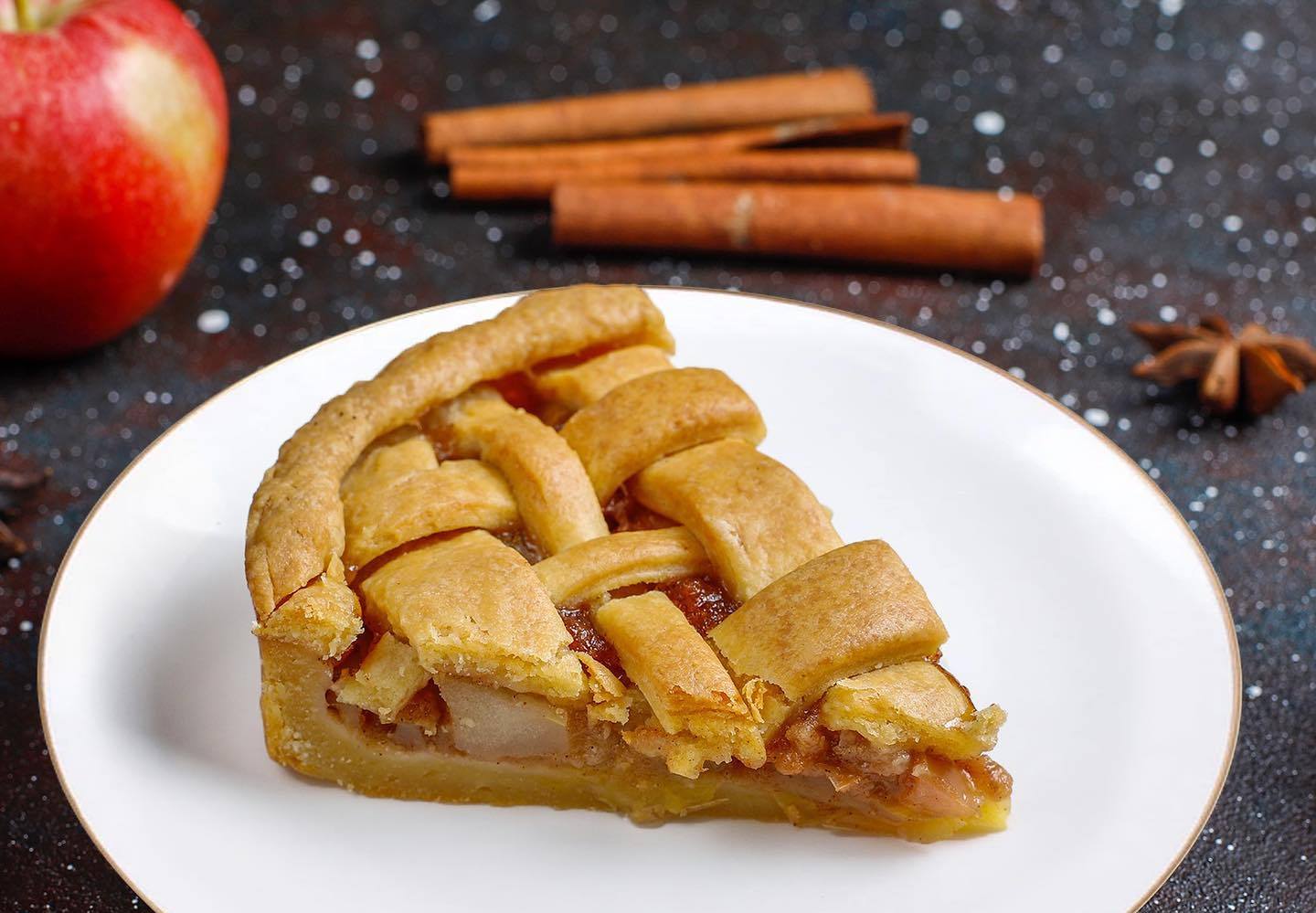 Slice of Autumn Bliss: American Pie Ideas to Elevate Your Gathering Game
Autumn is here, and what better way to celebrate than with pie? This guide explores the world of American pies and how they can add warmth and joy to your fall gatherings. From cozy family dinners to festive Friendsgivings, pies have a unique charm that can make every gathering memorable.
Fall's Finest: The Ultimate Guide to Baking American Pies for Autumn Gatherings
We'll delve into the art of pie-making, from choosing the perfect pie recipes that capture the essence of autumn to mastering the techniques that ensure your pies come out of the oven picture-perfect.
So, get ready to savor fall flavors, embrace the warmth of your gatherings, and discover how American pies can be the slice of autumn bliss that elevates your hosting game. Let's embark on this delectable journey together!
Choosing the Perfect Pie Recipes
Autumn is pie season. There's a pie for every taste, from classic to innovative. Indulge in the warm flavors of the harvest and find your perfect recipe.
Classic American Pie Flavors for Fall
Apple Pie:

 Nothing says fall like a warm, cinnamon-infused apple pie. The sweet-tartness of apples combines with the warmth of spices, all enveloped in a flaky crust. Top it with a scoop of vanilla ice cream for the ultimate indulgence.

Pumpkin Pie:

 A staple of Thanksgiving tables, pumpkin pie embodies the very essence of autumn. The smooth, spiced pumpkin filling is a delightful combination of creamy and earthy flavors, making it a must-try for any fall gathering.

Pecan Pie:

 Rich, buttery, and nutty pecan pie is a Southern tradition that has found its way onto tables across America. The crunchy pecans and sweet, gooey filling make it a sweet tooth's dream.
Creative Twist: Unique Pie Ideas for Autumn
Maple-Bourbon Sweet Potato Pie:

 Elevate the humble sweet potato pie by infusing it with the rich, smoky notes of bourbon and the natural sweetness of maple syrup.

Cranberry-Orange Chess Pie:

 Add a tangy twist to a southern favorite with a zesty cranberry-orange chess pie. The bright flavors cut through the sweetness for a well-balanced treat.

Savory Herb and Cheese Galette:

 Don't limit yourself to sweet pies. A savory galette filled with roasted vegetables, cheese, and aromatic herbs can be a showstopper at your gathering.
Dietary Considerations: Options for All Guests
Gluten-Free Pies:

 For gluten-sensitive or gluten-free guests, consider using gluten-free pie crust recipes or pre-made gluten-free crusts to create traditional or creative pies that everyone can enjoy.

Vegan Pies:

 To cater to your vegan friends, explore recipes that use plant-based ingredients like coconut milk, tofu, or aquafaba (the liquid from canned chickpeas) to replace dairy and eggs in pie fillings.

Low-Sugar or Diabetic-Friendly Pies:

 For those watching their sugar intake, experiment with sweeteners like stevia, erythritol, or unsweetened applesauce to create pies with less sugar.
Mastering the Art of Pie Baking
Learn how to bake a perfect American pie with our detailed instructions, tips, and the necessary tools and ingredients. Your guests will be impressed with the irresistible scent filling the room.
Essential Pie Baking Tools and Ingredients
Tools:
Pie Pans:

 Choose high-quality pie pans in various sizes, preferably with a non-stick surface, to accommodate different pie recipes.

Rolling Pin:

 A sturdy rolling pin is indispensable for flattening pie crust dough.

Pastry Cutter or Food Processor:

 These tools help cut butter or shorten it into flour for a flaky crust.

Mixing Bowls:

 Have a range of mixing bowls in different sizes to prepare pie fillings and crusts.

Measuring Cups and Spoons:

 Accurate measurements are crucial in baking.

Pie Weights or Dried Beans:

 Use these to pre-bake your pie crusts to prevent them from puffing up.
Ingredients:
Flour:

 All-purpose flour is the go-to choice for pie crusts, but you can experiment with whole wheat or gluten-free alternatives.

Fat:

 Butter, shortening, or combining both are commonly used for pie crusts.

Liquid:

 Ice-cold water is essential to bring the pie crust dough together.

Filling Ingredients:

 Depending on your chosen pie recipe, you'll need fruits, spices, sugars, and other flavorings.
Step-by-Step Pie Baking Instructions
For the Crust:
Prepare the Pie Crust:

 Combine the flour and a pinch of salt in a mixing bowl. Cut in the cold fat until the mixture resembles coarse crumbs. Gradually add ice-cold water to a tablespoon until the dough just comes together.

Form the Dough:

 Divide the dough into two equal portions and shape them into discs. Wrap in plastic wrap and refrigerate for at least 30 minutes.

Roll Out the Crust:

 Roll out one disc into a circle slightly larger than your pie pan on a floured surface. Carefully transfer it to the pan.

Add Filling:

 Fill the pie crust with your chosen filling.

Top with Crust:

 Roll out the second disc and place it over the filling. Trim any excess dough and crimp the edges to seal.
For Baking:
Preheat the Oven:

 Preheat your oven to the specified temperature in your pie recipe.

Vent the Pie:

 Cut slits or create decorative vents in the top crust to allow steam to escape.

Bake:

 Place the pie in the preheated oven and bake according to your recipe's instructions, usually until the crust is golden brown and the filling is bubbling.
Tips for Achieving the Perfect Pie Crust
Keep Ingredients Cold:

 Use ice-cold water, and chill your dough before rolling it out.

Don't Overwork the Dough:

 Handle the dough as little as possible to prevent toughness.

Use the Right Flour:

 All-purpose flour is versatile, but consider using pastry flour for a lighter crust or whole wheat flour for a nuttier flavor.

Choose the Right Fat:

 Butter adds flavor while shortening adds tenderness. A combination of both often works best.

Flour Your Work Surface:

 Prevent sticking by lightly flouring your rolling surface and pin.

Blind Bake When Needed:

 For fillings that don't require baking, blind bake (pre-bake) the crust before adding the filling to avoid a soggy bottom.
Serving Your American Pies with Style
In the world of baking, it's often said that we eat with our eyes first. The presentation of your American pies can elevate your gathering game from ordinary to extraordinary. 
The Importance of Presentation
Elegant Plastic Plates: The Perfect Pie Platform
Disposable Cutters/Lifters: Easy Serving Solutions
Heavyweight Plastic Flatware: Ensuring a Seamless Dining Experience
Smarty Had A Party: Your Ultimate Online Store for Party Essentials
For elegant and convenient party supplies, check out Smarty Had A Party. Smarty offers a wide range of disposable party supplies that elevate your hosting game. Plus, cleanup is a breeze with their disposable dinnerware and serving solutions. Smarty has a versatile and diverse selection that matches any gathering's style or theme and offers quality products that can withstand even the heaviest dishes. And provide unparalleled customer service to ensure your experience is exceptional.
Frequently Asked Questions (FAQ)
1. How far in advance can I prepare American pies for a gathering? 
Most pies can be made 1-2 days ahead, with assembly and baking closer to your event for ultimate freshness.
2. What's the secret to preventing a soggy pie crust? 
Avoid a soggy crust by pre-baking it (blind baking), using an egg wash or sugar dusting, and draining fruit fillings.
3. Are there gluten-free or vegan pie options? 
Yes, there are gluten-free pie crust options and vegan alternatives for both the crust and filling.
4. What are some creative ways to decorate pies for a fall-themed gathering? 
Add a festive touch with leaf-shaped cutouts, cinnamon sugar, whipped cream art, edible flowers, or a caramel drizzle for extra flair.
May your autumn gatherings be filled with love, laughter, and the sweet taste of success as you elevate your hosting game, one slice at a time.