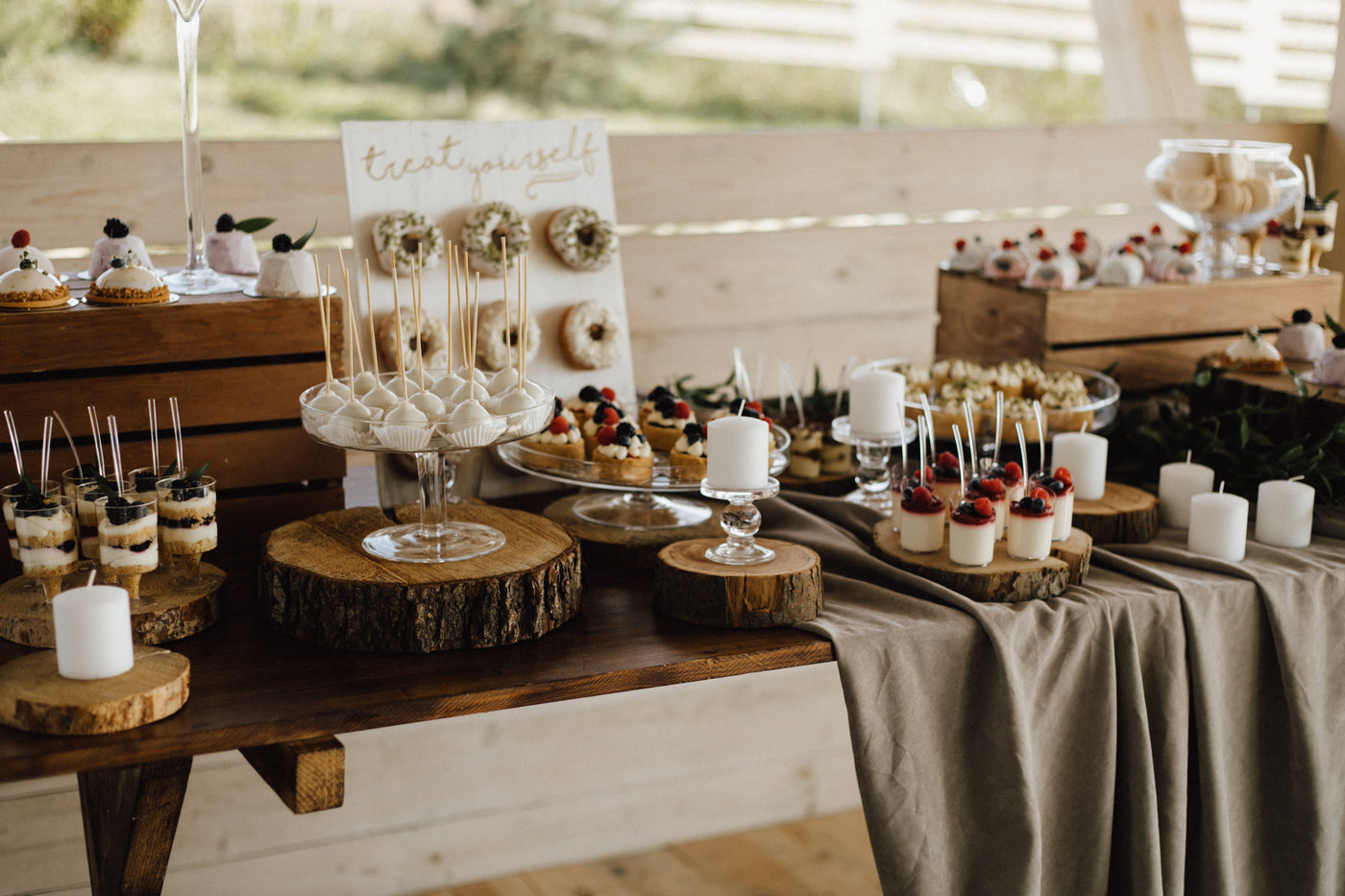 Rustic Romance: A Guide to Autumn Wedding Dessert Table Decor
As the leaves change to vibrant hues and the air turns crisp with the promise of autumn, it's a magical time for weddings. Nature's embrace adds rustic charm and timeless romance to your special day. And what better way to celebrate than with a delectable dessert table that's both a treat for the taste buds and a captivating centerpiece? Join us as we explore how to infuse your autumn wedding dessert table with the warmth and elegance of the season.
Аutumn-Inspired Rustic Dessert Table Decor for Your Wedding
Whether planning an intimate backyard gathering or a grand celebration in a rustic barn, our guide will equip you with the inspiration and know-how to transform your dessert table into a vision of autumnal splendor. 
So, join us on this journey into the heart of rustic romance, where the flavors of fall and the magic of love come together to create an autumn wedding dessert table that will leave your guests enchanted and your memories lasting a lifetime. Let's craft a tableau of sweetness that perfectly complements the season's beauty.
Embracing the Autumn Aesthetic
Exploring the Charm of an Autumn Wedding
Autumn weddings are uniquely enchanting, with brisk air, earthy scents, and vibrant foliage providing a perfect backdrop. They're cherished for their cozy, romantic atmosphere, making them increasingly popular. Autumn weddings create an intimate, welcoming atmosphere as guests gather close in the cool weather, enhancing the warmth of togetherness amidst the season's visual splendor.
Color Palette Inspiration for a Rustic Autumn Theme
Earthy Neutrals

: Think shades of warm brown, deep taupe, and soft beige. These colors create a natural and rustic ambiance, allowing your dessert table to blend seamlessly with the autumn surroundings.

Burgundy and Gold

: This classic combination exudes elegance and opulence. Deep burgundy paired with shimmering gold accents can add a touch of luxury to your rustic theme.

Burnt Orange and Mustard

: These lively, autumnal shades are reminiscent of falling leaves and harvests. They bring a vibrant and cheerful energy to your dessert table.

Sage Green and Ivory

: For a more subtle and delicate approach, consider a palette of soft green and ivory. This combination reflects the tranquility of nature in the fall season.

Navy Blue and Copper

: Combining rich navy blue and warm copper tones can create a stunning contrast for an autumn wedding. It adds depth and sophistication to your decor.
Dessert Table Essentials
Creating a captivating autumn wedding dessert table doesn't rely on the delicious treats you choose to serve; it also hinges on carefully selecting essential elements that contribute to the overall ambiance and aesthetic.
Choosing the Right Table and Backdrop
For your dessert table at an autumn wedding, start with the foundation: the table itself. Wooden tables are ideal, blending seamlessly with the rustic theme. Outdoors, opt for a long wooden farm table for an authentic countryside touch. Indoors, a wooden dessert table adds charm and pairs well with other decor. Elevate the setup with a rustic backdrop like barn doors, vintage windows, or cascading autumn leaves for a visually stunning effect.
Linens, Tableware, and Presentation Details
The linens you choose for your dessert table are pivotal in tying together the rustic romance theme. Burlap or linen table runners can add texture and depth to the setup. Lace overlays or delicate napkins can bring an elegant touch to the overall aesthetic.
Regarding tableware, opt for earth-toned or vintage-inspired plastic plates and disposable baroque-inspired flatware to enhance the rustic feel. Mixing and matching can also create a charming and eclectic look. Consider presentation details like plastic cake stands, disposable platters, and plastic serving trays. These should complement your chosen color palette and overall decor theme.
Adding a Rustic Touch
To infuse a distinctive rustic charm into your dessert table, consider using a tree stump as a unique alternative to traditional serving trays. A large tree stump can be the perfect base for your wedding cake or other main dessert, while smaller ones can elevate cupcakes or individual treats. This adds a natural and rustic touch and creates varying levels of display for a more visually appealing arrangement.
Creating an Ambiance with Candles and Greenery
To enhance your dessert table's romantic vibe, add candles and greenery. Candlelight provides warmth and intimacy, especially as the sun sets. Use rustic lanterns or elegant candelabras for a cozy glow. Incorporate eucalyptus, ferns, or ivy along the table as a centerpiece for a fresh, nature-inspired touch that complements the rustic theme.
Focusing on the Little Details
While the aesthetic appeal of your dessert table is essential, practicality matters, too. To make serving and cleanup a breeze, consider using mini plastic bowls and plastic mini flatware. These disposable items are not only convenient but also eco-friendly if chosen wisely. Smarty Had A Party's online store offers a wide range of elegant disposable mini-party supplies that align perfectly with your rustic romance theme, allowing you to focus on enjoying your special day rather than worrying about the aftermath.
Decadent Dessert Selection
Choose a variety of delicious sweets for your autumn wedding dessert table that capture the season's essence and cater to different dietary needs. It will impress your guests and make your table the event's highlight.
Showcasing Seasonal Flavors and Treats
Apple Delights

: Apples are at their peak in the fall. Include apple pies, apple tarts, or apple cinnamon cupcakes for a taste of autumn in every bite.

Pumpkin Perfection

: Pumpkin spice is a quintessential fall flavor. Treat your guests to pumpkin cheesecakes, spice cookies, or pumpkin-flavored macarons.

Spiced Delights

: Cinnamon, nutmeg, and cloves are staples of fall baking. Infuse these warm spices into desserts like spiced carrot cake or cinnamon roll bars.

Rich Chocolate

: Dark chocolate and cocoa are comforting and indulgent choices for an autumn dessert table. Consider offering chocolate truffles, brownie bites, or a decadent chocolate fondue station.

Maple Goodness

: Maple syrup adds a touch of sweetness and warmth. Consider maple-glazed donuts, maple pecan tarts, or maple-flavored ice cream.
Options for Various Dietary Preferences (Vegan, Gluten-Free, etc.)
Vegan Treats

: Explore vegan alternatives for classic desserts, such as vegan pumpkin pie, dairy-free chocolate mousse, or almond milk-based ice cream.

Gluten-Free Goodies

: Incorporate gluten-free desserts like flourless chocolate cake, gluten-free cookies, or almond flour-based pastries to accommodate gluten-sensitive guests.

Nut-Free Options

: For those with nut allergies, consider nut-free desserts like fruit tarts, rice krispie treats, or coconut macaroons.

Sugar-Free Sweets

: Include sugar-free dessert options for guests watching their sugar intake. Recipes sweetened with stevia or erythritol can be just as delicious.

Allergen-Free Alternatives

: If guests have multiple allergies, offer allergen-free treats like fruit skewers or sorbets.
Sourcing Local and Homemade Desserts for a Personal Touch
Local Bakeries

: Partner with local bakeries to feature their specialties on your dessert table. Local pies, pastries, or artisanal chocolates can add a unique flair.

Family Recipes

: If you have cherished dessert recipes, ask a family member to prepare them. It's a beautiful way to incorporate tradition into your wedding.

Homemade Goodies

: If you and your partner enjoy baking, consider preparing desserts together. Homemade cookies, brownies, or cupcakes can be infused with love and care.

Farmers' Market Finds

: Explore your local farmer's market for seasonal fruits and artisanal treats that can complement your dessert selection.
Decorative Elements
To create a beautiful autumn wedding dessert table, focus on details that enhance the romantic, rustic theme and reflect the couple's love story.
Floral Arrangements and Centerpieces
Wildflower Bouquets

: Opt for wildflower-inspired arrangements that evoke the untamed beauty of the season. Sunflowers, dahlias, and asters can create a striking rustic bouquet.

Garlands

: Drape garlands of eucalyptus or ivy along the table's edges or around the dessert stands for a fresh and natural look.

Mason Jar Vases

: Arrange delicate blooms like baby's breath or miniature roses in mason jars or vintage-inspired vases for a rustic touch.

Pumpkin Flower Holders

: Hollowed-out pumpkins can double as charming vases for your floral arrangements. They add a unique autumnal twist to your decor.
Adding Texture with Burlap, Lace, and Ribbons
Burlap Table Runners

: Burlap exudes rustic charm. Lay burlap table runners across your wooden table to create a textured foundation.

Lace Doilies

: Delicate lace doilies can be placed beneath desserts or used as coasters. They add a touch of elegance to the rustic setting.

Ribbon Accents

: Incorporate ribbons in your chosen color palette to tie around dessert jars, cake tiers, or floral arrangements for a cohesive look.
Custom Signage and Labels for Dessert Options
Dessert Labels

: Provide small, elegant labels for each dessert item, complete with the name and a brief description. This helps guests identify and savor each treat.

Signature Cocktail Sign

: If you're serving signature cocktails, create a sign showcasing your special drink's name and ingredients.

Love Quotes

: Incorporate romantic love quotes on minor chalkboard signs or framed prints to add a whimsical and sentimental touch.
Frequently Asked Questions (FAQ)
1. How can I make my dessert table look rustic on a budget?
Create a charming rustic dessert table on a budget using DIY decor with burlap, mason jars, and reclaimed wood. Borrow or repurpose items you already have and check out thrift stores for cost-effective rustic decor.
What creative ways to incorporate the autumn theme into dessert table decor?
2. Create a cozy autumn dessert table using autumn leaves and small pumpkins as decorations. Use a color scheme with browns, reds, and oranges. Add a rustic touch with wooden trays or crates. Create a warm atmosphere with candles.
3. Where can I find affordable and stylish disposable party supplies?
Check out Smarty Had A Party for chic and affordable disposable party supplies. Their vast selection fits your rustic romance theme without breaking the bank.
4. How do I ensure my dessert table remains cohesive with the wedding theme?
To make your dessert table match your wedding theme, stick to your color scheme and decor style. Communicate with your wedding planner to ensure a seamless look. Add personal touches like monograms or photos to reflect your love story.
As you celebrate your union, let your tablescape stand as a testament to the love that brought you here and the love that will carry you forward. Here's to a lifetime of beautiful moments and captivating love stories. Cheers!