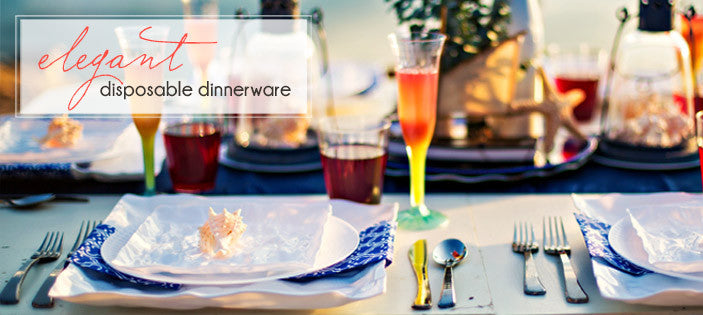 Seaside Soiree: Captivating Party Tablescape Ideas for a Beachy Affair
The gentle rhythm of the waves, the soft sand underfoot, and the salty breeze that carries a sense of freedom – the beach holds an undeniable allure that draws us in with its tranquil beauty. If you've ever dreamed of capturing the essence of this coastal charm for your next gathering, you're in for a treat. Welcome to "Seaside Soiree: Captivating Party Tablescape Ideas for a Beachy Affair."
Table Decor Ideas for a Picture-Perfect Seaside Celebration
Picture this: a sun-kissed afternoon or a moonlit evening by the shore, where laughter blends seamlessly with the lullaby of the sea. While hosting a beach-themed party might conjure images of elaborate setups and complicated planning, we're here to show you that achieving a captivating and elegant tablescape inspired by the seaside is achievable and enchanting.
So, whether you're planning a casual beachfront picnic with friends or an elegant sunset soirée, our "Seaside Soiree" guide has you covered. Join us as we uncover the art of transforming your table into a canvas that reflects the beauty of the beach – where the soothing ambiance and the joy of good company merge seamlessly for a truly unforgettable beachy affair.
Setting the Foundation: Elegant Plastic Dinnerware
For a memorable beach event, your tablescape's foundation is crucial. Enter elegant plastic dinnerware, magically blending convenience, durability, and sophistication. These pieces turn your table into a coastal charm canvas.
Convenience and Durability: No longer do disposable dinnerware and style clash. Modern plastic dinnerware offers both practicality and aesthetics. Experience effortless setup and cleanup while maintaining your table's visual charm. Disposable tableware lets you enjoy the festivities without post-party cleanup concerns, whether an intimate gathering or a beachside bash.
A Feast of Options: Like shore-hugging waves bring a range of shells, elegant plastic dinnerware offers options for your beachy style. From serene whites mirroring pristine sands to patterned plates echoing beach umbrellas' playfulness, the variety ensures your table matches your vision.
Elevated Beverage Service: A beach soiree craves elegant drinkware. Fancy disposable options like tumblers, stemware, wine, and champagne glasses infuse refinement into every sip. Meticulously designed for luxury, they elevate your event while retaining disposable convenience. Toast to oceanic beauty with glasses reflecting sunlight on water.
Elevating the Experience: Heavyweight Plastic Flatware
As the sun sets, bathing the beach in warm light, guests gather around as the dinner bell chimes. They're set to embark on a culinary seaside journey. In these moments, heavyweight plastic flatware becomes pivotal, enhancing your table's look and the dining experience.
Enhancing Elegance: The feel and balance of each piece impact a memorable dining experience. Heavyweight plastic flatware adds opulence to your beach event, infusing instant refinement and matching coastal charm. These pieces promise an elevated feast like a conch shell echoes the ocean.
Stylish Selections: At Smarty Had A Party, elevating your tablescape is more than an idea – it's a collection of modern plastic flatware that seamlessly fits your beach theme. You can customize your table to match your vision with choices ranging from silver shimmer to bamboo-inspired textures. Whether serene or vibrant, heavyweight plastic flatware complements your creative expression.
Convenience Meets Sophistication: Heavyweight flatware captures the elegance of traditional setups while staying disposable for ease. Amidst laughter, knowing cleanup is effortless as ocean waves bring relief. This blend of sophistication and practicality lets you fully enjoy your gathering worry-free.
Seaside Decorations: Bringing the Beach to Your Table
With the sun's dance on the water and the endless horizon, the beach's essence enchants all. Seaside decorations let you infuse this aura into your party, turning your table into a coastal haven mirroring shore beauty.
Creating Coastal Charms: Seaside decorations are the thread that weaves the beachy narrative throughout your tablescape. They can transport your guests to the serene shores and evoke the emotions of carefree days spent by the water's edge. From the enchanting allure of mini boats to the delicate elegance of seashells and the vibrant greenery life, these decor elements breathe life into your party setting, making every glance at the table a journey into seaside serenity.
A Symphony of Elements: Mini boats, reminiscent of sailboats dancing upon the waves, carry the spirit of adventure and exploration. Seashells, with their intricate designs and timeless beauty, echo the treasures of the shore, while greenery symbolizes the thriving coastal ecosystem. Together, these elements create a symphony that captures the essence of the beach and infuses it into your gathering.
Tasteful Integration: While the allure of seaside decorations is undeniable, there's an art to incorporating them into your tablescape without overwhelming the senses. Consider these tips to strike the perfect balance:
Center of Attention:

 Choose a standout decoration as the centerpiece and build around it. A mini boat with a splash of greenery can anchor the theme beautifully.

Layered Elegance:

 Layer seashells and small decor elements atop neutral tablecloths to create depth and visual interest.

Green Accents:

 Use greenery as natural accents, weaving them into napkin rings or subtly draping them across place settings.

Minimalism Speaks Volumes:

 Remember that less can often be more. A few carefully placed decor pieces can impact more than an overcrowded display.
Crafting the Perfect Tablescape: Step-by-Step Guide
1. Color Palette: Embrace Ocean-Inspired Hues 
Begin by selecting a color palette that mirrors the hues of the ocean. Think tranquil blues, soft sandy beiges, and calming aqua tones. These colors will serve as the backdrop for your beachy vision, setting the tone for a coastal experience.
2. Tablecloth and Runner: Texture and Patterns of the Shore 
Choose a tablecloth and runner that evokes the textures and patterns of the sand and sea. Opt for light, textured fabrics that mimic the feel of beach sand underfoot. Subtle patterns, such as waves or seashells, can add a touch of elegance and reinforce the theme.
3. Plates and Drinkware: Elegance Meets Convenience 
Highlight the elegant plastic dinnerware and fancy disposable drinkware you've chosen. Arrange the plastic plates atop your beach-inspired tablecloth, allowing their design to shine against the backdrop. Place the drinkware strategically to accentuate each place setting, making every sip a luxurious experience.
4. Flatware Placement: Weaving in Sophistication 
Lay out heavyweight plastic flatware with intention. Position knives, forks, and spoons in a balanced arrangement, ensuring each piece is easy to reach while maintaining a polished look. 
5. Seaside Decor: Creating a Coastal Symphony 
Now, it's time to weave in the charm of seaside decorations. Place mini boats strategically along the table, evoking the spirit of adventure. Scatter seashells and greenery thoughtfully, creating organic accents harmonizing with the oceanic theme.
6. Centerpiece: The Focal Point of Coastal Enchantment 
Your centerpiece should encapsulate the essence of your beachy affair. Consider a stunning arrangement that mirrors the shoreline's treasures – perhaps a decorative fishbowl filled with seashells and sand or a mini beachscape with miniature beach chairs and umbrellas. 
Shop the Look: Smarty Had A Party Online Store
Smarty Had A Party Online Store: Where Elegance Meets Convenience
Smarty Had A Party is your partner in crafting unforgettable gatherings that marry elegance with convenience. With a curated collection of elegant plastic dinnerware, disposable drinkware, and heavyweight plastic flatware, Smarty provides the building blocks for a tablescape that exudes coastal charm.
Featured Plastic Dinnerware, Drinkware, and Flatware Options
Elegant Plastic Dinnerware:

 Discover an array of 

plastic plates

 

from serene simplicity to playful patterns. Explore the beauty of high-quality disposable dinnerware

 that elevates your beach-themed table while streamlining the post-party cleanup.

Fancy Disposable Drinkware:

 Choose from an exquisite selection of 

disposable drinkware

 that includes 

tumblers, stemware, wine glasses, and champagne flutes

. Each piece adds a touch of luxury to your beverage service, ensuring that your toasts are as stylish as they are memorable. 

Heavyweight Plastic Flatware:

 The sophisticated touch of 

heavyweight plastic flatware

 cannot be underestimated. Discover a range of designs that enhance your tablescape's elegance while offering the ease of disposable design.
Convenience at Your Fingertips
Shopping at Smarty Had A Party means you can select, order, and receive your chosen elements without ever leaving your beach chair. With just a few clicks, you can curate the perfect ensemble that brings your vision to life.
From the elegance of plastic dinnerware to the sophistication of premium plastic flatware, Smarty Had A Party empowers you to create a seaside tablescape that encapsulates the essence of your beachy affair. Explore our offerings and embark on a journey to transform your gathering into a coastal masterpiece. Your dreamy beachside tablescape is just a few clicks away.
Tips for a Smooth Beachy Affair
1. Weather Wisdom: Be Prepared for the Elements 
Outdoor beach parties are alluring, but nature is unpredictable. Monitor the weather forecast and prepare for rain or wind. Offer shade with umbrellas or pop-up tents and have blankets for cooler nights.
2. Eco-Friendly Disposal: Respect the Shoreline 
Hosting a beachy affair doesn't mean we have to neglect our responsibilities as caretakers of the environment. Opt for eco-friendly disposable items, such as biodegradable or recyclable options. Set up designated recycling and waste disposal stations to encourage guests to dispose of their items properly. 
3. Comfortable Seating: A Relaxing Atmosphere 
Guest comfort is key for a beachy party. Offer various seating like lounge chairs, blankets, and beach chairs. Arrange seating to foster conversations. For larger groups, provide diverse heights like chairs, bar stools, and floor cushions to suit all preferences.
4. Coastal Culinary Delights: Plan the Perfect Menu 
Create a beach-themed menu with seafood, salads, tropical fruits, and refreshing drinks. Feature coastal cocktails and mocktails. Include dishes for varied dietary needs, ensuring everyone can indulge.
5. Sound of the Sea: Enhancing the Atmosphere 
Enhance the atmosphere with ocean sounds or acoustic tunes. Think about live entertainment like a steel drum band or guitarist for a true beachy spirit.
Frequently Asked Questions (FAQs)
1. Can elegant plastic dinnerware really look as good as traditional tableware? 
Absolutely! Elegant plastic dinnerware has come a long way in design and quality. The options available today closely mimic the appearance of real tableware, offering a sophisticated touch to your tablescape without sacrificing convenience.
2. Are disposable drinkware options durable enough for a beach party?
Yes, fancy disposable drinkware is designed to be durable. It is crafted to withstand the rigors of a party while adding an elegant touch to your beachy affair.
3. Can I personalize the suggested tablescape ideas to match my party's theme? 
Absolutely! The suggested tablescape ideas serve as a starting point. Feel free to personalize the color palette, decorations, and overall design to align with your unique party theme and preferences.
4. Where can I find the elegant plastic dinnerware and decorations mentioned in the article? 
You can find a wide selection of elegant plastic dinnerware, drinkware, and decorations at the Smarty Had A Party online store. The store offers various options catering to different styles and themes, making it convenient to find everything you need for your beachy tablescape.
As the sun sets on our exploration of "Seaside Soiree," we invite you to embrace the wisdom of the waves and infuse your gatherings with the spirit of the shore. With elegance, convenience, and creativity as your companions, your beachy affair is poised to be a symphony of beauty long after the last wave has kissed the sand. Here's to the beauty of the beach, forever captured on your tablescape.