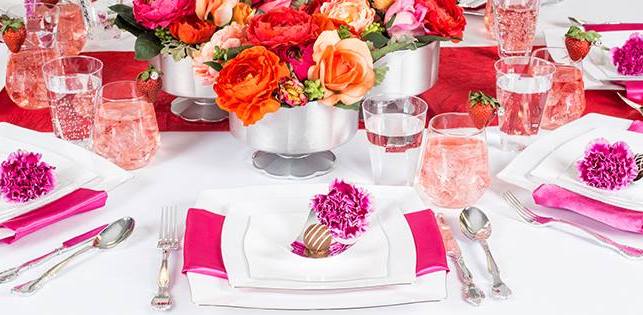 Chic and Charming: Romantic Tablescape Inspirations for Your Dream Wedding
Your wedding day is a tapestry of love and cherished moments woven together by the threads of emotion and shared joy. Amidst the whirlwind of planning, one aspect can transport your guests into the heart of your love story: the tablescape. Far beyond a simple arrangement of dishes and cutlery, a carefully curated tablescape is a work of art that reflects your unique style and creates an ambiance that lingers in the memories of all who gather around it.
Love in the Details: Creating a Breathtaking Tablescape for Your Wedding
In this enchanting wedding preparation journey, the details truly make the difference. Join us as we delve into the art of crafting a breathtaking tablescape that transforms your wedding reception into an unforgettable experience. With a focus on elegance, convenience, and the magic of the moment, let's explore how the right elements, meticulously woven together, can turn your dream wedding into a reality forever etched in the hearts of all who attend.
Setting the Stage with Elegance
Your wedding day is the canvas for your love story, and the tablescape is its centerpiece. A thoughtfully designed tablescape sets the tone for your celebration, greeting guests as they enter the reception.
Importance of a Well-Designed Tablescape
Imagine the tablescape as a visual symphony, each element working together to craft a captivating scene. Every detail, from plates to centerpieces, contributes. This thoughtful design showcases your couple's personality, adding charm to your wedding. Your dedication to detail shows your care for the guest experience.
Choosing a Pink and White Color Scheme
The color palette you choose is the foundation upon which your tablescape comes to life. Consider embracing a pink and white color scheme for an ambiance that exudes romance and elegance. Soft blush pinks and pristine whites intertwine to create an atmosphere of grace and purity. Pink symbolizes love, while white signifies new beginnings—the perfect combination for a wedding celebration.
How do Colors Influence the Ambiance?
Colors hold a remarkable power to influence emotions and perceptions. Choosing pink and white isn't just about aesthetics; it's about evoking feelings of love, tenderness, and joy. These colors infuse the atmosphere with unity, creating an environment where guests feel welcome and connected. As they gather around the tablescape, the delicate interplay of colors will set the mood, enhancing the heartfelt conversations and laughter that fill the air.
Practical and Stylish: Elegant Plastic Plates for Weddings
Advantages of Elegant Plastic Plates
Incorporating elegant plastic plates into your wedding brings numerous benefits. They blend sophistication with practicality, offering easy setup and cleanup. No more worries about breakage or endless dishwashing. These plates come in diverse designs, perfect for classical to contemporary themes. They're not just for the wedding; many couples reuse them, adding elegance to future gatherings and treasured moments.
The Delicate Beauty of Plastic Tableware
Forget the old notion of plastic tableware as uninspiring. Modern elegant plastic plates rival traditional ones in delicate beauty. Intricately detailed and expertly crafted, they captivate with finesse, surprising guests who might mistake them for traditional materials. These plates seamlessly fit your wedding's aesthetic, enhancing the ambiance with refined grace and elevating the tablescape's sophistication to celebrate love in style.
Convenience and Charm: Disposable Dinnerware Sets for Weddings
Balancing Style and Practicality
Wedding planning weaves aesthetics and functionality together. Disposable dinnerware strikes this balance, offering a gorgeous tablescape without post-celebration cleanup. No dishwashing means more time to enjoy your day. These sets go beyond basics, spanning styles from rustic to modern, elegantly tailored to your theme. Whichever you choose, disposable dinnerware brings your vision to life in every detail.
Variety in Disposable Dinnerware Sets
Love stories and wedding aesthetics differ, just like disposable dinnerware sets that cater to diverse tastes. Picture plates mirroring gown lace or crystal-like bowls alongside cutlery and drinkware. They form a captivating, coordinated ensemble. From intimate garden weddings to grand ballroom affairs, matching sets enhance your vision. The extensive choices let you infuse your personality into every decor detail.
Curating a Coordinated Look with Ease
Creating a harmonious tablescape is easier with disposable dinnerware sets. Every element, including plates and cutlery, coordinates effortlessly. Matching your palette and style becomes simple, letting your dream tablescape flourish. You can order precise quantities to avoid waste, fitting your guest list perfectly. The ease of ordering, using, and disposing lets you focus on joyful interactions at the table.
Effortless Sophistication: Disposable Flatware
Elevating the Guest Experience
Weddings unite loved ones in celebration, and disposable flatware adds to the guest experience. Stylish and functional utensils let guests enjoy the feast effortlessly. These utensils replicate traditional flatware's weight and texture, offering familiarity and comfort. Your consideration for their comfort enhances their enjoyment and engagement in the celebration.
Exploring Designs and Finishes
Disposable flatware's realm now extends beyond utility. Numerous designs, finishes, and styles suit various wedding themes. From ornate elegance to modern sleekness, there's flatware for every aesthetic. Choose pieces that blend with your tablescape, matching colors, and ambiance. The diverse options help you align every detail with your love story's narrative.
Making Cleanup a Breeze without Sacrificing Class
Disposable flatware offers a significant cleanup advantage. After the festivities, you're free from the traditional flatware washing hassle. This convenience lets you cherish your special day's memories without cleanup stress. Remarkably, this ease doesn't sacrifice elegance. Disposable flatware's refined appearance preserves your tablescape's grandeur and elegance even as you simplify cleanup.
Cheers to Memories: Plastic Drinkware for Your Special Day
Elevating the Toasting Experience
Toasting is a ritual that marks significant milestones, and your wedding day is no exception. The clinking of glasses, the shared laughter, and the sparkle in the eyes of your loved ones all come together in this fleeting moment. Plastic drinkware, designed with care and consideration, transforms this tradition into a memory that will be cherished forever.
Stemless Wine Glasses, Tumblers, and Champagne Flutes
Plastic drinkware offers an array of choices, from casual to refined. High-quality stemless wine glasses, tumblers, and champagne flutes evoke sophistication, impressing your guests with design and detail. These alternatives preserve beverage quality and style, whether for wine or sparkling toast. Stemless wine glasses provide comfort, while champagne flutes keep the celebratory bubbles intact.
Combining Safety, Elegance, and Convenience
Safety is vital for any event, and plastic drinkware offers worry-free festivities. Choosing plastic alternatives removes the risk of broken glass, creating a safe environment. These pieces balance elegance and convenience, with designs mirroring traditional glassware's refinement. Disposable design ensures joyful celebrations and easy cleanup. Relish memories without the weight of extensive cleaning.
Seamless Elegance: Disposable Tablecloths and Napkins
Impact of Textiles on Tablescape Aesthetics
Textiles influence your wedding's atmosphere, offering a tactile and soft touch. Disposable tablecloths and napkins, aligned with your vision, elevate the tablescape's beauty. These linens set the scene for culinary delights and centerpieces, becoming a canvas for your decor. Well-chosen, they transform the tablescape, adding sophistication and charm to your celebration.
Selecting the Right Materials and Sizes
Picking suitable materials and sizes for disposable table linens is crucial for a polished appearance. Their fabric-like texture adds a luxurious touch. You can align them with your theme from smooth to subtly textured options. Matching the tablecloth size to your tables ensures an elegant drape. Indoors or outdoors, big or small, the right fit provides graceful cascading, setting an inviting tone for your guests.
Elevating Disposable Table Linens Beyond Expectations
Elegance isn't compromised with disposable options. Today's market challenges traditional views on disposable table linens. Guests often mistake them for fabric due to their quality. Creative folds and arrangements add personal flair. With creativity, these linens become art that aligns with your theme and love story, showcasing uniqueness and style.
Frequently Asked Questions (FAQs)
1. Are elegant plastic plates as durable as traditional plates?
Absolutely. Modern plastic plates are designed to be both aesthetically pleasing and durable. They are crafted from high-quality materials resistant to cracking, breaking, and bending. While they may not be as heavy as traditional plates, they are built to withstand the demands of a wedding celebration. The advantage lies in their convenience and the reduced risk of accidents compared to delicate glass or porcelain.
2. Can I find disposable dinnerware sets that match my wedding theme?
Certainly, disposable dinnerware sets have evolved to offer designs and patterns catering to various wedding themes. From rustic barn weddings to glamorous black-tie affairs, you'll find options that align with your vision. Whether you're seeking simplicity or extravagance, there's a disposable dinnerware set that complements your theme seamlessly.
3. Are disposable flatware sets suitable for formal wedding receptions?
Absolutely. Disposable flatware sets are designed to embrace both style and formality. From classic to contemporary designs, these sets cater to various atmospheres, including formal wedding receptions. The elegant appearance of the flatware ensures that your tablescape maintains its sophistication while offering the convenience of disposable design.
4. Is plastic drinkware a safe option for toasting at weddings?
Yes, plastic drinkware is a safe and practical option for toasting at weddings. Modern plastic drinkware is crafted from BPA-free materials and safe for beverage use. The material is designed to mimic the glass appearance while eliminating the risk of breakage. Toast confidently, knowing that your guests can enjoy the moment without concern.
In the grand tapestry of life, moments become memories, and memories become the fabric that binds us. As you celebrate your love in the most intricate and meaningful ways, remember that every detail, every choice, and every element contributes to the masterpiece of your wedding day. Love, as they say, is in the details—details that create a world of beauty, elegance, and cherished memories that will be relived with every glance at your breathtaking tablescape.