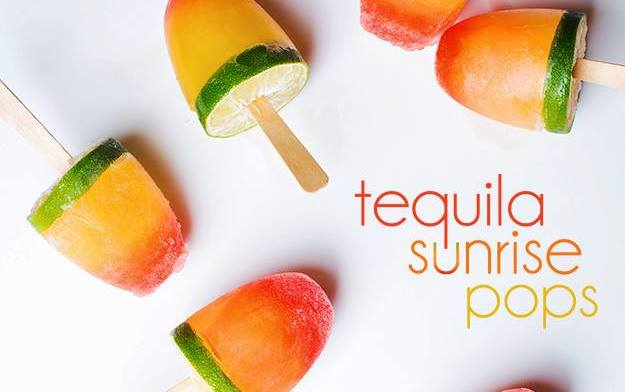 Sun, Fun, and Tequila: The Must-Have Popsicles for Your Summer Party
As the sun's golden rays stretch across the sky and the sound of laughter fills the air, it's undeniable: summer is here, and it's time to celebrate! Something is enchanting about this season – it invites us to shed our worries, immerse ourselves in the outdoors, and relish life's simple pleasures. And what better way to embrace the spirit of summer than by hosting a dazzling soiree that combines the trifecta of delight: Sun, Fun, and Tequila!
Chill Out in Style: How to Make Tequila Sunrise Pops for Your Summer Bash
Imagine a gathering where friends and family enjoy the sun, clinking glasses filled with vibrant, boozy popsicles as refreshing as beautiful. Dive into crafting the ultimate summer treat – tequila-infused popsicles that burst with flavors and colors, elevating your party to new heights. Unveil the secrets to create memorable sun-kissed moments with tantalizing tequila popsicles!
Crafting Tequila-Infused Popsicles
When it comes to hosting a summer party that's both refreshing and spirited, tequila-infused popsicles are the pinnacle of cool. These delightful treats combine the best of both worlds: the invigorating flavors of popular cocktails and the icy goodness of popsicles. Here's a guide to help you master crafting these must-have tequila-infused popsicles for your summer fiesta.
1. Choosing the Right Tequila: Balancing Flavors and Alcohol Content
The choice of tequila can significantly impact the overall taste of your popsicles. Choose a quality tequila you enjoy drinking solo: silver for versatility, reposado, or añejo for depth. Also, keep in mind freezing alters alcohol content. You want to balance retaining the cocktail's essence and ensuring the popsicles don't become overly potent.
2. A Range of Fruity Options: From Classic Margarita to Innovative Watermelon-Mint Concoctions
Margarita Popsicles

: Capture the tangy goodness of a margarita with a blend of tequila, lime juice, and a touch of orange liqueur. Rim the popsicle molds with salt for an authentic touch.

Paloma Popsicles

: Transform the beloved Paloma cocktail into a frozen delight by infusing tequila with grapefruit juice and a hint of lime.

Watermelon-Mint Popsicles

: Mix fresh watermelon chunks with tequila and a splash of mint-infused simple syrup for a refreshing treat that screams summer.
3. Incorporating Fresh Ingredients: Berries, Citrus, and Herbs for a Burst of Flavor
Elevate your popsicle game by incorporating fresh and seasonal ingredients. Berries like strawberries, blueberries, and raspberries can add vibrant colors and natural sweetness. Citrus fruits such as oranges, lemons, and limes lend a zesty kick. Adding herbs like basil, mint, or rosemary can provide aromatic complexity to the flavor profile.
4. Pro Tips for Even Distribution of Tequila
Mix the tequila with other liquid ingredients before pouring into the molds. This helps prevent separation and ensures a consistent taste in each popsicle.

Consider layering flavors for a visually appealing effect. Pour a layer of one flavor, freeze until slightly firm, then add the tequila-infused layer.

Taste your mixture before freezing, and adjust the tequila quantity if needed. Remember, flavors tend to mellow slightly after freezing.
The Perfect Popsicle Presentation
How you present your tequila-infused popsicles can elevate the overall ambiance of your event, adding that extra touch of sophistication and fun. Let's dive into the details of creating the perfect popsicle presentation that will have your guests snapping Instagram-worthy photos and talking about your party for seasons to come.
Importance of Presentation: Aesthetics Elevate the Overall Party Experience
They say we eat with our eyes first, which couldn't be truer when serving tequila-infused popsicles at your summer party. The presentation of your popsicles can set the tone for the entire event and create a memorable experience for your guests. Seeing beautifully displayed popsicles piques their interest and adds an element of anticipation and excitement.
Eco-Friendly Birch Wood Spoons as Sticks: A Sustainable Choice
Gone are the days of standard sticks for your popsicles. Embrace sustainability by opting for eco-friendly birch wood spoons as sticks. These biodegradable spoons add a rustic and charming touch to your popsicles. They are a conscious choice that aligns with eco-conscious party planning, showcasing your commitment to reducing plastic waste.
Plastic Serving Bowls Filled with Ice: Keeping Popsicles Chilled and Visually Appealing
Consider using plastic serving bowls filled with ice to ensure your tequila-infused popsicles stay refreshingly cold. These bowls create a visually appealing display while keeping the popsicles at the perfect temperature. You can play with the colors and sizes of the bowls to match your party's theme and aesthetics. This presentation keeps the popsicles in peak condition and adds a touch of elegance to the overall setup.
Mini Plastic Cups: A Practical and Stylish Option for Serving
Mini plastic cups are a versatile choice for serving your tequila-infused popsicles. They offer a convenient way for guests to enjoy their popsicles without worrying about drips and spills. These cups are available in various colors and styles, allowing you to match them to your party's decor. Consider placing the cups in a separate display for guests to quickly grab and go, fostering a relaxed and interactive atmosphere.
DIY Popsicle Party Bar
Elevate your summer party with a DIY popsicle bar. Engage guests in customizing their tequila-infused popsicles, adding energy and fun to your sun-soaked gathering.
1. Building the Ultimate Popsicle Bar: Creativity and Engagement for Guests
A DIY popsicle bar is a delightful addition to your summer party, creating an atmosphere of hands-on enjoyment. Set up a designated station with all the necessary ingredients, tools, and decorations to let your guests dive into the popsicle-making process. The bar's interactive nature keeps guests engaged and becomes a memorable focal point of your event.
2. Various Fruit Purees, Mix-Ins, and Garnishes: Catering to Different Taste Preferences
Provide an array of fruit purees, mix-ins, and garnishes to ensure a diverse range of popsicle options. Offer classic flavors like strawberry, mango, pineapple and unique options like kiwi or passion fruit. Remember to include an assortment of mix-ins such as chopped nuts, mini chocolate chips, or shredded coconut. These ingredients allow guests to personalize their popsicles, resulting in a truly one-of-a-kind treat.
3. Personalization: Allowing Guests to Create Their Own Tequila-Infused Popsicle Combinations
Personalization is the name of the game at a DIY popsicle bar. Let your guests get creative by choosing their preferred fruit purees, mix-ins, and even the type of tequila they'd like to use. This level of control allows everyone to tailor their popsicles to their taste preferences and dietary needs, ensuring a crowd-pleasing experience.
4. Recipe Cards: Sharing Inspiration and Guidance for Crafting the Perfect Popsicle
While the focus is on personalization, providing some recipe cards can offer inspiration and guidance for those who want to experiment but aren't sure where to start. Include a few tried-and-true combinations that showcase the versatility of tequila-infused popsicles. These recipe cards can spark ideas and help guests create delicious and visually appealing popsicles.
Frequently Asked Questions (FAQs)
1. Can I Use Different Types of Alcohol Instead of Tequila?
Absolutely! While tequila is the star of these popsicles, you can get creative and experiment with other types of alcohol. Vodka, rum, and wine are excellent alternatives that can bring unique flavors to the mix. Keep in mind that the choice of alcohol may impact the overall taste and potency of your popsicles. Ensure that the alcohol you choose pairs well with the other ingredients in your recipes.
2. Do I Need Any Special Popsicle Molds for Making These?
While traditional popsicle molds are readily available and work perfectly well, you can also think outside the box. Use ice cube trays, small paper cups, or even silicone molds for unique shapes. The choice of molds can also influence the presentation of your popsicles. Traditional molds with built-in sticks offer convenience, while unconventional molds allow you to get creative with your popsicle design.
3. How Far in Advance Can I Make These Popsicles?
Timing is crucial to ensure that your tequila-infused popsicles are at their peak when serving them. Generally, prepare these popsicles a few days in advance. However, the specific timeline depends on the ingredients and your freezer's capabilities. Fruit-based popsicles last well for about a week, while those with dairy or cream might have a slightly shorter shelf life. Testing a small batch to determine how long they retain their flavor and texture is best.
4. Where Can I Find Eco-Friendly Serving Utensils and Bowls?
If you're committed to hosting an eco-friendly event, you'll be pleased to know that plenty of options are available. For biodegradable serving utensils, consider using eco-friendly birch wood spoons as sticks. As for bowls, you can find plastic serving bowls at the fantastic Smarty Had A Party online store, where you can discover a range of sustainable and stylish partyware.
Cheers to the sun, fun, and the ultimate summer experience!