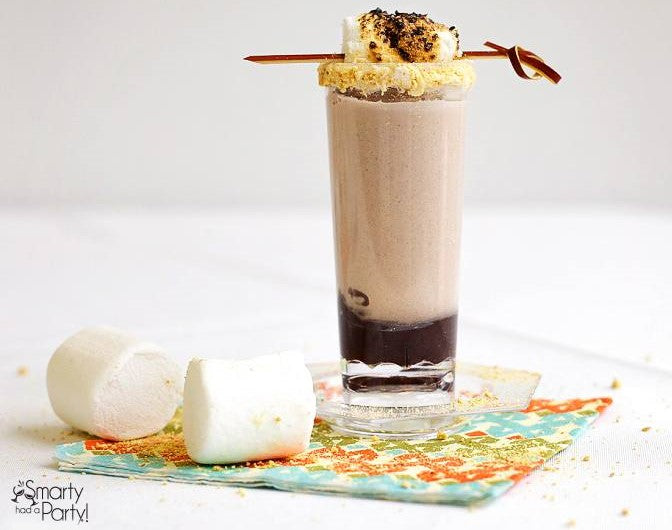 S'moretini Shooters - Perfect Party Drink
We all want to have S'mores when this time of the year comes around. While the adults enjoy S'mores cocktails, kids get to taste the sweet and delicious S'mores desserts. The best part about s'mores is the creaminess of the marshmallows. You can make a dessert from marshmallows or add liqueur to make everyone's favorite S'moretini shooters.
Following a few steps, you can prepare a S'moretini cocktail to enjoy with your friends and give them a taste of originality. Next, we will teach you two different S'mores drinks so you can enjoy them any time of the year.
Sweet pleasure but very intoxicating! Be careful with this drink!
Toasted S'mores Martini
The toasted s'mores martini tastes delicious due to the toasted marshmallow. It tastes much better when you heat a marshmallow and put it over your glass. You can mix the ingredients from the beginning or keep the drink in layers for a better display and only mix it before drinking.
Ingredients:
Dark chocolate or milk chocolate liqueur: 1 oz.

Heavy cream: ½ oz.

Fluffed Marshmallow vodka: ½ oz.
For the rim of glass:
Chocolate syrup

Graham crackers (crushed)
For garnishing:
Marshmallows

Bamboo sticks
Directions:
Let's decorate the rim of our glasses first. Take some plastic party tumblers, dip their rim in chocolate syrup, and then in crushed graham crackers.
Take one of your glasses and start by adding dark chocolate or milk chocolate liqueur. Remember, you must add the ingredients as slowly as possible so you don't mix the layers (if you are making it layered). The best thing to do would be to keep a spoon over the glass and pour the ingredients on it, which would then go into the glass slowly.
Now, take another container and mix heavy cream and marshmallow vodka in it. Pour it into the glass in which you have already added the liqueur.
Take a marshmallow and heat it on an open flame until it turns nicely brown. Be safe as it can catch fire, and you don't want that. Lay the bamboo stick and place the brown marshmallow. Stir with the bamboo stick and enjoy!
Hot S'mores Shooters
Hot S'mores shooters are perfect for winter parties and taste as delicious as the previous drink. Here's what you'll need to make this warm and creamy drink.
Ingredients:
Irish cream: 1 oz.

Dark chocolate liqueur: 1 oz

Whipped cream vodka: 1 oz
For the rim:
Chocolate syrup

Graham crackers
Directions:
Make up the rim of the glass just like we did in the previous recipe and set it aside. Then, begin making the drink by mixing all the ingredients in a shaker and mixing them well.
Heat some chocolate syrup and pour it into elegant plastic shot glasses as a base. Then, as we did, slowly pour the vodka mixture over the warm chocolate syrup. Finally, put some roasted marshmallows on top of the drink.
Use our disposable shot glasses for your S'mores shooters, and you will be ready to impress everyone with your service skills.
Dark's Fluffy Recipe
Completely indulgent, Dark'n Fluffy is the dream of a chocolate cocktail lover. One of them will take care of your daily chocolate cravings, but it's worth it.
The cocktail is not entirely chocolate but a well-balanced blend of cream, Godiva liqueur, and Smirnoff Fluffed Marshmallow Vodka. This vodka base adds an exciting twist to the standard chocolate Martini, bringing a subtle sweetness found only in marshmallows.
One twist that I would add to this drink if you are in the mood for a cocktail like S'mores is to place a glass of finely crushed bean crackers, using liqueur as a base. Or, you can make a 1: 1 mixture of crackers and cocoa on edge.
What will you need:
2 ounces of vodka (Smirnoff vodka with carrot flavor)

2 ounces of chocolate liqueur (Godiva® dark chocolate liqueur)

1-ounce cream
Decoration: 
3 or 4 mini marshmallows

Decorative: cocoa powder
How to do it:
Pour the ingredients into a cocktail bar filled with ice.

Shake well.

Soak in a chilled cocktail glass.

Garnish with jam and sprinkle with cocoa powder.
Vodka Gives Strength to Cocktails
Vodka is loved by bartenders because it is ideal for making cocktails, and the reason is simple - vodka has no taste or smell and therefore goes well with all alcoholic and non-alcoholic drinks. In addition, vodka in cocktails strengthens other beverages and does not destroy their taste. 
Of course, the better the vodka, the tastier and more drinkable the cocktail will be. When choosing vodka for cocktails, the most important thing is to consider the ingredients from which it is made. Vodka is often distilled from cereals such as wheat, rye, or rice, but it is also made from potatoes, beets, corn, and fruit. In some countries, milk or maple syrup is used for processing. Potato vodka has a creamy body and a subtle earthy taste. The one made from corn is usually sweeter, while the wheat ones are creamy and have a pure taste. Rye-based vodka has a spicy flavor. The most famous production process is a mixture of cereals because only then was pure vodka of neutral taste obtained, ideal for cocktails and which usually contains about 40 percent alcohol. Vodka distilled from grains is perfect because it can hide or improve the flavor of other drinks in cocktails. Smirnoff is the most famous brand that is considered pure vodka and distilled from cereals.
Colorful Test Tubes
For all those who like to experiment with drinks and unusually drink their creations, the ideal way to serve your creation is a chemical set of 4 glass tubes neatly tucked in a bamboo holder when you are already playing a crazy chemist, even if you have the right set. The most common and most beautiful are colorful, and you can get one color. They are very striking and exciting and will attract the attention of curious guests!
These test tubes are perfect for colorful cocktails or shooters that you will reach in one sip because they are nice and sweet, but after the third shooter, you will be caught horizontally, and that is where your memory of that day ends. Ideal for all types of celebrations where the main reason for the celebration is alcohol and good fun, and if you have friends who like to try new things, this is a complete hit!