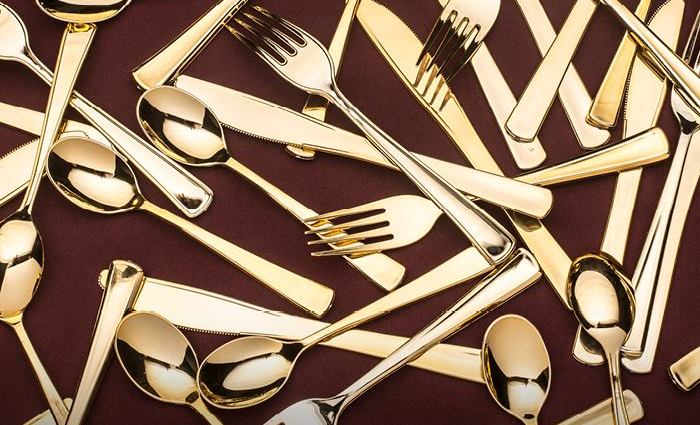 The Ultimate Party Hack: Why Disposable Silverware Is a Must-Have?
Imagine this: You're hosting a fabulous party with friends and family, and everyone's having a blast. Your well-organized event is going smoothly. But in all the excitement, one often overlooked detail can make or break the gathering – the silverware. Yes, the silverware – those seemingly ordinary utensils guests use to savor your delicious dishes. They're essential to the dining experience and can either make your event shine or leave you with many dirty dishes after the party ends.
Party Planning Made Easy: The Advantages of Using Disposable Plastic Silverware
Welcome to the world of modern party planning, where convenience is essential. Meet plastic silverware – the unsung hero of effortless hosting. In this blog post, we'll reveal why disposable plastic silverware is a must-have for any party, whether you're a seasoned host or a first-time planner. Get ready to discover the ultimate party hack that will change how you celebrate, making gatherings stress-free and unforgettable.
The Evolution of Party Planning
In the world of party planning, much has changed over the years. Gone are the days of elaborate china sets and ornate silverware passed down through generations. While traditional party hosting undoubtedly has a timeless charm, the demands and pace of contemporary life have ushered in a new entertaining era. 
Traditional vs. Modern Party Hosting
Traditionally, hosting a party meant setting an elegant table with fine china, polished silverware, and delicate glassware. It exuded sophistication but demanded hours of preparation and cleanup. Today's hosts prioritize simplicity without compromising style, aiming to create memorable experiences with ease. This shift has given rise to a game-changer: disposable plastic silverware.
The Need for Convenience in Contemporary Times
In today's busy world, time is precious. Work, family, and daily life can overwhelm us, leaving little time for elaborate party preparations. Convenience is now the driving force in party planning. Hosts want less time in the kitchen and more with their guests.
Disposable flatware is the solution, offering a stunning dining experience without post-party cleanup. You no longer have to choose between a great event and hours of dishwashing. Convenience alone makes disposable plastic silverware a party essential.
Disposable Plastic Silverware: A Game-Changer
Meet the unsung hero of modern party hosting – plastic flatware. It combines traditional elegance with the simplicity of disposable use, offering hosts the best of both worlds.
Fancy plastic silverware goes beyond convenience; it's about maximizing every moment. Whether throwing a casual backyard barbecue, an elegant wedding reception, or anything else, these versatile utensils adapt to your needs. With various styles and colors available, they ensure your event is stress-free and visually stunning.
The Advantages of Disposable Plastic Silverware
Convenience Beyond Compare
1. No More Post-Party Dishwashing Blues
Disposable plastic silverware's appeal starts with banishing the post-party dishwashing ordeal. No more stacks of dirty dishes haunting you after guests leave. Cleanup becomes a breeze – gather and toss the used items in the recycling bin. This small act offers immense relief, letting you enjoy your event's afterglow without the burden of dishwashing.
2. Lightning-Fast Setup and Cleanup
Disposable plastic silverware makes party setup a breeze. Unlike traditional silverware that demands meticulous placement, these utensils are ready to use straight from the packaging. Whether it's a spontaneous gathering or a grand celebration, you'll appreciate the swift setup, allowing you to focus on other party details. After the last guest leaves, cleanup is equally hassle-free, letting you wrap up your event quickly and efficiently.
Hygiene and Safety at the Forefront
1. Minimizing Cross-Contamination Concerns
In an age of heightened hygiene awareness, minimizing cross-contamination risks at your party is crucial. Disposable plastic silverware excels here. Individually wrapped, each utensil stays untouched until it's in your guests' hands. This reduces the spread of germs and protects those with food allergies or sensitivities, ensuring everyone's safety and health at your event.
2. Ensuring Peace of Mind for Hosts and Guests
Hosts bear the responsibility of ensuring a safe and enjoyable party for guests. Disposable silverware provides peace of mind, assuring you've taken proactive steps to uphold hygiene standards. Guests can relax, enjoy the food, and trust that their health and safety are top priorities.
Budget-Friendly Brilliance
1. Affordability for All
Throwing a memorable party doesn't have to be expensive. Disposable plastic silverware is affordable, offering an elegant dining experience without the high costs of fine china or expensive rentals. Whether a small get-together or a grand event, disposable silverware is a budget-friendly, stylish solution.
2. Savings on Costly Dishware Rentals
Traditional party hosting often means renting dishware, which can become costly, especially for big events. Plastic silverware removes the need for expensive rentals, freeing up your budget for decorations, entertainment, or a delicious menu. It's a smart financial choice that maintains quality and presentation.
Smarty Had A Party: Your Ultimate Party Partner
Now that we've explored the advantages of disposable plastic silverware meet your ultimate party ally: Smarty Had A Party. This online store is your go-to for disposable party supplies. 
Smarty Had A Party isn't just a store; it's a game-changer in party planning. With years of experience and a commitment to making every event extraordinary, Smarty Had A Party is a trusted partner for hosts and party enthusiasts. Their mission? Provide top-quality products that simplify your party planning journey while adding elegance to every occasion.
A Treasure Trove of Disposable Plastic Silverware
1. Forks, Spoons, Knives, and More
Whether gourmet meals or delicious desserts, Smarty Had A Party has a wide range of disposable silverware. They offer forks, spoons, knives, and specialty utensils to elevate guests' dining experience. Whether it's an elegant cocktail party or a casual gathering, there's a perfect utensil for every occasion.
2. A Rainbow of Colors and Styles
Smarty Had A Party stands out for its style and aesthetics. No more settling for plain white disposables. They offer a rainbow of colors and styles so you can match your party's theme or create a striking table setting. Their disposable plastic silverware lets you express your creativity and set the tone for your event.
Unparalleled Quality
1. Durability that Impresses
Disposable doesn't have to mean flimsy. Smarty Had A Party's flatware, as well as plastic dinnerware, plastic servingware, and disposable drinkware, are crafted to withstand the rigors of your event without sacrificing durability. Your guests will be pleasantly surprised by the strength and sturdiness of these utensils, which feel anything but disposable in their hands.
2. Elevating Aesthetics for Every Occasion
Smarty Had A Party's disposable plastic silverware is designed to elevate the look of your event and impress your guests, no matter the size of the gathering.
Voices of Satisfaction
1. Real Stories from Happy Customers
Smarty Had A Party has left a trail of satisfied customers who have experienced the magic of effortless party planning. Their real stories highlight the convenience, style, and quality that Smarty Had A Party brings.
2. Glowing Reviews That Speak Volumes
Peruse the reviews, and you'll find a chorus of praise from hosts and party planners who have turned to Smarty Had A Party for their disposable plastic silverware needs. These reviews speak volumes about the company's commitment to customer satisfaction and dedication to making every event exceptional.
The Ultimate Party Hack in Action
Practical Tips for a Stress-Free Party Experience
Plan Ahead

: Plan your party early with a checklist for supplies like silverware, tableware, and décor. This gives you time to make informed decisions and order anything you need.

Choose the Right Utensils

: Choose disposable plastic silverware based on the occasion. Formal events require elegant styles, while casual gatherings can use playful and colorful options. Make sure you have enough for all your guests.

Pair with Quality Napkins

: Upgrade your dining with 

linen-like napkins

 to match your disposables.

Set Up a Convenient Dining Area

: Organize your dining area for easy self-service. Keep utensils, napkins, and condiments within reach to minimize congestion and allow for effortless dining.

Label Allergens

: Label allergens on your menu for guest safety.

Prepare for Cleanup

: Label trash and recycling bins for easy cleanup and organization, including a designated area for used plastic silverware and other waste.

Delegate Responsibilities

: Delegate party tasks to trusted friends or family so you can enjoy time with your guests.
Celebrate with Confidence: Your Party, Your Way
Get Creative with Colors

: Try colorful disposable utensils to match your party's theme or your personal style. Mix and match shades for a memorable table setting.

Focus on Presentation

: Elevate your table setting with aesthetic touches like folded napkins, decorative tableware, and centerpieces or candles.

Personalize Your Party

: Add personal touches to your party with custom labels and place cards.

Capture Memories

: Bring a camera or smartphone to capture memorable moments at your event. These photos will be cherished memories of your party.
The next time you embark on the adventure of party planning, remember this ultimate party hack – disposable plastic silverware – your trusted companion for stress-free, stylish, and unforgettable celebrations. Cheers to the host in you and the many amazing parties to come!