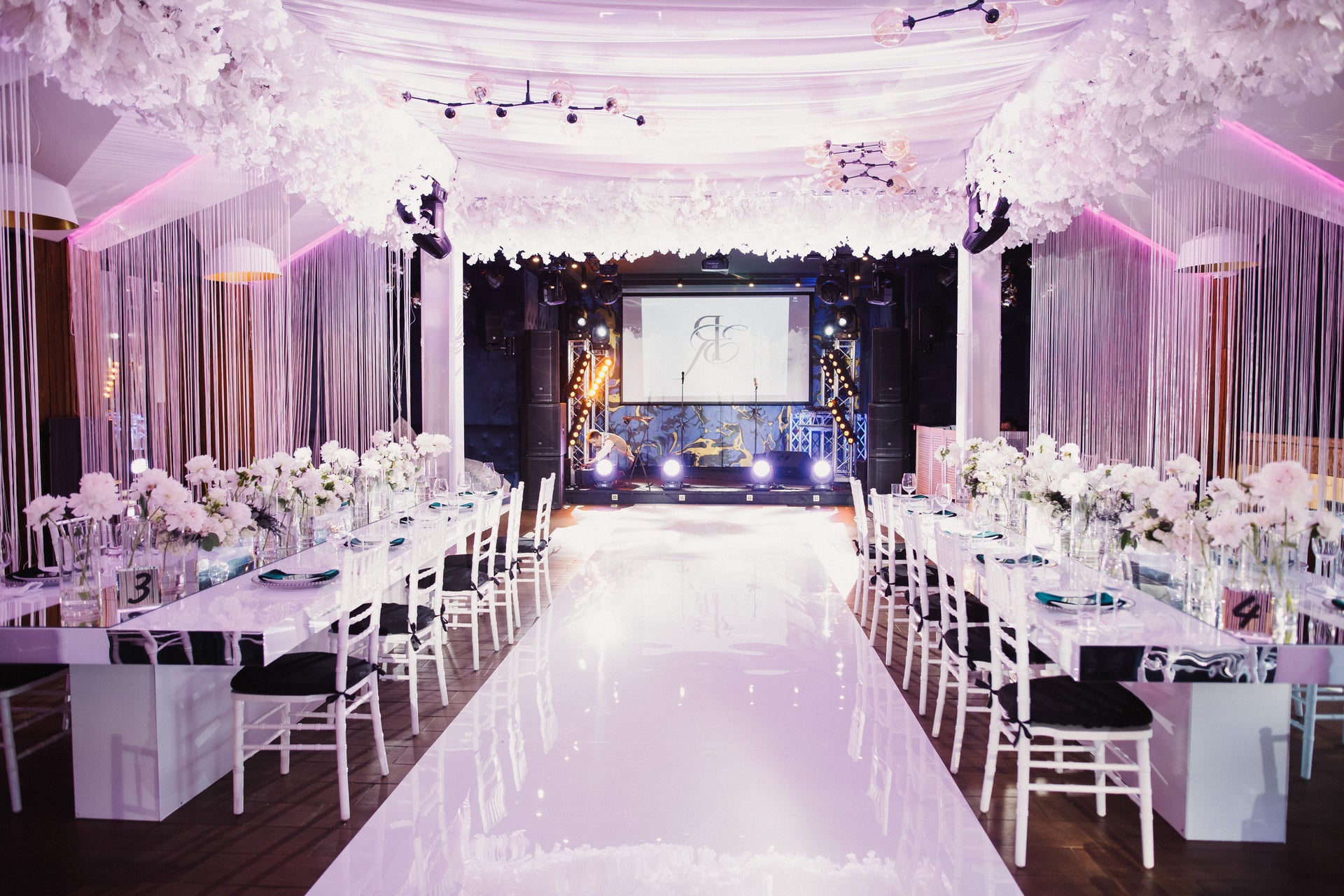 Practical Perfection: Disposable Dinnerware for Stress-Free Weddings
Planning a wedding is an exhilarating experience, filled with countless decisions to be made. One crucial aspect that often requires careful consideration is the choice of dinnerware. Traditionally, couples have relied on renting expensive, fragile sets for their special day. However, a practical and stress-free alternative has emerged recently: disposable dinnerware. In this blog post, we will delve into the world of disposable dinnerware and explore its many benefits to large wedding celebrations. Let's dive in and discover how these elegant yet disposable solutions can make your wedding celebration a breeze. Say goodbye to dishwashing and hello to stress-free dining!
Benefits of Disposable Dinnerware for Large Weddings
Convenience and Time-saving
Easy setup and cleanup:

 The setup process becomes a breeze with disposable dinnerware. Instead of painstakingly arranging delicate china and glassware, you can simply unpack the neatly stacked plates, cups, and cutlery. This saves you valuable time and eliminates the risk of breakage during setup.

Reduced stress:

 Planning a wedding is emotional enough without worrying about fragile dinnerware. With disposable dinnerware, you can eliminate this stress and focus on enjoying your special day. Your loved ones can also relax, knowing they don't have to handle or return rented items.
Cost-effectiveness
Affordable option:

 Renting traditional dinnerware for a large wedding can be expensive, with fees for each item quickly adding up. In contrast, disposable dinnerware is much more cost-effective, making it a budget-friendly choice for couples.

Eliminating dishwashing expenses:

 You last want a pile of dishes to wash after the wedding. Disposable dinnerware eliminates this chore entirely. Rather than spending hours cleaning, you can simply gather and dispose of the used dinnerware. This saves you time and energy, allowing you to fully enjoy the post-wedding celebrations.
Versatility and Customization
Versatile options for any theme:

 Whether you're going for a rustic outdoor wedding or an elegant black-tie event, 

plastic dinnerware

 offers various styles. With options ranging from simple and sleek to intricate patterns and textures, you can easily find the perfect match to complement your wedding's overall aesthetics.

Endless options for customization:

 Disposable dinnerware goes beyond plain white or generic designs. You'll find a delightful range of colors, patterns, and designs. Whether you want classic white, vibrant hues, or themed prints, the options are abundant. This flexibility enables you to create a cohesive and visually appealing dining experience that matches your reception perfectly.
Hygiene and Safety
Guaranteed cleanliness:

 Multiple guests may have used traditional dinnerware, raising hygiene concerns. Disposable dinnerware provides the assurance of using fresh, unused, and sanitary pieces. This is especially important when serving many guests, ensuring everyone enjoys their meal on clean and uncontaminated surfaces.

Minimized risk of foodborne illnesses:

 Disposable dinnerware eliminates the chance of cross-contamination. Unlike traditional dinnerware, where bacteria or allergens can transfer between plates, disposable options significantly reduce this risk. By prioritizing the health and well-being of your guests, you can ensure a safer dining experience.
Consider Bulk Plastic Dinnerware for Practicality
Advantages of Bulk Purchases
Lower cost per unit:

 Buying plastic dinnerware in larger quantities offers significant discounts and a lower cost per unit than purchasing individual sets. This allows you to make the most of your wedding budget, obtaining the desired quality and quantity of dinnerware without overspending.

Sufficient supply for large guest lists: 

Weddings often involve inviting many guests. Purchasing plastic dinnerware in bulk ensures you have more than enough plates, cups, and cutlery to accommodate everyone. This eliminates concerns about running out of dinnerware during the reception and guarantees a seamless dining experience for all attendees.
Plastic Dinnerware Sets for Weddings Adds Elegance and Sophistication
Gone are the days when plastic dinnerware was synonymous with cheap and disposable items. Today, high-quality plastic dinnerware sets offer an elegant alternative that rivals traditional dinnerware in aesthetics and functionality. These sets are designed with attention to detail, ensuring a refined dining experience for your wedding guests.
Visual appeal and sophistication: 

Elegant plastic dinnerware sets are crafted to emulate the beauty of fine china. From intricate patterns to sleek designs, these sets elevate the visual appeal of your reception tables. Guests will be impressed by the sophisticated look of the dinnerware, unaware that it is made of plastic.

Resemblance to traditional dinnerware without fragility: 

One of the main advantages of 

disposable dinnerware sets

 is that they offer the best of both worlds. You can enjoy the elegance and charm of traditional dinnerware without worrying about fragility. These sets are durable and resistant to breakage, ensuring a stress-free dining experience for you and your guests.
Disposable Wedding Dinnerware: Making the Right Choice
Factors to Consider When Choosing Disposable Dinnerware for Weddings
Durability and strength:

 Look for sets known for their durability and strength. High-quality plastic dinnerware is designed to withstand the demands of a wedding reception without bending or breaking easily. 

BPA-free and food-safe materials: 

Safety should always be a priority regarding dinnerware. Ensure that your disposable dinnerware sets are made from BPA-free and food-safe materials. 

Guest count and portion sizes: 

Consider the number of guests you'll be hosting and the portions of the meals you'll serve. This will help you determine the quantity and sizes of disposable dinnerware sets to accommodate everyone comfortably.

Wedding theme and color scheme: 

Your wedding theme and color scheme play a significant role in creating a cohesive and aesthetically pleasing atmosphere. Choose disposable dinnerware that complements your theme and matches your desired color palette. Whether you're going for a rustic, vintage, or modern theme, options are available to suit your vision.

Budget constraints:

 Set a budget for your disposable dinnerware and stick to it. Fortunately, many options are available at different prices, allowing you to find affordable yet stylish disposable dinnerware that fits your budget. Strike a balance between quality, aesthetics, and cost to make the best choice.
Popular Options in Disposable Wedding Dinnerware
Plates, cups, and cutlery sets: 

The essentials of any dining experience, 

disposable plates, glasses

, and 

cutlery sets

 come in various sizes, styles, and materials. Opt for sturdy and durable options that can withstand the weight of food and provide a comfortable dining experience for your guests.

Napkins and table covers: 

Enhance the overall look of your tables by choosing 

disposable napkins

 and 

table covers

 that coordinate with your theme and color scheme. From classic white to vibrant colors and patterns, these elements contribute to the overall ambiance of your reception.

Additional accessories for a cohesive look: 

To create a cohesive and polished look, consider additional accessories such as 

disposable chargers

, drinkware accents, or centerpiece elements. These small details can elevate the overall visual appeal of your tables and tie the entire look together.
Buying Disposable Wedding Dinnerware at Smarty Had a Party Online Store
When finding a reliable source for high-quality disposable wedding dinnerware, Smarty Had a Party online store is a go-to destination for many couples. 
Extensive Options
Smarty Had a Party offers an extensive range of disposable wedding dinnerware options to suit various preferences and needs. From elegant plastic dinnerware sets to chic disposable plates, cups, and cutlery, Smarty has everything you need to create a stylish and stress-free dining experience. Smarty's wide selection ensures you can find the perfect match for your wedding theme, color scheme, and budget.
Superior Quality and Durability
One of the standout features of Smarty Had a Party is its commitment to providing high-quality products. Our disposable dinnerware is made from premium materials designed to be durable, sturdy, and resistant to bending or breaking. This ensures that your guests can enjoy their meals without any inconvenience or worry about the reliability of the dinnerware.
Convenience of Online Shopping
Shopping for disposable wedding dinnerware at Smarty Had a Party online store offers the convenience of browsing and purchasing from the comfort of your home. Our user-friendly website lets you easily navigate the extensive inventory, view detailed product descriptions and images, and make informed decisions. With just a few clicks, you can have your disposable dinnerware sets delivered right to your doorstep, saving you valuable time and energy during the wedding planning process.
Customer Satisfaction and Reviews 
Smarty Had a Party takes pride in its commitment to customer satisfaction. We prioritize delivering a positive shopping experience by providing excellent customer service and support. Additionally, our website features customer reviews and testimonials, giving you insights into previous customers' experiences. 
Indulge in the art of dining and let sophistication be the guiding principle, transforming your meals into extraordinary culinary events.