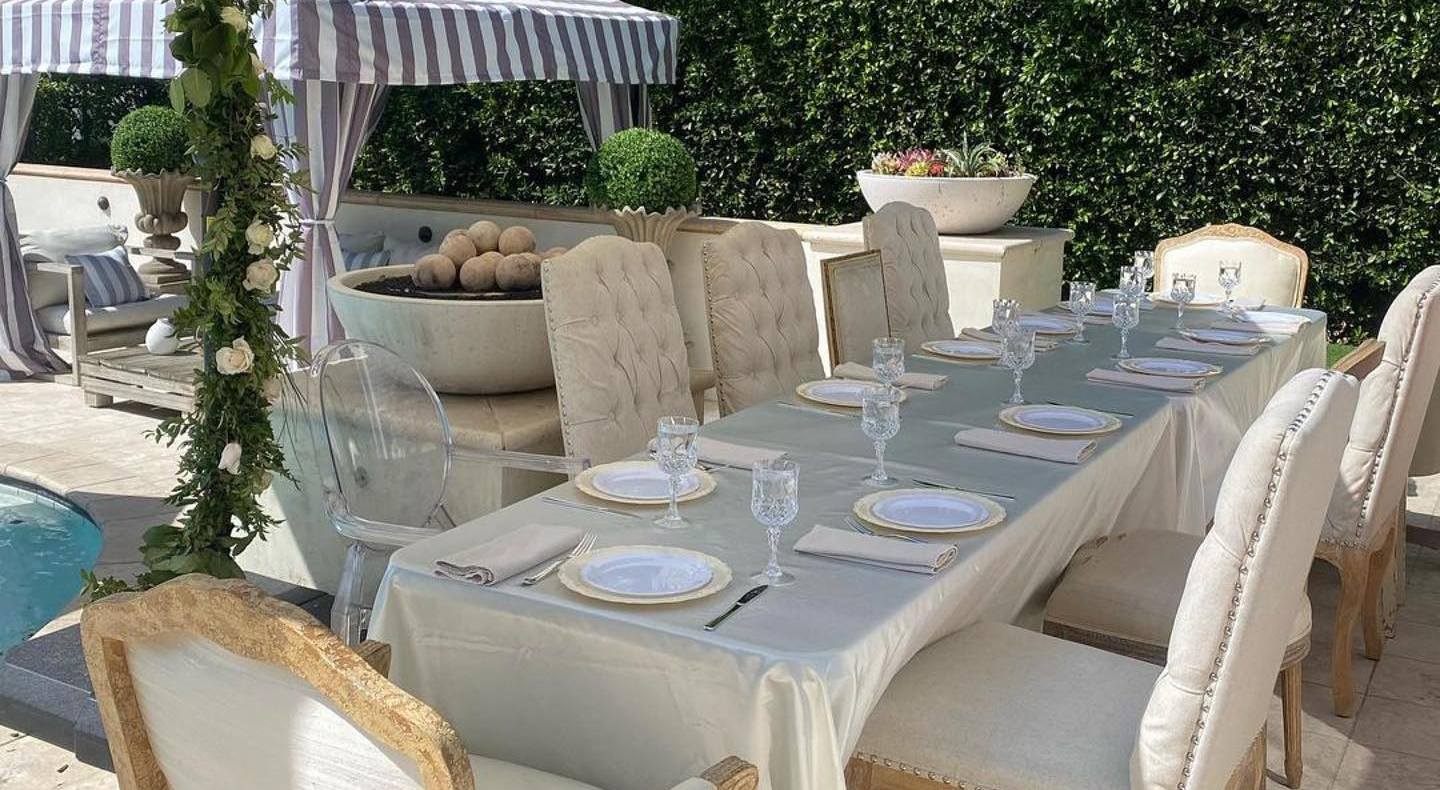 Poolside Glamour: How to Plan an Elegant Pool Party?
Welcome to a world of luxury, where the sun-kissed shimmer of crystal-clear waters meets the allure of sophistication and style. You're about to dive into the art of planning an unforgettable event that epitomizes Poolside Glamour – an elegant pool party that will mesmerize your guests.
Gone are the days of mundane gatherings and lackluster get-togethers. Instead, we invite you to embrace the enchantment of an upscale poolside affair that exudes class, charm, and convenience.
Summer Sophistication: Hosting an Elegant Poolside Extravaganza
In this blog post, we will guide you through the intricacies of orchestrating a seamless event that combines the splendor of an opulent soirée with the ease of modern-day hosting. So, whether you're celebrating a special occasion, hosting a social soirée, or simply craving a taste of the finer things in life, join us as we dive into the world of Poolside Glamour and embark on a journey to create an elegant pool party like no other. Let's make a splash and turn your poolside gathering into an enchanting affair of luxury and delight.
Creating a Stunning Tablescape
Choosing the Perfect Theme: Elegant Vintage Poolside Décor
For Poolside Glamour, choose a timeless vintage theme that exudes grace and sophistication. Opt for colors like soft pastels, muted gold, and shades of aqua to reflect opulence. Add palm leaves, faux pearls, and art deco patterns for extra glamour. Transport guests to the elegance of 1950s Hollywood or European resort getaways.
The Showstopper: Fancy Vintage Disposable Dinnerware Set
Elevate your poolside affair with a fancy vintage disposable dinnerware set that perfectly balances elegance and convenience. These exquisite dinnerware sets are designed to mimic the beauty of fine china, adorned with intricate patterns and gilded edges, yet they offer the practicality of being disposable.
Not only do they save you from the hassle of cleanup, but they also lend an air of sophistication to your poolside party. Your guests will be amazed at your choice's attention to detail and tastefulness. With fancy vintage disposable dinnerware, you can indulge in luxury without compromising on ease – a winning combination for any glamorous event.
Sparkling Elegance: Crystal-Cut Plastic Wine Glasses
No elegant pool party is complete without a toast to celebration and joy. Enhance the sparkling ambiance with crystal-cut plastic wine glasses that shimmer in the sunlight, exuding the opulence of genuine crystal without fragility. These elegant wine glasses add a touch of luxury to the affair and ensure safety around the pool area.
Your guests will be delighted to raise these exquisite glasses, clinking to a day of poolside revelry and cherished memories. Whether serving bubbly champagne or refreshing mocktails, the crystal-cut wine glasses will elevate every sip and toast, making your poolside gathering an experience to remember.
Sophisticated Touch: Coordinating Plastic Flatware Set
To complete the look of your stunning tablescape, consider a coordinating plastic flatware set that complements the vintage dinnerware and wine glasses. Opt for sleek and timeless designs, such as ornate handles or minimalist silverware, to maintain the theme of sophistication.
The beauty of using plastic flatware lies in its ability to offer a refined dining experience without the worry of breakage or time-consuming cleanup. Your guests will appreciate the thoughtfulness of your attention to detail as they savor each delectable bite with elegant ease.
The Cake: A Sweet Centerpiece
Poolside Perfection: Selecting the Ideal Cake Design
When hosting an elegant pool party, don't forget a centerpiece that delights both the eyes and taste buds – the cake! Consider incorporating pool-themed elements into the cake's design to tie it perfectly to the party's ambiance. Elements like palm trees, floating pool floats, or gentle waves can infuse a delightful touch of creativity and add to the overall poolside charm.
Delectable Flavors: Catering to Guests' Preferences
An essential aspect of planning an elegant pool party is to cater to your guests' diverse tastes and preferences. Regarding cake flavors, offering a variety of delectable options is key. From classic vanilla and decadent chocolate to tropical fruit flavors like mango or passionfruit, ensure there's something for everyone to enjoy. Moreover, consider any dietary restrictions your guests might have, such as offering gluten-free or vegan alternatives, so everyone can indulge in the sweet delight.
A Dash of Glamour: Decorating the Cake with Pool-themed Elements
To truly embrace the poolside glamour, it's time to add a dash of pizzazz to the cake. Work with your baker to incorporate chic decorations that resonate with the poolside theme. Edible gold accents or sugar pearls can infuse a touch of luxury, while delicate fondant palm leaves or seashells can enhance the tropical vibe.
The cake's presentation is equally important, so choose an elegant cake stand that complements the overall aesthetic. To create a captivating display, consider surrounding the cake with fresh flowers, decorative candles, or even mini beach umbrellas.
Hosting an Elegant Pool Party: Tips and Tricks
Invitations that Set the Tone: Elegant Designs and Wording
Create an elegant pool party with sophisticated invitations. Opt for designs featuring subtle patterns, embossed elements, or watercolor motifs hinting at the poolside theme. Add poetic flair or clever wordplay with phrases like "An Evening of Poolside Elegance" to pique curiosity. Include essential details like date, time, venue, and dress code. Your guests will anticipate an exceptional and glamorous experience.
Comfortable Poolside Seating: Luxurious Lounge Chairs and Cabanas
Prioritize comfort at your elegant pool party. Offer plush lounge chairs with soft cushions for relaxation and sunbathing. Provide private cabanas with flowing sheer curtains and plush pillows for added opulence, creating an exclusive space for intimate conversations and cherished memories.
Ambient Lighting: Creating an Enchanting Evening Atmosphere
Transform your poolside gathering into an enchanting wonderland as the evening sets in. Use soft, warm lights like string lights, lanterns, and candles to cast a magical glow. The gentle flicker of candlelight reflecting off the water adds romance and sophistication. Strategically place lights for safety while maintaining an elegant atmosphere, creating a captivating ambiance your guests will love.
Poolside Entertainment: Elegant Live Music or Soothing Playlists
Music is essential for an elegant pool party. Hire a live jazz band or classical quartet for soulful melodies. Alternatively, curate playlists with smooth jazz or classic tunes to elevate the experience and add refinement to the poolside revelry.
Upscale Beverage Selection: Craft Cocktails and Refreshing Mocktails
Elevate your elegant pool party with an upscale beverage selection. Work with a skilled mixologist to create bespoke craft cocktails, blending fresh fruits, premium spirits, and creative garnishes for extravagance. Also, offer refreshing mocktails with muddled herbs, sparkling water, and vibrant citrus flavors for non-alcoholic options, keeping all your guests satisfied and refreshed.
Frequently Asked Questions (FAQs)
1. What are some budget-friendly ways to add elegance to a pool party?
To achieve an elegant pool party without breaking the bank, consider using creative lighting, such as string lights and LED candles, to set a magical ambiance. Craft DIY decorations using affordable materials like paper and ribbons. Dress your tables with chic disposable tablecloths, plastic dinnerware, and paper napkins in soft pastel colors or classic patterns.
2. How can I incorporate vintage elements into the pool party's theme?
You can embrace vintage charm by opting for retro-inspired pool floats and vintage-style plastic drinkware, tableware, and serving platters. Curate a classic music playlist with old Hollywood classics or smooth jazz hits to transport guests to a glamorous era.
3. Where can I find fancy disposable dinnerware and glassware sets? 
Look no further than Smarty Had A Party online store for elegant disposable dinnerware and glassware sets. Smarty offers a wide selection of sophisticated tableware, including stylish plates, cutlery, glasses, and more. These high-quality disposable options are convenient and add a touch of glamour to your poolside affair.
4. Are there any poolside games and activities that exude elegance?
Absolutely! Maintain sophistication while entertaining your guests with poolside games like Giant Jenga, painted in soft pastel colors. Create a croquet course on the lawn for a refined and leisurely outdoor activity. Consider setting up a floating lounge area on the pool using inflatable daybeds or rafts with luxurious cushions for a chic and comfortable space to relax and socialize.
So, dive into the world of poolside glamour and let your creativity shine as you craft an exquisite pool party that will be the talk of the town for years to come. Happy planning, and here's to an elegant, enchanting, and glamorous poolside celebration!