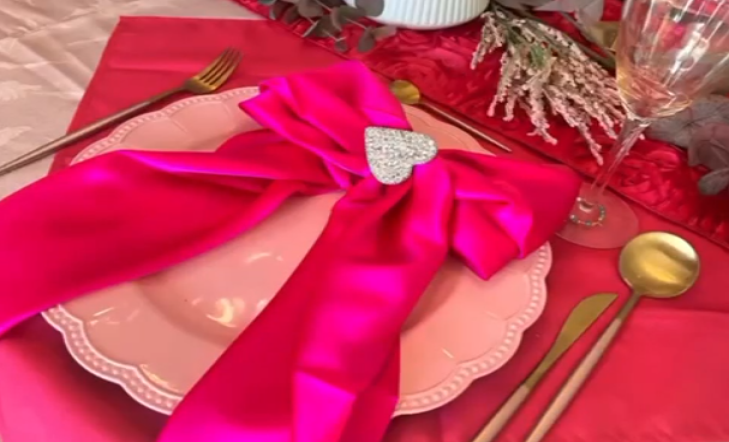 Barbie Dreamscape: Creating a Lovely Tablescape Inspired by Barbie's World
Welcome to a world of whimsy and wonder, where vibrant colors, glitz, and glamour come to life on your tabletop. In this blog post, we invite you to join us on a journey to create a Barbie Dreamscape - an enchanting tablescape inspired by none other than the iconic Barbie herself!
How to Host a Barbie-Themed Party with a Picture-Perfect Tablescape?
If you're ready to create an unforgettable and whimsical Barbie-themed party where dreams and reality intertwine perfectly, join us on this imaginative journey as we design a tablescape that brings Barbie's world to life. Let your inner hostess shine as we delve into the magic of Barbie Dreamscape together!
Setting the Scene: Table Decorations
Utilizing Pink Tablecloths: The Pink Canvas of Dreams
In our Barbie Dreamscape, the foundation of a perfect tablescape is simple: pink tablecloths! These vibrant hues instantly fill the air with joy and playfulness, transporting your guests into Barbie's magical world. Perfect for any occasion, these tablecloths set the stage for a whimsical dining experience. Let the pink tablecloths be the backdrop for a day filled with fun and glamour, whether it's a birthday celebration, ladies' brunch, or a special gathering with loved ones.
Dark Pink Linen Napkins as Placemats: A Pop of Elegance
Crafting our Barbie-inspired tablescape requires attention to every detail, and the dark pink linen napkins play a crucial role. Repurposed as chic placemats, they add color, sophistication, and practicality to each place setting. The contrast with the pink tablecloth elevates the overall aesthetic, transforming your dining experience into something extraordinary.
Rosette Table Runner: A Fashion Statement on Your Tabletop
Influenced by Barbie's love for fashion and glamour, the rosette table runner brings couture to our whimsical tablescape. Resembling the folds of a couture gown, it becomes a captivating focal point, adding depth and dimension to the tabletop. Your dining area transforms into a runway fit for Barbie herself, immersing guests in a world of high fashion and limitless style.
Napkins in the Shape of a Bow: A Delicate Adornment
Elevate each place setting with elegant bow-shaped napkins inspired by Barbie's love for chic accessories. Delicately folded into adorable bows, they add charm and sophistication. Your guests will be delighted by the playful surprise atop each plate as the whimsical spirit of Barbie's world comes to life through these thoughtful details. Enchant your guests with the magical ambiance of the dining experience.
Place Setting: Barbie's Pink and Gold Affair
Fancy Disposable Plastic Pink Plates: Embracing Glamour without Guilt
In our Barbie Dreamscape, we prove that elegance and convenience can go hand in hand. Say goodbye to traditional china and hello to fancy disposable pink plates! Not only do these charming plates add a delightful pop of color to the table, but they also offer the utmost convenience for you as the host. No need to worry about broken dishes or lengthy clean-up sessions—simply enjoy the celebration to the fullest! So, plate up your delectable dishes with confidence, knowing you've embraced glamour without lingering guilt.
Pink and Gold Flatware: Where Barbie's World Meets Sophistication
In Barbie's world, style is everything, and our choice of pink and gold plastic flatware perfectly captures that essence. Reflecting Barbie's love for sophistication and all things glamorous, this delightful cutlery elevates the dining experience to new heights. The delicate pink handles exude a playful charm, while the gleaming gold accents add a touch of opulence fit for a princess. As your guests clink their pink and gold forks and knives, they'll be transported into Barbie's fabulous realm, where every moment celebrates beauty and refinement.
Elegant Plastic Wine Glasses: Sipping in Style
No Barbie-inspired soirée is complete without a touch of elegance in every sip. Enter elegant plastic wine glasses, which strike the perfect balance between style and practicality. Your guests will marvel at the delicate design, which mirrors the appearance of real crystal, while you'll appreciate the convenience of using durable plastic that ensures a worry-free celebration. These enchanting wine glasses add a touch of sophistication to your table, allowing your guests to toast to friendship, fun, and the whimsical world of Barbie. Cheers to a magical evening filled with unforgettable memories!
Centerpiece: A Blooming Barbie Extravaganza
Greenery and Pink Flowers: A Garden of Barbie's Dreams
At the heart of our Barbie Dreamscape is a mesmerizing centerpiece, a garden-inspired arrangement of lush greenery and delicate pink flowers. It embodies Barbie's love for nature and her signature color palette, exuding charm and beauty. The vibrant pink blooms reflect Barbie's personality, while the green leaves symbolize growth and endless possibilities. Gathered around this enchanting table, guests will be transported to a world where nature and fantasy harmoniously blend—where Barbie's dreams come alive.
Plastic Cake Stands for Sweets: Elevating Sweet Treats to New Heights
A whimsical tablescape is incomplete without delightful treats. Adorned with scrumptious sweets, charming plastic cake stands serve as the centerpiece, inviting guests to indulge in Barbie-worthy style. Colorful cupcakes, dainty macarons, and more create a candy wonderland, making the dessert selection as enchanting as Barbie's dreams.
Barbie in a Plastic Car: A Whimsical Ride Down Memory Lane
In tribute to the iconic Barbie, we feature a whimsical element that captures her essence. Barbie sits gracefully in a plastic car, symbolizing her adventurous spirit and boundless imagination. Whether lifelong fans or new admirers, this nostalgic touch evokes cherished memories and brings smiles as guests reminisce about their time with their favorite doll.
Candles: Illuminating Barbie's Dreamy World
A dreamy ambiance requires the soft glow of candles, like twinkling stars in the night sky. Their warm and enchanting light adds magic to the atmosphere, allowing guests to fully immerse themselves in Barbie's dreamy world. Amidst the glamour, the flickering candles remind us of the beauty in simple moments of togetherness, just as Barbie has taught us over the years.
DIY Tips: Adding Personal Flair to Your Barbie Dreamscape
Handmade Barbie-inspired Accents: Encourage readers to get crafty and create their own Barbie-inspired accents for the tablescape. This could include DIY Barbie-themed place card holders, custom napkin rings, or even a Barbie silhouette cutout to place on the tablecloth.
Customized Name Cards: Suggest the idea of personalized name cards for each guest, featuring their names written in a Barbie font or adorned with tiny Barbie stickers.
Barbie Fashion Show: Take the tablescape to the next level by hosting a mini Barbie fashion show during the event. Encourage guests to bring their favorite Barbie dolls dressed in different outfits and use the table as the runway. This adds an interactive and playful element to the gathering.
Photo Booth Fun: Set up a Barbie-themed photo booth nearby, complete with Barbie-inspired props and backdrops. Guests can enjoy taking pictures with their creations and the whimsical tablescape as a backdrop.
Incorporate Barbie Quotes: Add a touch of Barbie's wisdom and wit to the tablescape by printing some of her famous quotes and placing them in small frames around the table.
Barbie Dream Menu: Consider designing a menu that pays homage to Barbie's favorite treats and drinks. Pink lemonade, colorful cupcakes, and other fun snacks can add to the theme.
Party Favors: Remember to send guests home with a little piece of the Barbie dreamscape. Create party favors inspired by Barbie, such as mini dolls, lip glosses, or fashion accessories neatly wrapped in pink and gold packaging.
Frequently Asked Questions (FAQs)
1. Where can I find pink and gold flatware for the place settings? 
You can easily find pink and gold flatware sets to match your Barbie Dreamscape at the fantastic Smarty Had A Party online store. Smarty specializes in upscale disposable tableware, including pink and gold options, which perfectly align with the sophistication and style of our Barbie-inspired tablescape.
Are the plastic plates and wine glasses reusable or recyclable? 
The great news is that the fancy disposable pink plates and elegant plastic wine glasses used in our Barbie Dreamscape are both reusable and recyclable! After the event, if they are still in good condition, you can rinse and store them for future gatherings. If you prefer to recycle, simply check with your local recycling guidelines to ensure proper disposal.
How can I customize the tablescape for a birthday party or special event?
Customizing the Barbie Dreamscape to suit a birthday party or special event is a breeze! Consider adding personalized name cards or miniature party favors to each place setting to infuse a birthday vibe. You can also incorporate Barbie-themed decor, such as tiny Barbie dolls as table accents, or sprinkle confetti in the shape of stars and hearts. With creativity, you can effortlessly transform the tablescape to match any celebratory occasion.
Can I use a different color scheme while keeping the Barbie theme intact?
Absolutely! While Barbie's signature pink is at the heart of our whimsical tablescape, you can explore different color combinations that resonate with your vision. Consider incorporating shades of lavender, turquoise, or soft pastels to create a dreamy ambiance that aligns with Barbie's enchanting world. 
As we bid farewell to this delightful adventure, we leave you with a parting wish: May your Barbie Dreamscape become a cherished memory that lingers in the hearts of your guests, reminding them of the whimsy, elegance, and joy that they experienced in the company of Barbie's timeless legacy.
Happy hosting, and may your dreams continue to soar, just like Barbie's!