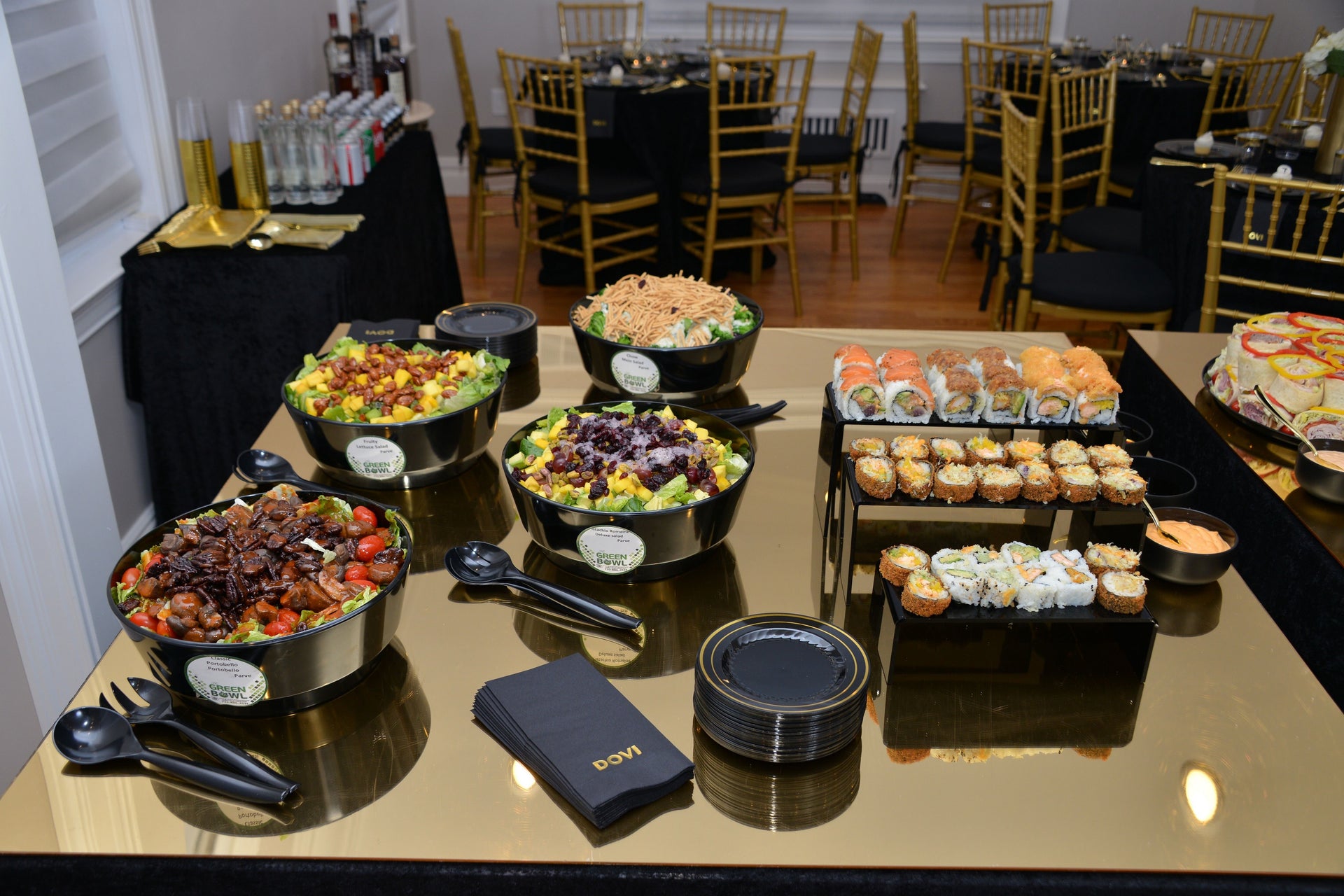 Plan a Catered Event Menu That Will Impress Your Guests
From planning a formal corporate event to an informal bridal shower, hosting a catered event can be a bit tricky and challenging.
Whether you are planning a catered event for your wedding ceremony or you're in charge of organizing a corporate dinner meeting, there are numerous benefits to hiring a professional catering company for this purpose.
When the people who are hosting the party decide to take charge of the refreshments and the dishes themselves, they miss out on the amusement and fun.
Since they already have the huge task of feeding everybody at the event, they get stressed, which in return takes away from what ought to be an enjoyable and cheerful event.
Getting a professional catering company hired will take away your worries about food and beverages to be served at the party. Here are a few things that need to be considered to grant your event a huge success!
Planning The Menu
One of the prime and most nerve-racking parts of hosting an event is offering your guests a variety of food items that everybody will adore. Serving the right food can make or break your event.
In any kind of party that you're hosting, the food you provide will make your event a big hit! Good food plays a prominent part in the contentment and happiness of your guests.
It's mandatory to include not-so-obvious things in your menu as it will guarantee a successful event and a delightful feast. After choosing the venue and sending invites to your guests comes the most burdensome task; deciding the menu!
The following steps to menu planning will make your event stand out amongst the list of other typical catered events.
Making Guests' Preferences Your Priority
Before deciding on the menu, make sure to know your guest's profile. The profile of the guests includes:
The place where your guests reside

The ethnic background/social class of your guests

The professional level of guests

The type of guests (family-oriented, volunteers, wellness seekers, businessmen/women, fun lovers, and boomers

Age-group (kids, teenagers, elders) of your guests
Another important aspect to remember is to know your guest count because your catering cost will be based on the number of guests you are serving. Knowing your guest count beforehand will help you manage your budget and avoid unnecessary changes in the menu at the last hour.
You need to know how traditional or casual your event will be and how frequently your guests attend parties like the one that you planned.
Provide Several Alternative Menus
Pick the menu that suits well with your event and theme. Even the yummiest food doesn't look appealing if not served in pretty cutlery. Our website has the most enchanting serving trays for parties in different designs, shapes, and colors. This includes eco-friendly disposable trays, 4-section rectangular trays, palm leaf trays, diamond-designed trays, and many other eye-catching trays. Plan your meal according to your guests' preferences. You need to offer various appetizers, entrée choices, and buffets to ensure that all your guests enjoy a variety of delicious meals.
Offer a few freshly cooked appetizers (cheese puffs, savory onion soup, caramelized onions, and a buttery pastry) for pre-dinner snacks.

Offer more than one meal so that both vegetarian and meat lovers are delighted with the food choices they get.

Have two or three salad courses, including a delightful combo of tomato, mozzarella, and stuffed mushrooms. Adding roasted nuts will on the top attract your guest's attention.

Offer two or three dessert options, one rich in dark chocolate and the other for health-conscious guests.
Flavorsome Entrée Ideas
Including just one entrée on the menu will not do justice to your event. Parties call for a few mouth-watering yet effortless entrees.
Meat entrees can have traditional potatoes and steak with glazed fajitas. You can plate the entrees beautifully in some ravishing disposable serving trays. Spinach and chickpea soup will add a flavorful spice to the food. Chunky tomatoes, sweet onions, and peppers, with olive oil, are good to go for a scrumptious entrée.
A fusion of spicy and sweet flavors would surely impress your guests when it comes to seafood, vegetarian, and poultry entrees. Lasagna, creamy pasta, spaghetti, and bavette with salmon, being served in captivating plastic serving trays would steal the limelight of the event.
Soups are mandatory especially when you are hosting a dinner. Prawn soup, hot and sour noodles soup, broccoli soup with cheese garlic toast would be enough to leave your guests speechless with such heavenly taste!
Let the presentation of your food speak for itself because a good presentation will attract your guests' attention, and they will be dying to try the food. Make sure the food has pretty garnishes, the salads must be colorful, and the food smells tempting.
Consider Dietary Needs
Take care of the food choices for guests who are allergic to some food, such as nut allergies and lactose intolerance. You need to consider religious requirements for some guests, such as veganism.
Drinks You'll Want to Skip All Night Long
Add a few refreshing drinks to your menu to keep your guests energized. Have you ever enjoyed a particular flavor of drink so much that you can never forget to recall it whenever you order something to drink?
You can always have this experience with pineapple flavors. If you love to try out new kinds of pineapple drinks at your home, give the following recipe a try.
Refreshing Pineapple Lemonade
All you need to prepare a refreshing pineapple lemonade is:
1 cup lemon juice

½ cup sugar

1 fresh pineapple

2 tablespoons lime juice
To make this delicious yet simple syrup, add 1 cup of water and sugar to a saucepan. Keep the flame low. Keep stirring until the sugar gets dissolved.
In a large pan, whisk syrup, pineapple juice, lemon juice, and 4 cups of water.
Keep it in the refrigerator. Wait till it gets chilled, and serve with ice on the top.