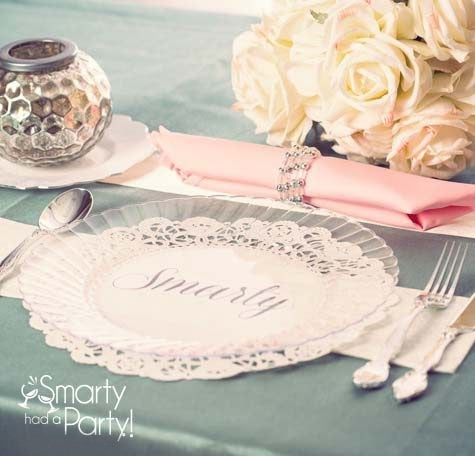 Pinterest-Worthy Ideas for a Party Table Setting
Whenever you plan an intimate dinner party or a big festive bash, the best way to kick off any celebration is by an elegant tablespace. You can create an eye-catching and fancy tablespace without having to put in much effort. With just a few tips and tricks, you can master the art of getting together complementing pieces and set a vibrant table for your party.
We have rounded up some fun-looking and easy table-setting ideas that make the most straightforward parties look fancy. With Smarty's elegant dinnerware sets and fancy disposable drinkware, your party table will tell a story to the guests. So here are a few simple ideas for that Pinterest-Worthy table-scape.
Unleash Your Inner Artist
Decorating an exquisite party table is an art itself. So, bring your inner creativity out, choose from our wide range of elegant dinnerware sets and fancy disposable drinkware, and smartly arrange the accessories. Choosing the disposable paper napkins is the first step of setting a perfect table and deciding how the rest of the table would go. So, choose a disposable paper napkin that will most likely match any dinnerware set. Next, make candlestands with our disposable plastic plates and clear plastic wine glasses, and light candles to elevate that glow to your party tables.
Set the Table Like those Influencers
The most effective tool used by the influencers to connect with people is showing things in elegant ways. So you can also get your hands on our gorgeous party supplies collection, which includes disposable paper napkins, disposable plastic plates, disposable charger plates, stylish plastic flatware, and fancy disposable drinkware. Choosing and attractively assembling them will surely get you more hearts on Pinterest and Instagram.
Get Creative with Colors
Choose the colors according to your needs from our colorful disposable paper napkins, disposable plastic plates, disposable charger plates, and stylish flatware. For example, neutral-colored disposable plastic plates will fit perfectly if you have decorated the dining room with bright colors. And if the dining room is neutrally decorated, colorful disposable charger plates and vibrant, stylish flatware will look perfectly fine.
It will be much easier to choose between different dinnerware colors if you follow a theme and go all-out with it. We cover all your important events and themes at Smarty with the most beautiful patterns and elegant designs.
The Beauty of Glassware
Our disposable champagne flutes and plastic wine glasses enhance the consumption and color experience of drinking. Serving bubbly drinks in elegant glassware is a ritual worth performing. Right drinkware for the right drink gives off royal vibes to the guests and forms a sleek tablespace. The drinks' aroma and looks are entirely elevated in the disposable champagne flutes, and drinks retain their taste for a longer time. Another use of these fancy disposable champagne flutes is by making a DIY flower vase out of them. Put fresh lavenders in them, and the event will be filled with an attractive aroma.
Playful Boho Decor
The "boho" style is characterized by the brightness and abundance of various interior items and decorations. Combining dishes of entirely different styles, colors, and shapes is possible. Serving looks insanely beautiful when all the cups are made of different materials. Some could be blue, some pink or green. In addition, this style is characterized by an abundance of textiles. That is, under each plate can be several napkins of various materials, fringes are welcome, and tassels, which you can complete in a uniform tablecloth. 
An essential element is lighting. You can place several lamps, ceilings, wreaths around the table or above it, and place candles of various shapes with unusual candlesticks or lights on the worktop itself. 
In addition, petite frames and voluminous vases with flowers will interestingly fit into the decor. Bouquets are best made from a mixture of field and garden flowers so that large heads of roses, lilies, and peonies grow among the greenery.
Rustic Table
1. Use Gray 
This may sound strange, but gray is a real hit right now. It is simple and chic and does not burden the eye like other bright colors. It does not require attention while at the same time expressing its presence and provides a bright and harmonious look. It is a perfect option if a relaxed look is something you strive for. 
2. Mix High and Low
Combining high-back chairs with a few lower chairs can create a unique ambiance that will invite your guests to a relaxation session. This stylish mix of styles is opposite to the sets of chairs and removes the strict harmony that disturbs relaxation. 
3. Layers of Neutrality 
Cover your table with neutral patterns and colors, and create layers of the same to achieve the desired casual look. This will look great if you have a rustic wooden table.
4. Accentuate with Soft Blue Pieces 
Blue color can add a feeling of warmth to your dining room and table. Unfortunately, its soothing colors are traditionally neglected in dining rooms, although they significantly affect the room's overall look.
 5. Glass and Metal Chandeliers
 The lighting at the table has survived the reversal! This is definitely to your advantage because the chandelier can be changed quickly, unlike the floor. Modern chandeliers are stylish and full of character, and the combination of glass and metal fits with every possible decor scheme.
 6. Add a Seating Area by the Window 
If you have the opportunity to add a seating area by the window, you will get an instant relaxed feeling in this room. Place it near a wall or window, place a table in front and two high chairs on the other side, and that's it. 
7. Gentle Brown and Gold Tones
 Believe it or not, you will get a perfectly set dining table with the proper use of brown paint. Then, add delicate brown draperies, chairs, and gold accents in the form of lighting and tiny details. 
8. Great, Bright Art 
White walls and a painted or gray dining table with chairs will give an art gallery feel. A large poster, photograph, or work of art will completely change the look and ambiance of your dining room. 
9. Rustic Wooden Table 
Since the dining room table is a critical piece in the dining room, it must be your starting point for decoration. Let your table be hospitable and friendly. The best tables are rustic and wooden, which are polished and not too crowded.