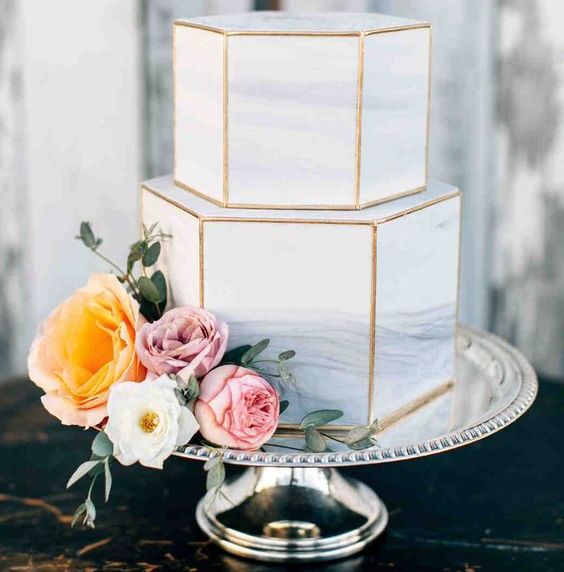 Cut and Serve the Wedding Cake in Style
Wedding cakes symbolize good luck and prosperity to both the guests and the couple. For the couple, they represent a long, peaceful, and happy union for a lifetime. It also demonstrates their commitment to support and keeping up with each other. For the guests, consuming this auspicious cake brings good luck and makes them fulfill their heart desires.
Selecting, cutting, and serving the wedding cake in style can be stressful, but they are not terrifying. You can master the cake cutting and the serving by knowing a thing or two. Smarty Had A Party has the most gorgeous range of disposable cake plates and fancy wedding plates, elegant cake stands, plastic cake cutters, disposable cake lifters, plastic serving-ware, and disposable stylish serving flatware to grace your wedding party.
Assemble with Elegance
There are a million ways to assemble and display the wedding cake elegantly. For example, place the cake on elegant cake stands on a glass table and embellish it with flowers, lights, and candles or make a flower arch at the back of your wedding cake. You can be sure that all your party guests will be impressed!
Storing and Displaying
Storing and keeping the wedding cake fresh is essential as the wedding party is long enough to stale a cake. Place the cake at the elegant cake stands, cover it with premium clear disposable plastic lids, and put it in a separate display fridge with a glass front and multiple shelf layouts to ensure enough space to display the cake. Then, just before the main event starts, take your beautiful cake out and proceed to cut it.
The Cake Cutting
After the cake has completed its time in the fridge and hanging around the party guests, it is ready to be cut by the bride and the groom. There are mainly two methods of cutting the cake, i.e., square cutting and circular cutting. Circular cutting gives more even pieces than the square cutting method, but it is totally up to your preference what way you want to choose. 
The cake cutting ceremony, a highly anticipated and nostalgic part of the wedding, should be done subtly. Cutting a wedding cake is so much different than cutting a birthday cake. But, it is the most positive step as everyone gets to cheer and celebrate the wedding party. We help you do that elegantly with our plastic cake cutter and disposable cake lifter.
Enticing Serving
Cut the cake with etiquette with a beautiful plastic cutter, lift it with our disposable cake lifter and fill the disposable cake plates with all the love. The chic aesthetics and exquisite design of the disposable stylish serving flatware will take the party guests on an enticing journey of love.
How you serve your wedding cake says a lot about you as a couple. So give your guests an aesthetic cake experience with our plastic serving ware, fancy wedding plates, and disposable stylish serving flatware. Each piece from our exquisite serving collection is sturdy, durable, and affordable to finesse your wedding party. In addition, the ambiance created by our fancy wedding plates and disposable cake plates is unmatched and takes you to another level of aesthetics. 
Today, cutting a wedding cake symbolically represents the first joint task that a woman and her husband perform. Cakes are made in various shapes and decorated with edible and inedible details. Making confectioners is a real challenge. Fruity, chocolate, cream - it's up to you to choose the taste, desired shape, and appearance, and the masters of their craft will put your idea into practice.
Wedding Cake - Show Your Creativity
What adorns the sweet celebration is the cake. Confectioners are pretty creative and resourceful about making wedding cakes, so a wedding cake can be turned into a spectacle on a large scale in the true sense of the word. Various interesting figurines and fountains of different colors can be placed on wedding cakes that can tell your story.
The good thing about wedding cakes is that they can be of different flavors and sizes, so you can combine your favorite flavors and not stick to just one taste. For example, newlyweds like to combine chocolate and fruit flavors and thus satisfy each guest's preference. This is also a proven variant, so this can be a good combination if you decide on a cake.
Fruit Cakes for Summer
We want to refresh ourselves from the summer heat during the summer, so everything cold and refreshing is always lovely. Fruit cakes are always a good choice for summer because they are light, quick to prepare, and even better to refresh. Cakes of raspberries, cherries, and strawberries are always a great and delicious treat. If you have a summer wedding, make sure that at least one part of your wedding cake is fruity. It is not a problem to buy fruit all year round today. You can opt for a fruit cake even if your wedding is not in the summer period. Be guided by what you like, but if you order a big cake, use the opportunity to offer more different flavors and thus satisfy the guests. Leave it all to the professionals, and you will relax and enjoy the final product you received on your special day. 
May the bride shine like the most beautiful princess that day, and the groom like the most beautiful prince. The wedding is the newlyweds' day, and it should keep that epithet until the end. So enjoy that day with your friends and family and dream of your common future and everything that follows during your life together, accompanied by love, care, and mutual respect. The wedding crowns the love of two people, so let that day be like the one from a fairy tale where love and happiness are felt at every step. Love is the spark that drives everything in life, so nurture and cherish it.