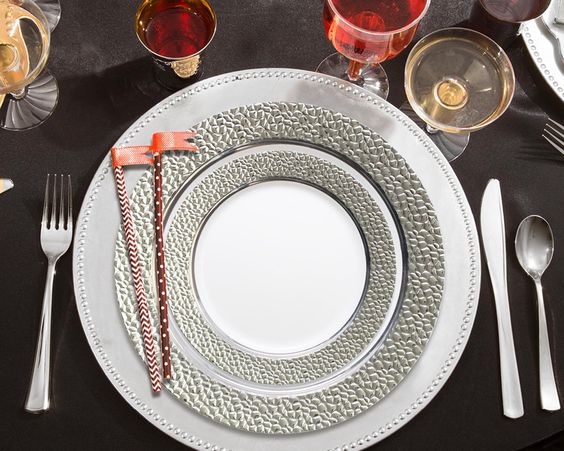 Create a Dining Experience to Remember
We love parties with a personal touch, precisely the ones that will give us the title of the best host. If you've decided to throw a party in the coming period, you've probably found yourself frantically scouring the internet and flipping through magazines for ideas and inspiration. Stop for a moment and check out some of our practical tips and ideas.
You need a plan, whether it's a casual brunch with friends, an engagement lunch or dinner, or a birthday or holiday celebration with family. Start with a menu plan, shopping list, and guest list. Next, list everything you need to buy, including groceries, over drinks, and small decorations like napkins, straws, balloons, etc. Along with the list of names, make a seating arrangement, which will make it even easier to set the table, and then arrange the guests when they arrive.
Guests' experience is everything; whether indoor or outdoor dining, you must ensure that your guests enjoy the event to the fullest. An excellent way to start is knowing what kind of guests you invite. If a group of friends is getting together, funky colors and décor should be the priority. A formal dining experience with subtle plastic dinnerware sets would fit perfectly if it is for a business event.
Our experts have collected some genius tips and tricks to create an exceptional dining experience that will convert your guests into real marketers if you run a restaurant. With Smarty's elegant dinnerware, you can create a great dining experience for the guests due to its gorgeous design.
Improve the Meal Experience of the Guests
Once you've put together your menu and all the ingredients, consider how much time you'll need to prepare each dish. Keep in mind that the food served to the guests should be fresh and the main course, in most cases, warm. Therefore, reheating food is often not a good choice. If you have determined the hourly rate, add another fifteen minutes for serving and decoration.
Never compromise on the freshness and taste of the food served, as it will be the main focus. Elegantly presenting the meals is another thing that catches the eyes of the guests immediately. You can do that effortlessly with our elegant dinnerware collection, including plastic dinner plates, disposable party plates, and fancy charger plates. Not only do they look beautiful, but they also make the served food look vibrant. We have a range of plastic dinner plates and fancy charger plates, so none of your events get missed. You can also shop by color and choose from various color options for fancy disposable dinnerware sets.
Offer Variety in the Menu
Make sure to have various meal options on the menu so the guests can choose what they want. Offer them flavors they have never experienced. This would relax them as they would know they will only have their favorite meal.
If you've decided on a brunch or a relaxed house party, it's much easier. It is best to opt for the buffet. It's all in mini bites. You can create a buffet of bruschetta, mini donuts, and snacks. The basis of the brunch menu is bruschetta made from fresh French bread, toasted or not, and salty crackers. The rest comes down to extras. Several types of cheese, cured meat products, and fresh fruit such as strawberries, raspberries, or grapes would be lovely to have on the table. Add chocolate, honey, and neutral cream for the sweet tooth.
If you have decided on an ultimately "sweet table," you should make more effort. Fry tiny donuts and pancakes, and then arrange the accessories for filling them on the table. Chocolate and colorful crumbs, fruit, whipped cream, ground biscuit, stone fruit, etc. Popcorn is an excellent addition to any casual party. For extra flavor, you can cover them with melted chocolate or butter, even tomato sauce and oregano for pizza taste. The good thing about parties like this is that you can improvise and experiment with flavors.
Enhance the Meal Experience with Elegant Dinnerware
Dinnerware sets take up most of the space on the table, so make sure they are pretty. Our fancy disposable dinnerware sets and disposable party plates are elegantly designed by our experts to match all party needs. We have created the sturdiest yet budget-friendly plastic dinnerware sets to perfectly glorify all your party tables. The essential advantage of these fancy disposable dinnerware sets is that you can dispose of them in a recycle bin after using them to be easy on yourself and the environment.
The plastic dinner plates and the fancy charger plates have been created with the safest materials and a wide variety of sizes to match the cutlery and glasses. Unlike other disposable plates, the disposable plastic party plates are compact and won't leave any residues on the food.
Check Back to Your Guests
Check back to your guests after delivering the food three minutes to see if they need anything. Not only is it a good gesture, but it is also a way to provide your guests with everything without getting embarrassed later on. 
Tips & Tricks
The key to any successful party is organization and multitasking. That's why you have to focus on several sides. For example, while something is baking, you can chop the toppings for another dish, whip up the filling for dessert or set the table. That is perhaps the most exciting part, apart from the fun itself, of course. 
After the basics (setting the dinnerware), start decorating. A large bouquet of fresh flowers in the middle is always a good choice, and you can place a few small flowers or a mini bouquet for each guest with the dinnerware or with the napkin and the menu. An excellent sign of attention for your guest's gifts. In a small box or paper bag, put a chocolate bar and a card thanking them for coming. You are allowed a little experimentation if you don't want to follow the rules blindly. You can tie the basic dinnerware spoon, fork, and knife together with a decorative ribbon or lace and put them on the plate while you put the other utensils to the side.