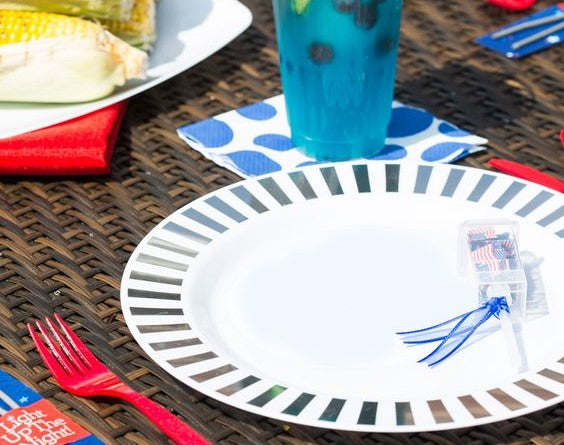 Patriotic Memorial Day Party Ideas
It's always super fun and exciting to host a patriotic party for Memorial Day. It is the day when we honor and commemorate those who died while serving in the military.
Memorial Day is usually observed at the onset of the summer season. It can be your first party of a pleasant summer. Ensure that you make it to the fullest.
You don't always need to go extravagant and plan a vast gathering to host a party. Instead, just get a bit more crafty with decorations and serve delicious food in elegant patriotic plasticware to amaze your guests on Memorial Day.
Be it a barbeque in your backyard, a memorable bonfire with enjoyable music, or an all-fun pool party, this is a perfect time to have fun festivities with your family and friends.
We have plenty of fantastic yet effortless patriotic party ideas for you and your loved ones to follow on Memorial Day.
Tip and Trick: Be festive and don't go over the board when decorating. Choose subtle and light colors. Picking the colors of your country flag would be the showstopper. This will make the party décor look decent and more lively.
Your Guests Deserve a Hearty Welcome
Do you know what catches the guests' attention? A unique personalized entrance will catch everyone's eye at the party. In addition, it is a brilliant idea to elevate everyone's mood for the party. As it's a party for Memorial Day, so do something that gives the patriotic feel.
By embellishing the front door with the artificial fireworks circle, you can make your troops proud. It would take a few minutes and some simple accessories to get it done.
You will need popsicle sticks, pinwheels, paddle wire, wire spins, and star stickers to make the wreath in the easiest way possible. You can also make snowflakes using the paper of your flag's color. Lighting up the front door with the different styled flags of your country would stand out at the party.
The Set of Stylish Stars!
Choose the stars giving off some rustic feels, or you can go with blue, white, or red metal stars. Some hand-painted stars with designs or different patterns would also serve the purpose. Make your dining room or terrace look astonishing with this star décor.
You can also paint the stars yourself and draw tiny flags to represent your country.
Patriotic Table Centrepiece
Centerpieces are always in the limelight of the décor if styled beautifully. You can use different things like a colander, a pretty vase, or any other plasticware products and paint or adorn them by being crafty to spice up the table decorations.
Miny American flags will be available at your nearest thrift shop at affordable prices. You can buy them and hang them over the colander or anywhere at the table to make it look like a patriotic centerpiece. Other than the flags, you can also add some blue, white, or red flowers. Sadie Seasongoods has the tips and tricks of a DIY patriotic centerpiece.  
The Snack Attack!
Who doesn't love to eat mouth-watering food at a party? No one!
People love to have snacks while roaming around and socializing with other guests. But keep in mind to serve the food that fits right according to your theme and venue.
You can host a BBQ for your loved ones for a Memorial Day Party. Hosting a BBQ needs minimal effort and planning. For your guests who love veggies, add some vegetables, and for the meat lovers, offer some delicious beef or mutton kebabs in disposable plasticware.
We have some plastic ware for parties that gives off the patriotic glam to the food and the party. Buy some blue, white, and red plasticware sets of stylish designs, including chords, lace, mosaic, swirl, diamond, wave, royal, and many more.
Plates, napkins, bowls, knives, forks, and cups all are available at Smarty had a Party!
Don't stick to burgers or sandwiches like always. Instead, have some pasta, salads, potato chips, or tortillas. Add toppers like cheese, corn pudding, mac and collard greens, strawberries, bananas, and mint leaves.
Add Some Patriotic Sweets In The Menu
With the flag-themed decorations on them, summer treats like cherry pie, fruit popsicles, ice cream, and funnel cakes would look the best. To add a patriotic touch, you can put some affordable flag-toothpicks on the desserts or cake.
Bake a cake with some blue, white, and red frosting on top to make it look beautiful and appetizing. This would also look like an American flag, and your purpose of a patriotic party would be attended.
A Mandatory Place of Honor
Memorial Day is commemorated in honor of the martyred soldiers and their families that come over to your place. For that, set a separate space in your home or any venue for honoring the families of the Militarian. You can present them with the flag or any other souvenir as a great gesture. Let them take gifts to their homes when they leave. You can also give a short speech to them. This would leave an ever-lasting impact on your guests.
Set a Photobooth With Some Patriotic Props
Use props saying, Perfect Patriot, America's #1 Fan, Let Freedom Ring, Love For The Country, or any other prop of your choice. This would seem a bit cheesy but cute! You can also buy the props if you don't have time to personalize them according to your preferences and choices. Your guests would love to pose with the customized props to have some worthy photographs.
Ideal Patriotic Music!
Party doesn't feel like a party without music. Pay tribute to your guests with patriotic music for Memorial Day to get that patriotic feel. Play any wartime song, or add the ones that you like. Don't forget to give preference to the guests' choices. Reach out to them and make a list of their favorite patriotic songs to be played at the party.