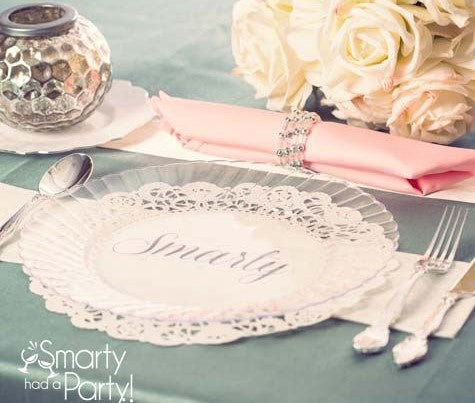 How to Decorate Plastic Plates and Use Them Safely?
Level up your event decor skills and get ready to spruce up your party tables this season as we are about to drop some creative ways to decorate your boring plastic plates and make them look spiffing!
Plastic plate decoration is a creative activity, and people have been using decorative plastic plates to make their parties look more magnificent for quite some time. First, however, you must learn how to decorate plastic plates correctly and consider what kind of supplies you are using on what kind of plates. This is because the plates can have different tolerance towards paint and stuff based on the material used in their making.
The goal here is not just to decorate the plates but also to make them safe enough to be used for eating later. Go through this step-by-step guide to decorate plastic dinner plates before you purchase.
Bring Some Fancy Decorative Plastic Plates to Your Next Party
Be a good guest and bring some decorative disposable plastic plates to the party. It is such a good gesture that the host will surely appreciate it. The reason is the amount of time and effort you put into decorating a plate. This makes the receiver feel honored, unique, and, most importantly, loved. You can customize it for the host, like painting it in their favorite colors. Finally, you can write something on the plates to make the host feel even more special.
These decorated plates go perfectly well with many different party themes and table decorations, especially for the events where you are told not to bring anything. Instead, bring a bouquet of the host's favorite flowers and some decorated plates, and they will love it.
Is it Safe to Eat Off Plastic Decorative Plates?
Don't get intimidated after hearing the word 'decorated plastic plates. Disposable party plates are 100% safe when they are decorated with safe and 'non-toxic' materials.
What to Use and Where to Get the Right Supplies
We recommend using ceramic paint labeled 'non-toxic' on the bottle. Once you find that, you are good to go. They are not very expensive and are usually available at any superstore nearby. Sharpies are also needed for plastic plate decoration to write text. They are AP-certified, non-toxic markers and are perfect for writing on your decorative plastic plates.
What's important to note here is that the plates you use should be able to withstand paint. If the plate bends easily, there is no point in wasting time decorating it. Also, you need to have good-quality plates, so you don't have to worry about breaking them. Get durable plates, glassware, flatware, serving trays for parties, and more at Smarty Had A Party. The elegance of our serving party supplies makes your food look presentable while being compact enough to give you the freedom to customize them as you like.
Talking about safety, we should also mention the planet's safety. Get our eco-friendly party supplies made from 100% natural palm leaves and birchwood to ensure your parties are sustainable and harmless. They are sturdy enough to be decorated with all the safety supplies you have. Incorporate this dinnerware into your celebrations, and you will be all set to ace your parties.
How to Decorate Plastic Plates and Still Use Them Safely?
Plastic plates can be decorated in lots of ways and forms. You can paint them in your favorite colors, draw pictures on them, write on them - pretty much everything, and they end up looking ravishing on your tables. So grab your paints and brushes, as we are about to give you some inspiration to decorate plastic dinner plates so you can rock your upcoming party.
Instructions:
Start by painting a disposable plate yellow in a circular motion center. 

After two to three circles, grab orange paint and again paint in a circular motion. 

On the outer ends, use red paint, and in the center, draw a small white circle. 

Blend at the points where these colors meet to give it a more realistic effect. 

With a pointed brush and black paint, draw a tree over the yellow-white circle — the sun. Your beautiful sunset-painted plate is ready.
Similarly, you can paint a girl on the mountains, butterflies, or a galaxy. You can also paint them all white and write something for the person to whom you will give these plates. You can also draw flowers, petals, bears, or even your favorite cartoon character.
Now let's talk about how you can use the painted plates safely. This is not a big deal! You have to follow a few steps in this regard.
In the case of ceramic plates, you will need to bake the painted plates in the oven at 300° for about 35 minutes. This technique makes the paint permanent and also makes the plates dishwasher safe.
Be the Host's Favorite Guest by Bringing Decorative Plastic Plates That Are Disposable
Decorative plastic plates are everyone's favorite, and they improve the looks of a party table. We believe this is an excellent gift if you are invited to someone's place for a party. Another great favor that you can do is give them disposable decorated plates because they will not have to worry about cleaning them. Of course, it's up to them if they want to keep these plates or throw them away; in every case, you will make the cleaning job more manageable.
If you get our durable disposable plate collection, you will have the bonus of using the plates for other purposes later on. For instance, our decorated plates can be used to make wall hangings. Or you can make a garland out of floral decorated plates and make your house look more fabulous.