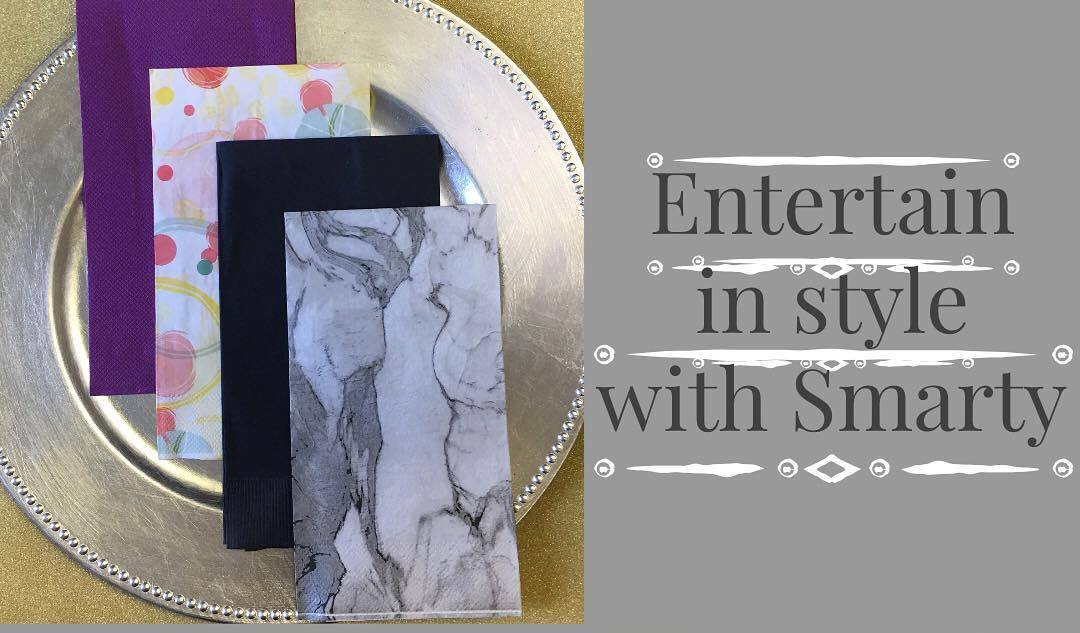 Party Planning Perfection: Unleash Your Inner Host with Smarty Had A Party
Hosting a memorable party is an art that combines creativity, attention to detail, and a dash of finesse. From elegant table settings to exquisite drinkware, every element plays a crucial role in creating an atmosphere that leaves a lasting impression on your guests. But let's face it, pulling off a flawless event can be daunting, requiring hours of meticulous planning and preparation.
Enter Smarty Had A Party – your ultimate partner in party perfection. We understand the challenges of orchestrating a remarkable gathering, and that's why we're here to help you unleash your inner host and elevate your party planning game to new heights.
The Art of Hosting: Mastering Elegance with Smarty Had A Party
In this blog post, we're diving deep into party planning, exploring the exquisite range of disposable party supplies available at Smarty Had A Party. Say goodbye to the notion that disposable equals lackluster. We're here to prove that you can combine convenience with sophistication, creating an ambiance that wows your guests while making your hosting journey a breeze.
So, join us as we unravel the secrets to party planning perfection, whether you're gearing up for an elegant soirée, a casual backyard barbecue, or anything in between. Get ready to be inspired, equipped, and empowered to transform your events into unforgettable experiences, all with the help of Smarty Had A Party. Your journey to becoming the ultimate host starts here.
Elevate Your Table Settings with Elegant Disposable Charger Plates
Significance of Charger Plates
Charger plates, also known as service plates or underplates, have a long history of being used in formal dining settings. Traditionally, they were used to catch any spills or crumbs that might fall during the meal, ensuring the cleanliness of the tablecloth beneath. Over time, charger plates evolved into a decorative element, adding style to the table.
Benefits of Smarty Had A Party's Disposable Charger Plates
The modern host, however, is challenged to create stunning table settings without the inconvenience of cleaning up afterward. This is where Smarty Had A Party's disposable charger plates step in. These plates offer all the elegance and sophistication of traditional charger plates minus the hassle of post-event cleanup. Crafted with attention to detail and a keen sense of design, these disposable charger plates are the perfect solution for busy hosts who refuse to compromise aesthetics.
Variety of Designs and Styles 
Smarty Had A Party understands that every event has a unique theme and character. That's why our collection of disposable charger plates spans various designs and styles, from classic to contemporary, from intricate patterns to sleek and minimalist options. Whether hosting a formal black-tie affair or a trendy modern gathering, you'll find charger plates that perfectly match your vision.
Versatility to Complement Themes
One of the standout qualities of charger plates is their incredible versatility. These plates are visually appealing and adaptable to various themes and settings. They can effortlessly enhance a rustic outdoor wedding, a glamorous cocktail party, or an intimate family dinner. By choosing charger plates that resonate with your event's theme, you'll effortlessly infuse a sense of elegance and style into your table arrangement.
Chic and Practical: Exploring Elegant Plastic Plates
Dispelling the Myth of Disposables
Gone are the days when disposable meant compromising on sophistication. Smarty Had A Party's collection of elegant plastic plates challenges this misconception head-on. These plates testify to the idea that convenience and beauty coexist seamlessly, allowing you to create stunning tablescapes without the hassle of post-event cleanup.
Enter Smarty Had A Party's Selection
With an eye for design and a commitment to excellence, Smarty Had A Party offers a captivating assortment of elegant plastic plates. Smarty's range caters to various event themes and aesthetics, from timeless patterns to modern geometrics. Whether you're organizing a cozy family gathering or a lavish corporate gala, you'll find plastic plates that enhance the visual appeal of your tables.
Balancing Quality and Convenience
While aesthetics are vital, practicality is equally important in event planning. Smarty Had A Party's elegant plastic plates excel in both aspects. These plates are crafted with meticulous attention to detail, ensuring they uphold their sophisticated appearance throughout your event. Moreover, their disposable nature means you can bid farewell to the hours spent washing and storing traditional dishes, allowing you to focus on what truly matters – enjoying the festivities and mingling with your guests.
Elegance that Resembles China
One of the most remarkable features of Smarty Had A Party's elegant plastic plates is their ability to mimic the opulence of real china. These plates are designed to replicate the intricate detailing, delicate edges, and glossy finish of fine porcelain or ceramic dishes. Your guests might be surprised to learn that they're not dining off traditional china, as these plates exude the same level of refinement without the fragility or potential mishaps.
Sip in Style: The World of Fancy Disposable Drinkware
Elevating the Guest Experience
Imagine attending a gathering where every element, from the décor to the food, exudes elegance and thoughtfulness. Now, take that experience a step further by considering the drinkware. When guests look at your carefully selected fancy disposable drinkware, they'll know they're in for a treat. The tactile pleasure of holding a beautifully designed glass can enhance the drink's flavor and add an air of sophistication to the entire event.
Introducing Smarty Had A Party's Collection
Smarty Had A Party understands that creating a cohesive atmosphere requires attention to every detail, no matter how small. That's why our collection of disposable drinkware is a treasure trove of options designed to suit a variety of occasions and themes. From delicate wine glasses to sleek champagne flutes and versatile cocktail cups, Smart's range ensures you'll find the perfect match for your event.
Diverse Options for Every Occasion
Whether your event is a formal black-tie affair or a laid-back outdoor barbecue, Smarty Had A Party has you covered. Our assortment includes various designs, sizes, and shapes, allowing you to curate the ideal drinkware for your event's tone and style. This diversity means you can confidently select drinkware that resonates with your vision, contributing to the event's overall aesthetic.
Durability for a Worry-Free Experience
While elegance is essential, practicality remains a top priority when planning any event. Smarty Had A Party's drinkware perfectly balances style and functionality. Crafted with durability in mind, these glasses can withstand the lively atmosphere of a bustling party without the risk of shattering or breaking. This ensures your guests can enjoy their beverages without worry, allowing you to focus on creating cherished memories.
Dine with Distinction: Heavyweight Plastic Flatware
The Impact of Premium Flatware
When your guests sit down to enjoy a meal, their interaction with the flatware sets the tone for their dining experience. The utensils' weight, feel, and quality in their hands can either enhance or detract from the enjoyment of the meal. Premium flatware lends an air of sophistication, indicating to your guests that their dining experience has been thoughtfully curated to the finest details.
Introducing Smarty Had A Party's Selection 
Smarty Had A Party understands the significance of premium flatware and its role in enhancing the overall event experience. That's why our collection of heavyweight plastic flatware is designed to mirror the elegance of traditional utensils while maintaining the convenience of disposables. These utensils are not only practical but also a reflection of your commitment to offering your guests a top-notch dining experience.
Balancing Elegance and Convenience
The heavyweight plastic flatware from Smarty Had A Party strikes the perfect balance between elegance and convenience. Crafted to resemble real silverware, these utensils boast a weight and finish that closely mimic their traditional counterparts. As your guests dine, they'll appreciate the attention to detail and the thoughtfulness behind providing them with comfortable and substantial utensils in their hands.
Colors and Designs for Every Style
Understanding that each event is unique, Smarty Had A Party's plastic flatware comes in various colors and designs. Whether you're aiming for classic sophistication, modern minimalism, or a burst of vibrant color, our collection has something for everyone. The versatility of these utensils allows you to seamlessly match them to your event's theme and style, contributing to a cohesive and visually pleasing dining setup.
A Holistic Party Supply Experience
The Smarty Advantage
Choosing Smarty Had A Party for your party supplies brings many benefits. First and foremost, it's the assurance that every item you select is curated with a keen eye for quality and aesthetics. The notion of disposable no longer carries the connotation of compromising on excellence – it's about enhancing your event's elegance without the fuss of cleanup.
Unleash Your Creativity
Smarty Had A Party is more than just a supplier; it's a platform that empowers you to unleash your inner host and craft events that resonate with your unique vision. The extensive range of party supplies allows you to create and experiment. Whether your style is classic, modern, whimsical, or a blend of various themes, Smarty Had A Party has the tools to transform your ideas into reality.
Beyond Tableware
While the focus has been on the impressive range of disposable tableware, Smarty Had A Party goes beyond the basics to offer a holistic party planning experience. From luxurious disposable linens that set the foundation for your décor to exquisite disposable paper napkins that add flair to your space, our selection encompasses every aspect of event design. 
Explore and Elevate 
With Smarty Had A Party, your party planning journey is simplified and elevated to new heights. As you explore our website, you'll find a treasure trove of possibilities that cater to events of all sizes, from intimate gatherings to grand celebrations. From start to finish, Smarty Had A Party enables you to curate an event that reflects your personality, leaving an indelible mark on your guests and creating memories that last a lifetime.
Frequently Asked Questions (FAQs)
1. How durable is Smarty Had A Party's heavyweight plastic flatware? 
Smarty Had A Party understands that durability is key for any event. Our heavyweight plastic flatware is designed to withstand the demands of various dishes without compromising on elegance. You can confidently serve everything from appetizers to hearty main courses without worrying about the utensils giving way.
2. Do disposable charger plates really enhance tablescapes? 
Yes, disposable charger plates are crucial in creating sophisticated table settings. They provide a base for your dinnerware and add an extra layer of elegance to your tablescapes. Smarty Had A Party's range of designs ensures you can find the perfect charger plates to complement your event's theme.
3. Can I find suitable items for both formal and casual events on Smarty Had A Party's website? 
Absolutely. Smarty Had A Party caters to various events, from formal affairs to casual get-togethers. Our vast selection of party supplies, including linens, décor, and accessories, ensures that you can find items that suit the tone and style of your event, regardless of formality.
4. Is it possible to achieve an upscale look with disposable party supplies? 
Yes, Smarty Had A Party offers disposable party supplies that mimic the elegance of real china and traditional tableware. Our focus on quality and aesthetics ensures you can achieve an upscale, sophisticated look for your events without sacrificing convenience or sustainability.
In a world where hosting memorable events is an art form, Smarty Had A Party empowers you to unleash your inner host and transform your gatherings into extraordinary experiences. Raise your glass to party planning perfection – with Smarty Had A Party by your side, every event is an opportunity to shine.