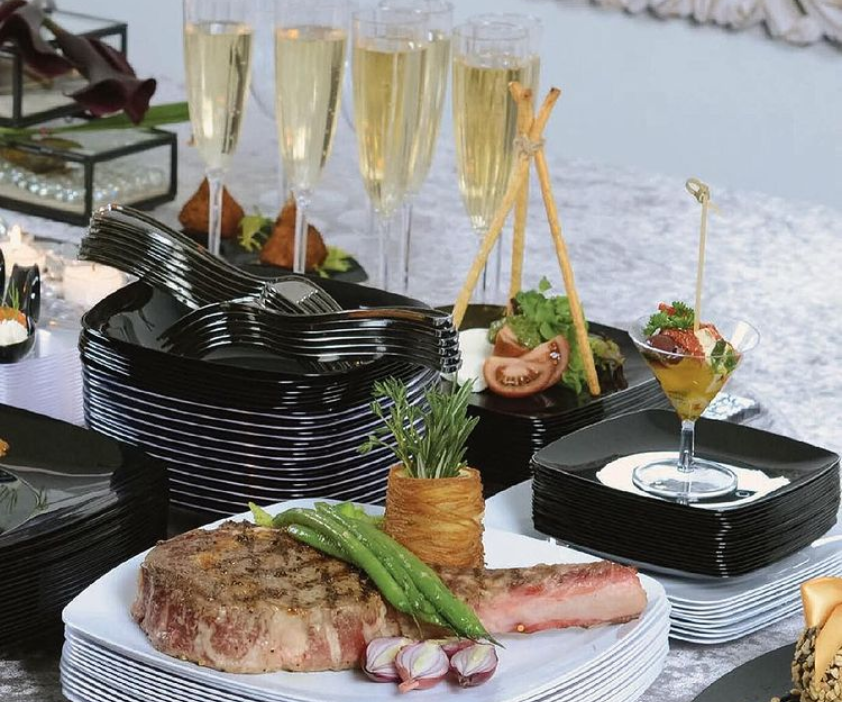 New Year's Eve Menu
Looking for the perfect New Year's eve menu? Choosing an ideal menu can be challenging no matter how long you have been hosting. A menu that caters to all age group's cravings or a menu that's easy to prepare a few hours before the party starts is the best choice. 
With time people develop different tastes, and new trends set new parameters for food lovers. That's why we have come up with the list that will help you choose the perfect menu for your countdown the night.
With the holidays comes the time of New Year's deacons, real treats that we can indulge in enjoying every bite. The New Year's table includes a festive atmosphere and traditional dishes.
However, the holidays can be the right time to enrich the table with slightly different specialties, which will surprise our loved ones.
This year's New Year's table can be enriched with exciting appetizers, unusual sweets, and slightly different main dishes with which the New Year's dinner will be the best so far!
If you want to push the boundaries of good taste and surprise your family and friends, you will surely like the ideas for the New Year's table that we have prepared for you!
Marinated Pork Roast
There is no feast we celebrate at the end of the year if it is not sovereignly ruled by the New Year's main dish in the form of - plentiful, crunchy, juicy, from which, at first glance, it is mouthwatering. It can be roast pork, golden roast turkey, or roast beef, but we often opt for pork roast. So here's how to bake delicious, soft, and juicy meat that will be remembered!
Ingredients:
1.5-2 kg of pork shoulder or leg

100 ml of oil

2- cloves of garlic

150g dried apricots

Salt, pepper, allspice, turmeric

Rosemary, thyme, if desired
Preparation:
Step 1: Put about 2- tablespoons of salt in a dry baking dish or a deeper pan and 1- teaspoon: of pepper, allspice, and turmeric. Stir, then add half the amount of oil and stir.
Step 2: Cut slices about 2.3 cm deep into the whole piece of meat. Put the meat in the spice mixture and rub well, adding the rest of the oil if necessary. Coat the meat with garlic cloves. If desired, cut the garlic into slices and leave them in the meat slots. You can also leave sprigs of rosemary or thyme in the meat and tie it tightly with string so that they do not fall out and the roast is compact.
Step 3: In the oven, preheated to 200⁰C, place the roast and bake on all sides for about 5 minutes to get a crust. Then pour about 2 cm of water into the baking dish and cover it or cover the tray with aluminum foil lightly, reduce it to 180⁰C and bake for about 90 minutes, ensuring no water disappears. Finally, add at least 1 cm of liquid so as not to burn and smoke.
Step 4: After an hour and a half, uncover and continue baking for another 45 minutes, without adding water, to give the meat a crust. In the pan, in the power that the meat has released, add dried apricots in a piece or cut in half.
Step 5: After the meat is cooked, take it out of the oven and let it stand for at least another half an hour so that it cools down gradually and lightly, and all the juices remain in the meat before cutting. When it has rested, cut and remove the string, transfer the meat to a serving plate, and remove the dried apricots. If necessary, cook the urine to the desired density and pour it over each piece of meat. Serve with apricots.
Finger Food
Forget about full-time dinner serving the food that is easier to make in a few minutes and takes a fraction of the effort. Finger food is always easier to carry and store, even if you plan a night out. These delicious finger food will keep you and your mates grazing for the rest of the night. 
If you love cranberry brie, then we have another delicious similar finger food you will love eating on a new year's special night. Try baked feta bites at new year's party night. Don't forget to make extra as these taste fantastic, and your guests won't stop asking you for more. 
Cheese walnut tart is another particular finger food item and perfect for a new year's party. Either watch the countdown at New York times square or stay up late at home. The hearty bites of this walnut tart will make you go through the entire night without feeling tired.
Cocktails Collection
It's the new year's menu, how can you forget drinks? Drinks are a must and should be included to keep you energized throughout the night. Set up a cocktail bar in your kitchen or somewhere you want to. Make sure to have a signature cocktail.
Welcome your guests with the signature cocktail. It will leave a great impression on them and make them feel special at the party. There are many cocktail recipes available on the internet, so make sure you have chosen the best one you and your guests would like.
When making the list of cocktail menus, ensure you have included the seasonal ingredients.
Dessert Menu
A Desert Full of sweetness sets your tone for new year's eve and makes you welcome the upcoming year on a delicious note. First, try Chocolate mousse with creamy and choco flavor to make your evening even smoother. Then, prepare it quickly in your kitchen, ready to serve your guests.
While serving it, ensure you aren't missing anything as it leaves your impression on the guests. To elevate your serving style, fancy plastic bowls are a perfect choice. 
These are the most affordable and elegant-looking disposable plastic party bowls. Get these fantastic elegant disposable bowls to improve your presentation style.
Tired of cutting a simple celebration cake? Try citrus cake this time to bring something unique to your table. Making it feel daunting to you? Order it from your nearby bakers so you can wow your guests at your new year's party.
We wish you a Happy New Year Smarties!