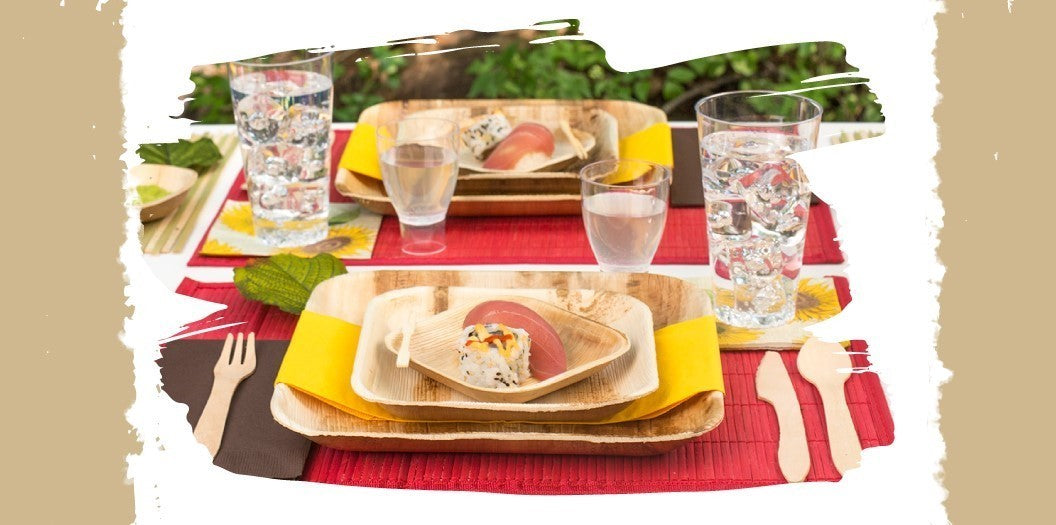 Nature Keeps the Party Going
Tableware is one of the most important aspects of any party or celebration, as it's what you'll use during your reception. If you're planning an eco-friendly party, you'll want to ensure that your tableware matches your theme.
The primary purpose of tableware is to serve food and drinks, but it can also be a great way to show off your personality. These days there are many options for eco-friendly tableware that are just as fashionable as they are functional.
There are many types of eco-friendly tableware that you can choose from. Some experts recommend using palm leaf or wooden plates instead of ceramic ones because they do not harm the environment as much as others do. You will also find that these types of plates will last longer than others, making them less expensive in the long run. If you are looking for something with an elegant look, then sugarcane bagasse plates may be right up your alley! It is one of the most popular types of eco-friendly tableware on the market today because it is eco-friendly and beautiful at the same time!
Adding Smarty's disposable eco-friendly tableware to this year's summer celebrations will make hosting simpler, easier, and a lot more stylish.
We at Smarty Had A Party always try to provide you with the trendiest options for your wedding reception, birthday party, baby shower, professionally catering event, holiday feast, dinner party, and every other special occasion. However, we also strive to offer you eco-friendly products, so you worry less while hosting your party. Our fabulous, all-natural, durable, and multi-functional Smarty's dinnerware, serving ware, and flatware will show you that it's fun and more accessible than you may think to create a unique and economical party you can be proud of. With the perfect fusion of design, efficiency, and ecological sensitivity, our supreme eco ware help you deliver a fantastic event and positively impact all your party guests. Your guests will love the elegance of our tableware, and once you have used them, you can be sure they will become a must-have addition to your party supplies.
Bagasse is a plant fiber - a newly introduced material for tableware production. The construction is thoroughly developed to create 100% biodegradable and sustainable products. The four steps, which contain pulping, molding, drying, and in the end, edge trimming and sterilization, create a piece of tableware that is not only sturdy and useful but elegant and sophisticated. Boasting a fresh and crisp appearance, simple, clean lines, and sleek style, our line of disposable bagasse plates can be used for many different party themes. The white color design will not compete with your choice of flowers or tablecloths and can be used with silver, gold, or natural flatware. The possibilities are endless! Additionally, the plates are durable and micro-bacterial, so they will hold up all dinner long without becoming flimsy or soaking through.
Tableware made from palm leaves provides a naturally beautiful and functional option. For some, it may be the most fascinating material that tableware can be created from. It is made entirely from fallen palm leaves that are water-soaked and heat-pressed into a shape. Since palm leaves have a specific color, each of the dinnerware pieces has a kind of rustic but unique look. And since it is manufactured using only water and heat, with no added coatings, fillers, binders, liners, wax coatings, or other additives applied at any point, our compostable dinnerware is 100% organic. As well as being disposable, palm leaf dinnerware will biodegrade in approximately 60 days, giving nutrients back to the soil.
Do you spend a lot of time in nature? Going camping? Do you like to go hiking? Or maybe you're having a party in nature? This product is ideal for you if only some of these are true. This set of wooden spoons, forks, and knives will make any meal in nature easier and simpler. You can also prepare a super bench, invite your friends to the park and have fun on a picnic. Disposable accessories are biodegradable and environmentally friendly. You can use it in nature, school, work, and your home and make someone happy with this ecological product.
Meet chic yet eco-friendly cutlery pieces. Our 
disposable flatware
 is made from certified solid birch wood and can break down in as little as 80 days in an industrial composting facility. It also provides ultimate durability and strength, which makes it a desirable material for flatware. Also, since birch wood is hardwood, its edges are incredibly smooth, so there's no need to worry about splinters or your food tasting like wood. Strong, innovative, and sustainable, these unique 
cutlery
 

pieces will give your guests a modern and sustainable way to spear, stab, and scoop up any of your delicious party specialties.
Eco-Friendly Tableware is excellent for people concerned about the environment and who want to make a difference. Many believe paper plates are more convenient, but this is not true. With eco-friendly tableware, you can have convenience without harming the environment. If you want to make your wedding green, this is a good option.
And when the party ends, the last thing you want to do is wash the pile of dirty dishes - so you're lucky. You can finally wave goodbye to the hassle of cleaning up because as a cost and time-saving alternative to traditional porcelain, these top-grade eco-friendly tableware pieces are designed for disposable use, which means there's no need to stand above the sink all night long, just toss them in the compost bin, and the cleaning process is complete!
All Smarty's partyware pieces are recyclable, biodegradable, or reusable to reduce your carbon footprint on our surrounding environment. In addition, our fabulous collection offers you a variety of choices depending on your specific needs. So visit Smarty Had A Party, and order your favorite partyware today!