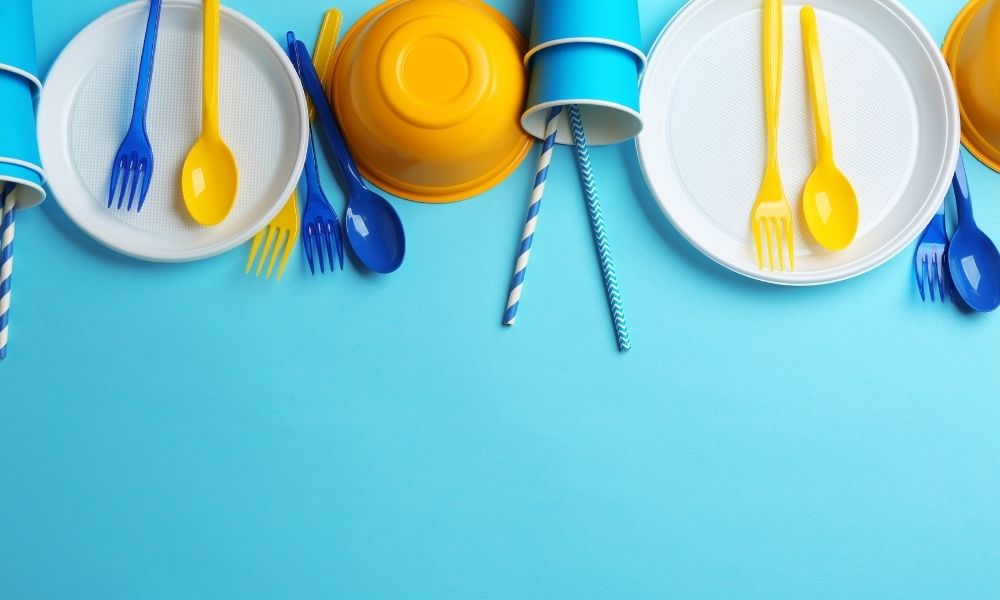 The Smarty Had a Party Disposable Flatware Buying Guide
How are you doing, Smarties? With summer weddings, cookouts, and all sorts of outdoor soirées on the way, you must be looking for disposable cutlery fit for each planned occasion of yours. We know those cheap white forks whose tines break off in the mashed potatoes and flimsy knives that couldn't even cut butter have no place at your table. Neither should they have a place at anyone's party table. Not to worry, you have come to the right place—Smarty Had a Party understands the need for good utensils that work well while still conferring some beauty and style upon each table setting. Today, in our disposable flatware buying guide, we thought of showing you a few of our favorites from our collection of single-use flatware options. Look around and see which forms fit your taste and your functions.
Go for the Rose Gold
For a warm-colored wedding reception decor, temper the brassiness of traditional gold-toned flatware with our rose gold forks, knives, and spoons. The subtle tint of rose gold adds novelty and nuance and immediately connotes the elegance your reception deserves. Likewise, the cutlery has a smooth texture and is light on the hands, replicating the dining experience with fine stainless steel or gold. Best of all, like all Smarty's offerings, you and your guests will enjoy that elegance without anyone having to do the dishes afterward. 
Do we have a suggestion for ones who are looking for flatware that is silver colored, disposable, but a little more elegant than the standard silver cutlery? The answer to that question is yes. Plastic Danish Crown Luxury Metallic Silver Cutlery was made especially for you. 
Danish Crown Metallic Silver
This range has a dark silver, shiny look. The flatware is a mix between simple elegance and ornate elegance. The top part of the handle is decorated with a carving of sorts. The quality materials used ensures durability. The knives and girls in this collection are strong enough to cut into your meat and vegetables, but they are designed to not accidentally hurt you. While the dining experience is luxurious, the cleaning is equally easy. Simply toss the used cutlery into a bin. 
Do you like your cutlery with a bit of a design on the handle, durable yet not heavy on the hands? Well, then, our Danish Crown Metallic Silver Luxury Plastic Spoons are a fabulous choice for you.
Baroque Flatware
Ornate craftsmanship needn't be limited to metal. When you want the appearance of expert artisan silversmithing in your cutlery but don't want to hand-wash those works of art, or want to spend a hefty price on cutlery just for one party, then our baroque-style flatware is the answer. Not only do they feature elaborate patterns, but they have the heft to approximate their metal counterparts in your hands. When making a case for baroque flatware, there's simply no counterpoint to that argument. We know you like having a variety when it comes to choosing. We offer our Baroque spoons in silver, gold, black, and rose gold colors. 
What should you try if you want to add a vibe of elegance but don't want to use the standard silver-colored cutlery? Our suggestion is to try gold-colored flatware. 
Gold Is the Answer 
There is something extra about the color gold. It screams glamour. Gold-colored flatware is excellent when you want to make your guests have the feel of using luxurious flatware. These spoons, forks, and knives have a shine to them and are made to feel smooth in your hands. 
And for those looking for extra glamour added to gold, you should definitely try out our Shiny Gold Glamour Disposable Plastic Cutlery range. We have a feeling that you will love it. 
You suddenly realize excessive and wasteful consumption, and now you have the urge to become more eco-friendly and sustainable in your parties. Being eco-friendly is good. Small steps at a time to make a change. We do offer a range of sustainable and eco-friendly flatware in different styles just for environmentally-conscious hosts.
Sustainability in the Palm of Your Hand
Consider the eco-friendly alternative of palm leaf flatware for outdoor parties where the decor you're coordinating is naturally occurring. Just as we carry lines of biodegradable, single-use palm leaf plates, you can flank them with forks, spoons, and knives that are just as useful and green. These flatware don't chip, don't snap, and will do its job in aiding you in eating your food comfortably. If you're celebrating in northern climes and want to add a local touch, you can pair palm leaf dinnerware with natural birchwood flatware. No papery bark here—just strong, resilient, and all-natural wood. Since all these flatware is made using natural resources only, they will biodegrade if they are dumped. You can also cut these into pieces and add them to your compost pile. They will do a great job keeping the carbon and nitrogen levels balanced. 
Not a fan of all the glamour? Want the table to emit a simple yet elegant vibe? Then our advice for you is to use silver-colored disposable cutlery. 
Keep It Simple with Silver
Plant-based table settings can be a little unorthodox for many events, and rose gold or baroque silver flatware is just a bit too elegant. So we'll wrap up our disposable flatware buying guide by getting back to basics. If you want to stick to the classics, there's no shame. Smooth and traditional silver plastic cutlery is the reliable, never-fail choice for disposable plastic silverware. No matter which event you're throwing—whether this summer or any time of year—you can't go wrong with simple, attractive, no-nonsense flatware in a neutral tone that complements any color palette. For more flatware options from Smarty Had a Party, check out our full collection to find the right set for your next event.