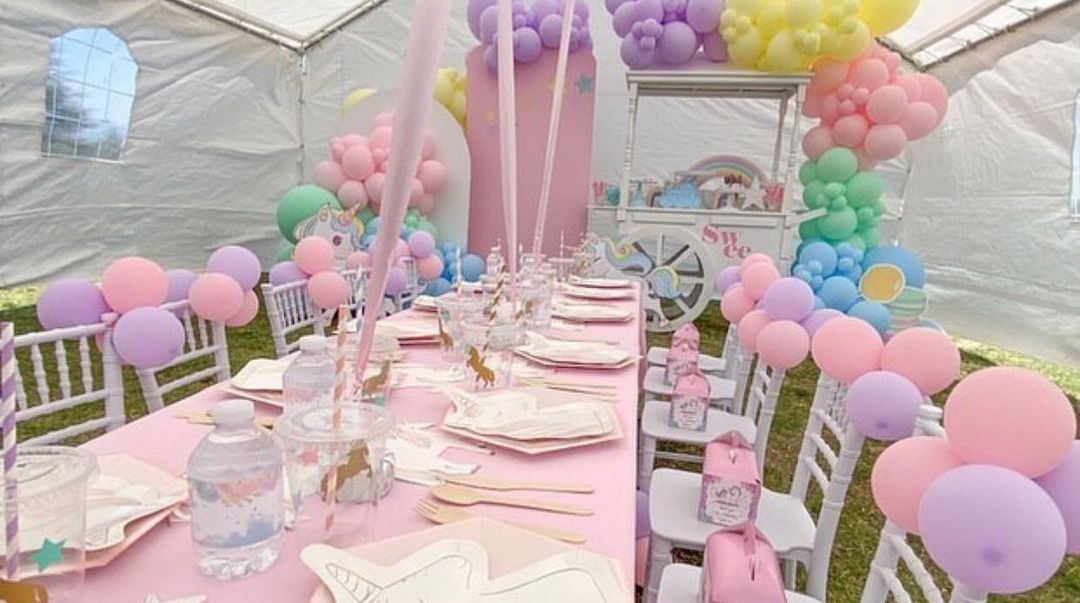 Magical Unicorn Birthday Party Ideas
If you want to throw a magical and mystical party, then a unicorn-themed party would do wonders.
Since your kid's birthday only comes once a year, you want to make the most of the celebration. Your tasks will be much easier if your kid knows what theme they want for their birthday. Lucky you if the theme revolves around a unicorn. 
Undoubtedly one of the cheeriest party themes is the unicorn one.
The unicorn is a beautiful, magnificent mystical creature that both children and adults have long adored. It is evident with just one glance at these beauties that they have been able to draw in so many people and catch everyone's eye. So, it should be no surprise that unicorn-themed festivities are still typical.
A birthday party now includes more than just cake, snacks, balloons, and some dinnerware. Nowadays, it seems everyone goes all out, matching everything from the dress code to the activities and party goodies. There has never been a better occasion than a birthday celebration to go unicorn crazy.
From food and décor to party plates and gift bags, we have got you covered. 
We have gathered all the unicorn goodies, including unicorn pietas, activities, decorations, tasty treats, fancy disposable plates, and more.
Out Of The Woods And Into The Cake
One of the critical components of any birthday celebration is a delicious cake. There's no better way to celebrate in authentic unicorn flair than with the stunning fountain cake with unicorn wings. It meets all of your requirements for a unicorn theme.
The wings must have a complex pattern, a beautiful color scheme, and a long, shiny, gold horn. Serve your cake in elegant disposable plates to make it look more stunning. Mini disposable plastic party supplies will perfectly complete your unicorn birthday party theme.
Sparkling Unicorn Décor!
Pretty colors, rainbows, and glitters are the main elements of unicorn birthday celebrations. So make a fantastic ambiance with these beautiful ideas.
Make use of the lovely unicorn letters to spell your child's name. It makes a beautiful addition to your birthday party. 
Tip: You can use it for years after the celebration by putting it on a shelf in your child's room.
Whimsical and Unique unicorn eggs will make your guests grin. Create them in advance to serve as party favors or group activities. A unicorn baby shower would also be great with these eggs!

Use a lovely unicorn-themed backdrop as a photo backdrop or hang it behind the cake or gift table. Your child will adore this. The soft layers of beautiful cloth create an excellent and magical backdrop.

Your decorations would be enhanced by some 

disposable party plates

 placed beautifully on your dinner table.
Fancy Unicorn Dresses
If you want to make your kid's birthday party magical, ask your friends and family to come in fancy unicorn dresses. Make sure to mention it on the invitation card; so they have time to prepare their outfit.
Alternatively, you could provide a fancy-dress box at the party with unicorn booties and colorful miniskirts so that children may choose an additional outfit to wear over their party attire. 
Lights Create The Magic
You may add sparkle and charm to your unicorn-themed birthday party by hanging twinkling fairy lights. Just picture yourself arriving at a birthday party, greeted by sparkling and colorful lights in the garden and at the doorway. 
Lighting offers a lovely backdrop for a great party. In addition, they are an affordable and handy decoration that can be utilized at upcoming festivities, like Christmas.
Unicorn Cookies!
We have the perfect unicorn cookies recipe for you. Even the youngest unicorn lovers may easily bake these Unicorn cookies!
Cookie cutters in unicorn shapes are available online or at your preferred kitchen store. Also, an artificial golden shimmer makes these cookies sparkle.
Ingredients:
Cookie dough mix (Have some refrigerated dough from the market or mix it on your own) 

Flour

Gel food coloring gives vibrant colors to cookies. 

Star and Silver sugar for sprinkling. 
Steps To Follow:
Make the sugar dough as directed on the package or in the recipe.

Equally, divide the dough into bowls. For example, if you want to use four colors, you must have four bowls to put one gel color in a single bowl. 

Put the dough in the refrigerator for about half an hour after the food color has been included. Then, you can wrap the plastic paper around it. 

Bring your dough out of the fridge and cut it into small pieces. 

Mix the dough to create a rainbow-swirl effect. Avoid overmixing so that the colors remain prominent. 

Roll the cookies to give them an excellent shape. Then, put each cookie into a baking sheet and place those in a preheated oven. 

Sprinkles must be added once you're done with the baking!

Enjoy your delicious and lovely unicorn cookies on disposable plates. 
A Unicorn Photobooth!
A long-time party tradition includes a photo booth. Unicorn masks are perfect for birthday celebrations- they're perky, adorable, and funny. Kids can have fun experimenting with these in the pictures, and, as an extra benefit, they can take some lovely souvenirs of a memorable celebration home.
Party Favors!
Why not choose a stylish unicorn bag as you'll need somewhere to put those party favors? The elegance of the small unicorn bags is one of their best features. So let the kids take some tasty treats home in a white unicorn bag.
Do you need some entertaining screen-free tasks for your kids at the party? 
Tip: Get some unicorn printable for them. The kids would love coloring and painting some pretty unicorns on paper. All you have to provide them is:
Colorful markers

Glitters

Tape

Crayons

Printed unicorns

An eraser
This printable can be used as a poster and pasted on your kids' wall once they're done decorating it! First, decide on the most suitable location, then use some tape to fix it.