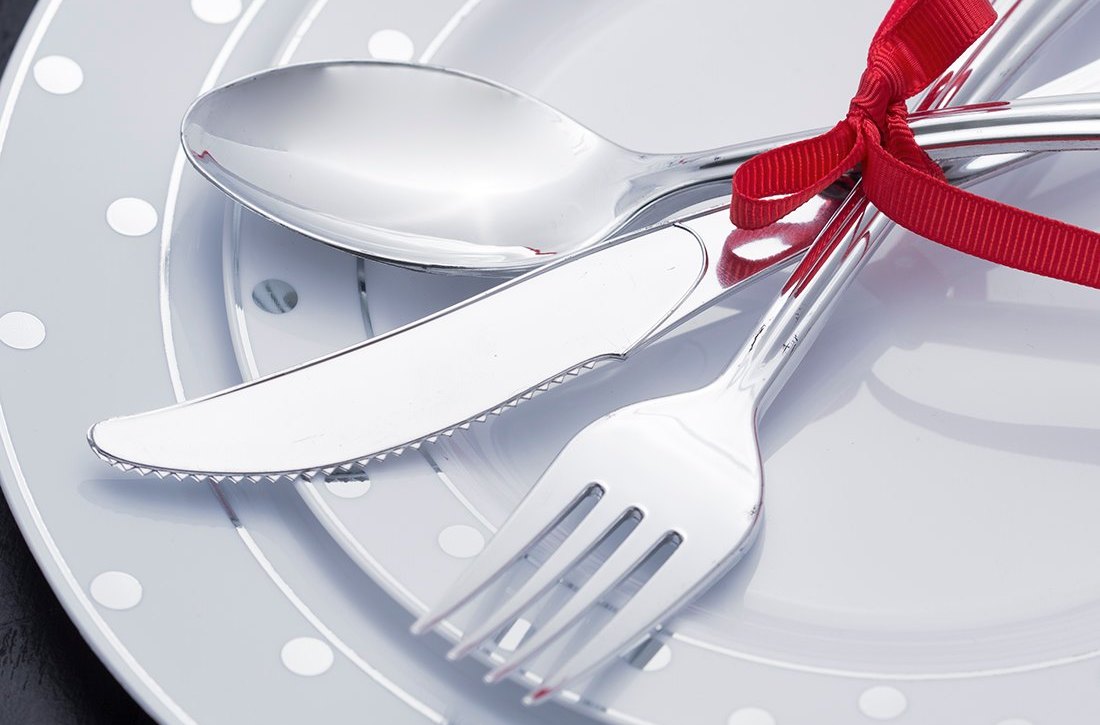 Why Choose Disposable Silverware?
Making a party look luxurious is everybody's dream, and we do everything to make it feel like a premium one. Whether it's the venue, decorations, or the party's menu, every party element must be smartly planned and sourced.
We usually pay more attention to significant elements like colorful decoration, stunning bridal dresses, epic cakes, shining confetti, etc. But little things also make a huge difference, and fancy plastic silverware is one such item.
We'll discuss how these plastic silverware can bring prestige to your party, and we'll also share some creative design ideas for elegant disposable silverware.
Easy on Pocket
The charm of silver dinnerware is matchless, but they're relatively expensive. So instead, it's their silver finish that grabs your guests' attention. With plastic silverware, you get the same shine but at an amazingly less cost.
Most food service businesses and caterers go for the option of plastic silverware because they look just like silver, and they're super easy to maintain. Usually, this elegant plastic silverware is produced and provided in bulk, drastically lowering its price.
We offer special discounts on bulk orders, allowing businesses to achieve a competitive advantage in the markets. It's not like we offer standard designs, but at Smarty, we offer stunning designs that mirror nothing but royalty and luxury.
Cost cutting is one of the most popular strategies that businesses strive for. For example, our plastic silverware products are incredibly cheap, which allows companies to come up with low-cost offerings, gaining more and more clientage.
Easy to Transport
Since plastic is exceptionally light in weight, it's easier to transport plasticware than any other dinnerware type (metal or silver). Travel-geeks who love to camp on mountains over weekends find these plastic silverware their best companion. It's lightweight and easy to carry, and you can reuse it if you want.
Easy to Dispose
The worst thing about big parties like birthdays and weddings is to manage the dishes afterward. For caterers, it's one of the most time-consuming and frustrating tasks. Using disposable dinnerware is the only solution that can resolve the frustration of cleaning the dishes.
If you're hosting a party at home, you don't have to use your expensive ceramic dinnerware. Instead, use elegant disposable silverware to keep your ceramicware safe from getting cracked. Our disposable plastic silverware can make your party hassle-free, and you won't have to worry about the kids creating the mess.
Creative Silver Party Design Ideas
We have tried some fantastic silver party ideas and will share them with you! You can try the following ideas to stun your guests with the silver shine.
Silver Star Party Theme
You can source glittery silver stars and hang them from the ceiling. You can use as many as you want and turn them in clusters or place them separately on a wall. Craft stars with a glittering chart, or you can buy the premium ones from Amazon.
If you want to add a little spice to your decorations, creating a contrast with black or dark-colored stars would be a fantastic idea to try.
Silver Balloon Backdrop
Create a silver balloon backdrop by using silver balloons of different sizes. Couple them up with white or dark gray balloons to make the silver balloons stand out. For birthday parties, you can decorate all the walls with silver balloons.
If you're planning an anniversary party, asking your guests to wear silver dresses would be a unique thing to try. Decorate the sitting area with silver and dark red balloons and create a stunning backdrop for the stage.
Silver Net Cloth
There's a lot you can do with silver net cloth. They look super cool when used in decorating outdoor parties. Make outdoor arrangements for your party in a garden where you can make a boundary by hanging silver net cloth. Hold them in place with bamboo sticks.
Also, try to put some LED strips on it to make them glow and look mesmerizing. Using multi or uni-colored LEDs is your personal choice. Use whatever works best for you.
You can also make canopies for guests and decorate them with artificial flowers with net fabric. Decorate the canopy with anything that you think will make it look amazing. You can put some extra effort with friends to make it float and swing. It will be a fantastic thing to try in the backyard.
Moreover, imagine presenting food in these canopies! What a fantastic experience it would be. Use disposable plastic silverware to present the meal safely and hassle-free.
Some Amazing Silverware Designs We Offer!
We at Smarty offer a wide range of fantastic product designs for different party settings. The following list of top 3 designs is just a glimpse of what we offer!
This shiny plastic silverware set is designed with a fantastic Baroque-styled shape. Spoon, fork, and knife, every item is designed so perfectly that it looks like an actual silver cutlery set.
Following are the dimensions of the products.
The length of the spoon is approx 6."

The size of the fork is approx 7.5."

The size of the knife is approx 7."
This plastic silverware design is quite budget-friendly. It looks simple and decent. This design can be used in any formal party arrangement. This design is exclusively offered at the best price when purchased in bulk.
The dimensions of this cutlery set are:
The length of the spoon is approx 6.75."

The size of the fork is approx 7."

The length of the knife is approx 7.5."
If you only like plain cutlery without any design, then this is something you should go with. It has a basic shiny design that can be used for formal and informal party settings. Along with the silver color, you can get it in red and gold.
The dimensions of this cutlery set are:
● The length of the spoon is approx 6.75."
● The length of the fork is approx 7.25."
● The length of the knife is approx 7.75."