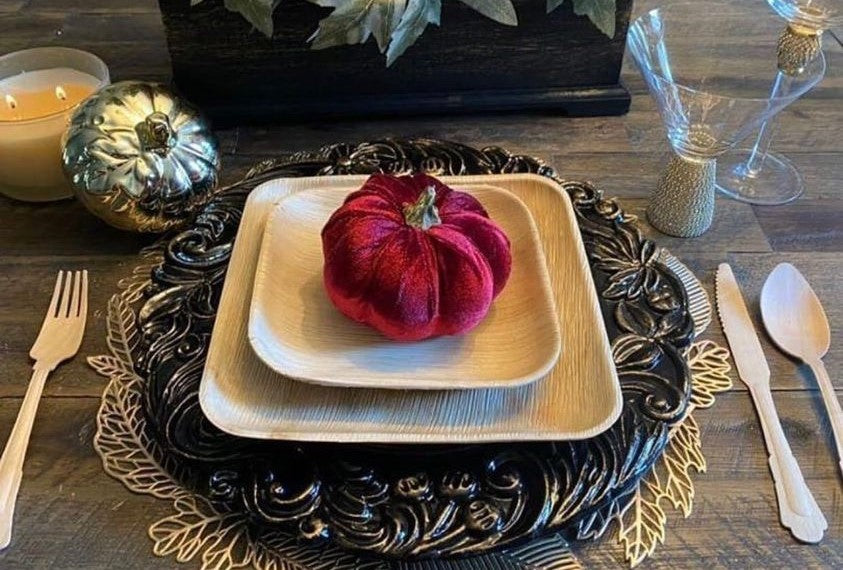 Lovely Nature-Inspired Thanksgiving Tablescape
Are you a party lover? Do you prefer hosting a grand event and being appreciated for your efforts, or is this your first time hosting any significant event, and you want to know about what to offer and how to plan? Don't worry! We've got the solution to all your problems.
Thanksgiving is quite different from the other events as it is arranged to enjoy whatever the season offers and celebrate the blessings it holds for you. Therefore, adding seasonal and natural elements to your party helps you reconnect with nature and appreciate the gift, giving you a feeling that something is being accomplished.
Here are some ideas for a memorable Thanksgiving party, so you don't miss out on anything. 
The Overall Theme of Thanksgiving 
Setting the aura of your party is very much relevant to its purpose as you express your feelings through the setting and decor. 
Try incorporating some natural elements in all the essential accessories of the setting, like background, color scheme, decoration pieces, table ideas, etc.
Green and freshly bloomed flower colors like orange, red, white, rust, and green can be used depending on the type of weather in which you are setting your buffet. 
Similarly, wooden bases and wooden slabs can be used in different arrangements to give your party and to set a natural vibe. 
Use of Autumn Leaves 
Autumn leaves offer you a fantastic display, be it your background, corner decor, theme, or table display. You can use these leaves according to whatever you think fits the idea or setting. 
Depending on the feel you plan to associate with your Thanksgiving party, you can use colorful leaves or proceed with a single shade. 
If you don't want to go for leaf detailing, simply tie cutlery pieces with leaf stems using a bow and put one with each set of dinner utensils, like plates and bowls.
Selection of Crockery and Utensils
The most important part of your grand meal is the use of utensils. Printed plates, especially those with printed green leaves, give a natural and peaceful feel. 
Cutlery selection based on color plays an essential part here. The silver, golden, and copper shades of cutlery differ according to the theme and overall scheme of the decor. 
If you want a brighter and fresh look for the table cutlery, use silver, and if you're going to give it an earthy feel, use copper utensils. 
You should use eco-friendly plates since it's an all-natural theme. Having eco-friendly party supplies at your disposal makes it easy to impress your guests. With the elegant palm leaf dinnerware set, your party will look way better with that.
If you have had a party in the fall, eco-friendly bowls with birch wood cutlery are a must if you choose to make soup, steak, etc. 
Bases and Chargers 
Are you thinking of ways to fit your idea of natural elements for the event? Here are some picks which might get you started.
Many people pay extra attention to table accessories, and we advise that too.

The use of bases and chargers gives a luxurious look to your setting. Wooden floors provide the chicest way to make your event look grand, give it a natural vibe, and make your guests feel cozy and peaceful.

In the same way, metallic-colored and printed chargers can be used for plates and bowls. Leafy chargers are essential for party tables, but edgy golden glass and metallic chargers are in demand. These would go best with the theme of the party. 
Invitation Cards and Placeholders 
If you want to make your guests feel more honored, send proper invitation cards. Then, use cardboard and other readily available items, write the names, and roll-tie it with a bow. Flexible stems and other such parts of plants can be used to bow. 
Placeholders are still another way to specify and signify your guests. You can either use simple tags with their names handwritten on them or proper name plates (that would be too much). 
Use of Fruits 
The best way to add some natural elements to your event is by using fresh seasonal fruits like apples, pears, gourds, pumpkins, etc. 
Fruits, especially pumpkins, should be painted per your liking and the party's overall theme. You can spread fruits on the tables and add color to their look or just stack these in a bowl or wooden basket and place some like this in multiple places of your venue. 
Stands can be put in some corners, and these fruit baskets can be hung, making them look eye-catching. If you want to go with something other than natural fruits, just use the faux ones. These complete your plan and can be reused the next time you want to have that kind of event. 
Candles and Lights 
Using lights and candles gives your gathering a cozy, aesthetic, warm, and comfortable vibe. On the other hand, candle stands provide a gloomy, rustic, and romantic feel. 
Small candles are an alternative for all the hustle you might face while arranging the candle stands, as these are usually quite costly. 
A more natural feel could be added by making holes in pumpkins and putting small artificial candles inside them. 
The thanksgiving parties are usually arranged at dinner time, so many lighting ideas are liked and adopted, which receives a much-appreciated response from the guests. 
Choice of Table Runners 
Table runners are necessary if you want to go by the book and do the detailing. According to most planners, all the tablescapes look bare and odd without table runners. Plus, having table runners covers the oddity, if any. 
Simple plain white or light printed table runners are perfectly fit to add a natural feel to the scape. Such background contrasts the freshly used fruits or other colorful accessories, giving a touch of glamor to the arrangements. 
Using the abovementioned tablescape ideas, you can create impeccable party themes without going overboard. Check out Smarty's partyware collection if you want natural dinnerware. We have more options for you, like eco-friendly disposable plates, eco-friendly flatware, and eco-friendly value sets.
All eco-friendly products are made from palm leaves or other biodegradable materials, making them 100% compostable. So choose your favorite one and get ready for your next party!