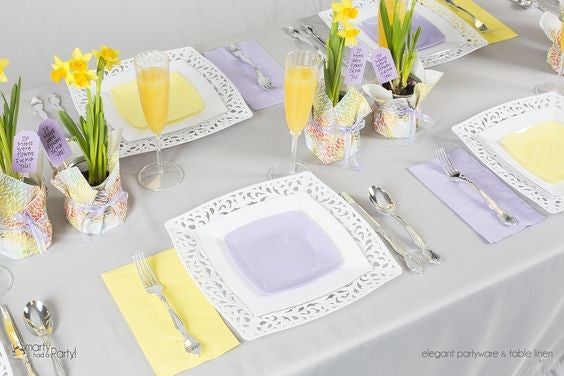 Lovely DIY Mother's Day Gift & Centerpiece
Add a perfect finishing touch to Mother's Day brunch or any occasion with these eye-catching, easy-to-make gifts/centerpieces.
Mother's Day is the occasion to show your mom how much you appreciate her and all she does for you. But although when the holiday comes, it may feel next to impossible to find a Mother's Day gift that adequately expresses your love and appreciation, the best Mother's Day gift isn't as hard as you think — and doesn't have to break the bank, either. Especially when you have Smarty Had A Party help. This year set up a fabulous table spread in honor of your excellent mother and surprise her with heartfelt toasts and thoughtful gifts. We have prepared a brilliant Mother's Day DIY gift (centerpiece) idea to make Mom feel oh-so-loved. With this luscious floral centerpiece, you will easily exhibit your love and appreciation for your mom. You will also make your Mother's Day table look spring-like, decorated, fresh, lovely, colorful, and bright, giving a glorious allure to your Mother's Day brunch. And don't forget - as long as it's made with love, it's a win in her eyes.
This DIY works double duty as a Mother's Day table centerpiece and a gift for Mom to take home with her after the party. No one wants beautiful centerpieces to go to waste after an event, and with our mini treat buckets, you don't have to! Mini-treat buckets are perfect for gifts and favors and have a metal handle that makes them easy to grab. Here's how we used them to create flower centerpieces for Mom!
There is no better way to show the mother in your life how much you love them than with a homemade craft or gift. There is something special about creating a sentimental gift that has been passed down and is personalized.
Mom works a lot for us and deserves a lot of recognition. Moms deserve to be pampered every day of the year, but on Mother's Day, they deserve a little extra. That "extra" doesn't have to be expensive jewelry, clothes, gift cards, or anything else. Something as simple as a homemade craft will do the trick.
We have something for you, no matter how skilled you are in craft work. You're guaranteed to find a fantastic craft that fits your skill level and will impress the mom(s) in your life.
Get creative, and make your table into a masterpiece!
What you need:
Bamboo picks

"If moms were flowers, I'd pick you!" tag (or some of your choice)

Lavender 3/8" satin-edged organza ribbon

Daffodils
Directions:
Step 1: Take a daffodil bulb and place it in a mini treat bucket with potting soil.
Step 2: Open up a cocktail napkin and lay it colored side down. Place the bucket in the center and pull the napkin up to wrap around the sides. Tie a piece of ribbon around the napkin to secure it.
Step 3: Adhere tag to bamboo pick and stick the pick in the soil.
Step 4: Repeat to create the desired amount of centerpieces for your table!
This fantastic idea can be adapted to any event, so whether you organize a Mother's day, baby shower, wedding reception, Thanksgiving dinner, or any other occasion, you can simply change the tag according to the theme of your party, which makes this DIY project very practical for any type of your magical parties.
Candle Art
This candle would make a perfect Mother's Day gift or even a Valentine's Day gift. The choice is yours! There's no better way to show how much you care than making something homemade.  
Homemade Lip Scrub
Treat the best mom together on Mother's Day with a real spa treatment. To begin with, make a homemade lip scrub with the little ones for even softer lips and even gentler kisses. Next, get a small glass container with a lid, which the children can decorate with drawings. Next, mix sugar and honey in a bowl, and the kids can add vanilla extract, cinnamon, or essential oil, which mom especially likes, to that mixture. Peeling will thus become not only helpful but also a tasty gift.
Fragrant Bath
A spa treatment wouldn't be complete without a relaxing Mother's Day bath. Together, make homemade bath salts with the aroma of her favorite herbs. Mix bitter bath salt (Epsom salt), pink Himalayan salt, and dried aromatic herbs and flowers in a bowl. Add chamomile, rose petals, lavender, or green tea to this mixture. In addition to the beautiful smell, this bath will also have an antioxidant and relaxing effect (which every mom needs).
Edible Bouquet
Flowers are always a good gift for Mother's Day, and this unique bouquet can be enjoyed by mom and the whole family. With the kids, bake delicious cookies that you previously cut out with molds in the shape of flowers. Decorate the cookies-flowers with a colorful glaze mixed with food coloring. Then, wrap your delicious bouquet in decorative paper and enjoy sweets with mom. 
52 Reasons to be Happy
Perhaps this is the simplest and most effective gift we will share with you. Buy a deck of playing cards and have the little ones write one reason why they love their mommy on the back of each card. We believe that this gift for Mother's Day will make her incredibly tender and will make your future family card games unforgettable.
Personalized Mug
If you ask us, there's no better Mother's Day gift than one that's personalized. What mom wouldn't be thrilled to receive a personalized mug for Mother's Day? This mug is very easy to make with kids. You will need a porcelain cup and a porcelain marker, which you can get at a hobby shop or online. And that is that! Let your imagination run wild, and let the little ones draw and write something nice for mom. We believe every mom will enjoy her morning coffee if she drinks it from her personalized gift.
Happy Mother's Day!