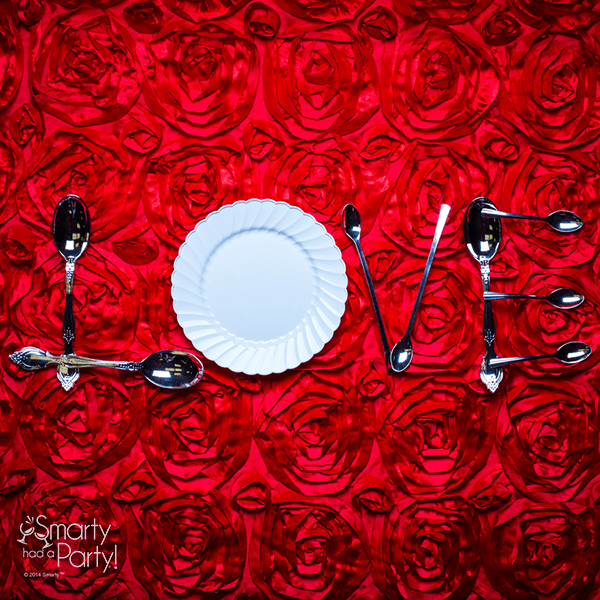 Love on the Table: A Guide to Creating a Memorable Valentine's Dinner
Valentine's Day is a special occasion celebrated worldwide by couples and loved ones. It's a day to express love and affection and to create special memories with the people closest to us. One of the most traditional ways of celebrating this day is by sharing a romantic dinner. However, a memorable Valentine's dinner can set the tone for an exceptional and intimate evening.
We have put together this guide, "Love on the Table: A Guide to Creating a Memorable Valentine's Dinner." Our goal is to help you create a unique and unforgettable dining experience that you and your partner will cherish for years to come. Whether you're a seasoned chef or a beginner in the kitchen, this guide will provide you with the tips and inspiration you need to make this Valentine's Day a night to remember.
Planning the Dinner
Setting the Mood: Romantic Ambiance, Candlelight, and Music
One of the critical elements of a memorable Valentine's dinner is creating a romantic ambiance. Consider setting the table with soft lighting, using candles or a dimmer switch to do this. Choose soothing and intimate music, and play it at a low volume in the background. You can add a few personal touches, such as a bouquet of flowers or a unique table setting that reflects your personality and style.
Choosing the Menu: Ingredients, Recipes, and Dietary Restrictions
Consider your partner's taste preferences and dietary restrictions when planning your menu. If you need help deciding what to make, consider classic dishes such as steak and lobster, or try something new and adventurous such as a Thai or Mexican-inspired meal. When selecting ingredients, look for fresh and seasonal items, and don't be afraid to experiment with different spices and flavors.
Table Setting: Tablecloth, Napkins, Cutlery, and Glassware
The table setting is another important aspect of creating a memorable Valentine's dinner. Use a tablecloth that complements the color scheme of your meal, and choose coordinating napkins, plastic cutlery, and disposable glassware. To create an extraordinary and intimate atmosphere, consider using formal plastic dinnerware or mix-and-match pieces to create a unique and eclectic look.
Drinks: Wine Pairing, Non-Alcoholic Options
A great way to complete your Valentine's dinner is with the perfect drink. Consider pairing your meal with a bottle of wine, or create a signature cocktail that fits the theme of your evening. If you or your partner prefer non-alcoholic options, consider serving sparkling water with a splash of fruit juice or making a refreshing mocktail. Whatever you choose, make sure to serve your drinks in stylish plastic champagne glasses that complement your table setting.
Cooking the Dinner
Preparation: Timing, Ingredients, Equipment
Before cooking, ensure you have all the necessary ingredients and equipment. Then, plan your timing carefully to ensure everything is ready to serve at the right time. This may involve prepping ingredients in advance or cooking dishes in stages. To make the cooking process as smooth and stress-free as possible, have a clear idea of what you want to make and how you plan to make it.
Cooking Techniques: Grilling, Roasting, and Sautéing
When it comes to cooking your Valentine's dinner, there are several techniques you can use to bring out the flavors and textures of your ingredients. Grilling, roasting, and sautéing are popular techniques that can add a unique and delicious twist to your dishes. Choose a cooking method that works best for your chosen ingredients and that you are comfortable with.
Plating the Food: Presentation, Garnish
Presentation is vital when it comes to creating a memorable Valentine's dinner. Take the time to plate your food in an attractive and appetizing way, using colorful garnishes and unique presentation techniques to make your dishes look as good as they taste. Whether you're plating simple or elaborate dishes, remember that the goal is to make your meal visually appealing and appealing to the senses.
Serving the Food: Hot, Warm, and Cold Dishes
Finally, it's time to serve your Valentine's dinner. Ensure that hot dishes are served hot, warm dishes are served warm, and cold dishes are served cold. This will ensure that the flavors and textures of your dishes are at their best and that your guests enjoy a truly memorable dining experience. Whether serving a three-course meal or a simple, intimate dinner, take the time to serve each dish with care and attention to detail.
Enjoying the Dinner
Conversation Starters: Exciting Topics, Humor
A memorable Valentine's dinner is not just about the food but also the company and conversation. Consider using exciting topics or humor as conversation starters to get the conversation started. For example, ask open-ended questions about your partner's day, share your experiences, or discuss a news event. Whatever you choose, keep the conversation light and engaging and allow time for each person to share their thoughts and feelings.
Sharing Stories: Memories, Experiences, and Future Plans
One of the best parts of Valentine's dinner is sharing stories and memories with your partner. Use this time to reflect on your experiences, discuss your plans, and create new memories. Whether you're talking about your favorite moments from the past or making exciting plans for the future, this is an excellent opportunity to deepen your connection and strengthen your relationship.
Making Toasts: Appreciation, Gratitude, and Love
A great way to show appreciation, gratitude, and love for your partner is by making a toast. Use this moment to express your feelings, share your thoughts, and thank your partner for their love and support. Whether you make a traditional toast or simply raise your glass and express your love, this is a unique and intimate moment you'll cherish.
After-Dinner Activities: Dessert, Games, or Movies
Finally, consider ending the evening with a sweet dessert or an enjoyable after-dinner activity after enjoying a delicious and memorable Valentine's dinner. Whether you want a slice of chocolate cake, play a fun board game, or watch a romantic movie, this is a great way to cap off a wonderful evening and continue the conversation and intimacy you started over dinner. Whatever you choose, take the time to enjoy eeach other's a company and create memories that will last a lifetime.
Valentine's Day is a celebration of love, and what better way to show your love and affection than by spending quality time together over a delicious meal? A well-planned Valentine's dinner is a treat for the taste buds and an opportunity to connect with your partner and strengthen your bond.
We encourage you to try out this guide and create a memorable Valentine's dinner for your loved one. Whether you're an experienced cook or a beginner, these tips and suggestions will help make a magical evening that you and your partner will never forget. So, go ahead and plan that special dinner, light those candles, put on some music, and enjoy each other's company. Happy Valentine's Day!