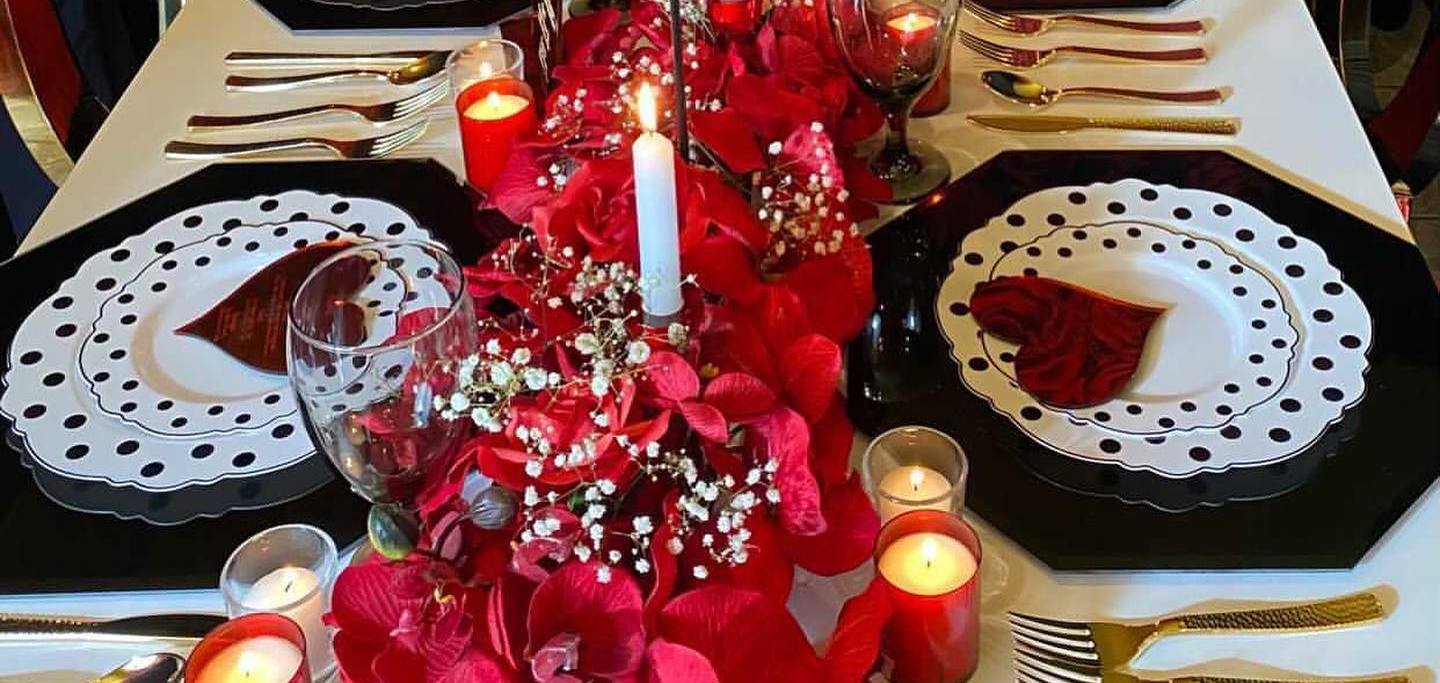 Sweetheart Dinner: A Guide to a Picture-Perfect Valentine's Day Table
Valentine's Day is a special occasion to celebrate love and affection with the people closest to our hearts. What better way to do that than by preparing a romantic dinner for your loved one? A Sweetheart Dinner is a term used for a romantic dinner shared between two people on Valentine's Day. The dinner's setting, food, and atmosphere should be carefully planned to create a memorable and enjoyable experience.
Creating a picture-perfect table setting is essential to make the night even more unique. Every detail counts, from tablecloths and silverware to the lighting and decorations. Not only will it create a romantic atmosphere, but it will also provide the perfect backdrop for capturing lasting memories. So, let's get started!
Setting the Mood
The lighting you choose for your Sweetheart's Dinner can make all the difference in creating a romantic atmosphere. Soft, warm lighting will help set the mood, while brighter lighting can feel harsh and uninviting.
Candles are a popular choice for creating a warm and romantic atmosphere. You can choose from pillar candles, taper candles, or votive candles, depending on your personal preference. For a more modern touch, consider using fairy lights or string lights to create a twinkly and intimate environment.
Flowers and table runners are also great additions to enhance the look of your table. Flowers can be arranged in a centerpiece or scattered on the table for a more natural look. Table runners can add color and texture to your table and can also help protect your table from spills and stains. Choose a table runner that complements the color scheme of your table setting for a cohesive look.
Tableware and Linens
The tableware and linens you choose for your Sweetheart's Dinner can make all the difference in creating a picture-perfect table. A well-coordinated and attractive table setting can elevate the look of your dinner, making it a memorable experience for you and your loved one.
When selecting disposable partywares like plastic plates, fancy disposable glasses, and elegant disposable silverware, it's important to choose pieces that complement each other. Opt for a simple, classic design in a color that matches your tablecloth and napkins. Avoid too busy or overwhelming patterns, as they can detract from the food and the table's overall look.
When choosing a tablecloth, opt for a neutral color that matches the color scheme of your table setting. Plastic tablecloths come in various materials, including cotton, linen, and silk. Consider the type of dinner you're having and the climate when choosing a tablecloth. 
Disposable napkins and placemats are another crucial aspects of your table setting. They can add color and texture to your table and protect your tablecloth from spills and stains. Choose napkins and placemats that match the color scheme of your table setting for a cohesive look.
By following these tips, you can ensure that your table setting is beautiful and functional, making it the perfect backdrop for your special Valentine's Day dinner.
Table Decorations
Table decorations are easy to set the tone and make your dinner feel extra special. Here are some simple ideas for creating a picture-perfect table setting that will help create the perfect ambiance for your sweetheart's dinner. 
Use Flowers and Candles
Flowers are an obvious choice for table decorations, but there are many other options. Use small touches, like rose petals or heart-shaped confetti, to add that extra special touch. Candles are another great way to add romance to your table setting—they're romantic, smell good, and provide light if it gets dark before the end of your meal!
Choose a Theme 
If you're having trouble coming up with ideas for what kind of table decorations to choose, try choosing a theme instead. For example, if you're celebrating Valentine's Day at home with your significant other this year, why not choose something simple like hearts or red roses? 
Food and Beverage Presentation
Food and beverage presentation is the key to a successful Valentine's Day dinner. So, whether hosting a romantic evening for two or inviting your whole family to celebrate, food that looks stunning can make all the difference.
Fill in the Blank Spaces
If you have blank spots on your tablecloth, don't fill them with dishes! Instead, leave space for a centerpiece that will draw everyone's eyes away from empty space and toward something fun and exciting. You can even use candles to create an aesthetically pleasing effect!
Make It Glittery
Use glittery accents like confetti or glitter on top of your food to add some sparkle to the occasion—it's especially lovely on cakes! You can also sprinkle glitter over ice cream or add it as a drink garnish.
Pleasing Plating
Plate your food in a way that will be pleasing to the eye, but also consider how easy or difficult it will be to eat. For example, if you're serving appetizers, arrange them on a platter or basket so they can be passed quickly. If you're serving salad or other side dishes, consider placing them in individual bowls so guests can choose when to eat them.
Set Up a Modern Drinks Station
Create an eye-catching drinks station with colorful glasses, bottles, and garnishes so guests can easily find their drink of choice. 
Your Valentine's day dinner will be much better if you follow the above steps. Admittedly, that is pretty generic advice. I mean, it really isn't rocket science. Serve a good wine, light candles, turn on some music and serve your best dishes. It only takes a little to make a dinner date feel romantic.
Happy Valentine's Day!