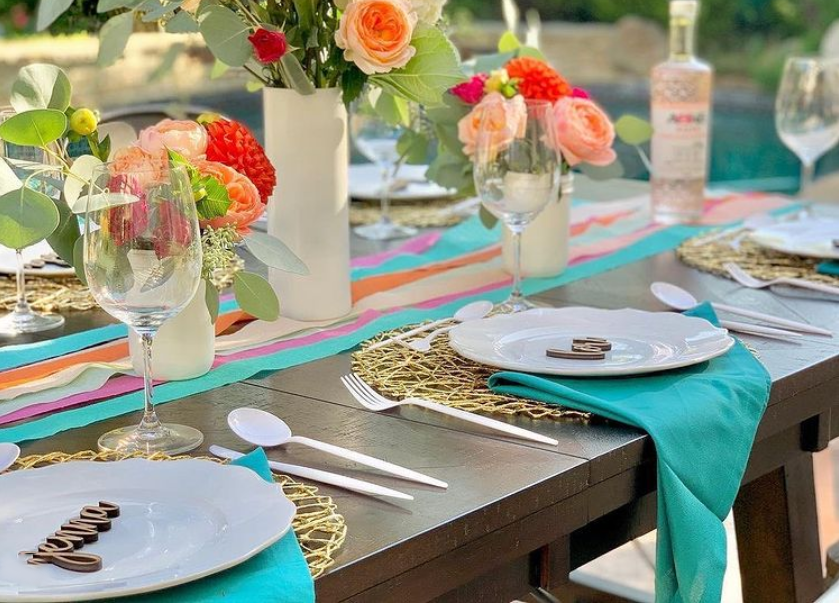 Last Summer Hurrah: End-of-Summer Bash
It's time to say Goodbye to summer. Summer has always been a great time to throw some great parties. It lets you make some epic memories with your loved ones. Summer comes with many opportunities, and there's a lot you can do to make your holidays more enjoyable.
Especially the 4th of July and Beach parties are always fun to attend. So, the last summer party should be exciting enough to cover all the opportunities you missed this whole summer. So, this year, say Goodbye to summer with last summer hurrah!
Invite MOST of Your Friends!
Fabulous parties are made extraordinary with awesome people, so make sure you invite all your GOOD friends to make some epic memories for the rest of the year. Having most of your friends at the party will make their day gloom.
Sometimes, in the hustle and bustle of life, we forget some of our close friends, and that's completely natural. But, we're not 17 anymore - we all have busy lives to sustain. So, to make those connections strong once again, an end-of-summer bash is the only best option available.
Set Up the Mood
There are a lot of different options to build up the mood. The soothing aroma in the air and the eye-pleasing decoration make your party more fascinating. If you're hiring an event planner to set the scene, make sure that you tell them about a theme you're looking for.
For the end-of-summer party, beach, camping, ice cream, or Wild West-themed parties are a few of the most popular ones. You can choose any of them to let your guests enjoy the last summer party with memorable vibes.
Choose the Right Set of Dinnerware
Why not make your goodbye summer party more royal and premium with our fancy partyware? There was a time when plastic dinnerware sets were available only in standard shape with no variety of design and colors. The reason was that they were manufactured in bulk productions, which used to be very cheap. As a result, no design and color schemes were offered - only the standard shapes of plastic plates and flatware were available.
But now, things are not the same. Instead, we offer premium quality gold and silver disposable cutlery sets that include every flatware item. Our flatware has become a must-have for every party with our unique and compelling designs. We also offer disposable plastic plates in different designs, styles, and shapes. The square shape plates and china-like plastic plates are some of our best-selling items in the store.
Our vintage design series can be another best option for your last summer party. It makes your table look gorgeous, creating a whole new summer vibe. However, if you want to keep things simple, a white square plastic plate set will do well.
Parties are incomplete without a complete range of drinkware. For parties, disposable drinkware items need to be placed professionally. You should know the differences between champagne flutes, tumblers, and wine glasses. To make your table setting complete, we offer elegant party glasses, disposable party cups, and all other types of drinkware you can think of. All our drinkware items are disposable, so you can dispose of them after a party.
We also offer serving ware with incredible designs and shapes. Moreover, our value sets will give you more budget-friendly choices to make your purchase easy on the pocket.
Camping Party
The advantage of this party is that you can place the campsite wherever you want! As it is still summer, although on the verge of extinction, with a caravan you can park by a lake, on the beach by the sea, on the mountain, river, simply wherever you want!
This is an intimate party where you can invite 4-5 people, which is enough for your loved ones with whom it is appropriate to say Goodbye this summer! Meet them at the market and ask them each to bring a basket of favorite products from the market and from which they would like to prepare a barbecue. Of course, with a basket of your favorite beer, camping can't do without it! For this party, be sure to invite a friend who plays guitar!
When you find a nice, tucked-away place for your camper, set up chairs, a folding table, and a barbecue set! The most crucial detail of the camp party is the campfire! While you and your friends are drinking beer and enjoying the last sunsets this summer, and everyone is stringing their barbecue strings, guitar melodies can be heard in the background!
Camping fun is just fun! If you and your friends are nature lovers, this is the perfect idea to say goodbye to summer! It is also ideal for a birthday party at the camp if one of your friends was born in late summer! It can be exciting and fun because there are many activities you can do with your guests!
You can go glamping, sleep in a teepee, or sleeping bags under the stars. Camping is great because with your guests you can watch the sunset and the stars and still welcome the dawn and watch the sunrise! With good music and beer, of course! First, you need to make party/camping invitations to let your guests know that fun is waiting for them!
This is a fun and relaxing way to say Goodbye to summer with friends and show them the benefits of nature! I stayed so long on this topic because I was a guest at a party like this and fell in love with camping and nature, so maybe I can get you as well. In the time of technologies that we encounter every day, this is an ideal opportunity to break away and escape into the woods! After all, nature is in trend!
Whichever variant you choose, we believe you will enjoy the summer sun with friends, collect impressions, and make plans for the fall! So, until next summer, try to keep these positive solar vibrations. See you soon in autumn!