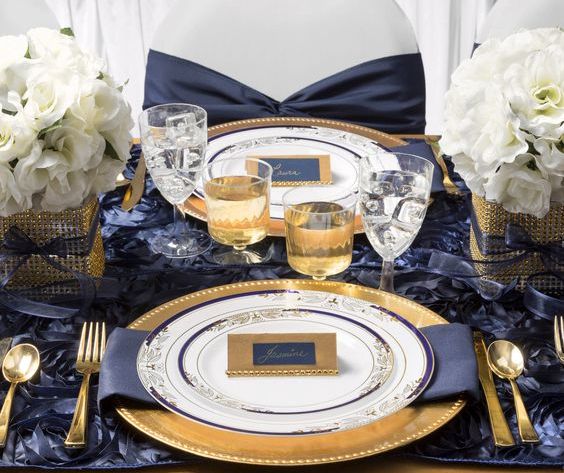 How Do You Pick a Wedding Theme?
Whenever you think of a wedding, elegant decor and beautiful colors come to mind. However, the overall vibe of a wedding ceremony is everything, and it impacts the wedding. Everybody wants the best to happen at their wedding ceremony to have a memorable day. You cannot control everything on your big day, but there are a few things you can put effort into to make your wedding event successful.
Its theme is the first and most important thing to consider for your wedding. Themes make decor and tableware selection more accessible, and everything looks harmonized. As a result, you will save a considerable amount of money and above all - you will stress less. The only reason is that you will know what to have and what not to purchase for the decor.
Choosing the perfect theme demands you to have a bit of knowledge about it. Here are some of the factors that you will have to keep in mind before choosing a theme for your event.
Sit Together and Discuss Each Other's Preferences
You should involve your significant other in the whole process of managing your event. At least a month before the wedding, sit down with your partner and talk about how you want a dream wedding to go? In this way, you will be able to know your preferences.
Include Your Style
Although there are already a billion wedding theme inspirations on the internet, don't forget you have your personality. You must have something unique that you want to explore and incorporate into your wedding. You can also push your limits and do something artistic with the decor to set a theme accordingly.
Know your partner's favorite color and see how you can mix and match it with your favorite color in the decor. Give little touches of some things that your partner loves and make them feel loved.
Set the Trend
Don't throw a boring, old-fashioned wedding with typical themes. Instead, think of something out of the box and flaunt your skills to set the trend. People want to see couples going a little extra with their events in a good way. But if you want to keep it the old-fashioned way, there is no problem being yourself, but do it differently.
If you still can't decide on a theme, there are so many inspirations on Pinterest - you can copy them.
Match the Decor with Theme
Once you have selected the theme, it becomes easy to get matching decoration pieces. We are here with our fancy wedding party dinnerware available in almost all colors to match your wedding's theme. Our wedding plastic plates are chic and pretty, and the elegant wedding plasticware collection is everything one can ask for. So get our disposable plastic tableware for weddings and make your wedding table decor exquisite.
In recent years, it has become very popular to spice up your wedding with a dose of unusualness and choose a wedding theme from the romantic first dance on the podium filled with fragrant fog to the wedding cake that entices sighs and flashes of the apparatus.
Themed weddings deviate from conventional entertainment and have become a hit in the world. Therefore, refresh the guests' wedding experience because when the order of traditions and customs at the wedding is combined with an unusual ambiance and a particular theme of the celebration, the wedding will be challenging to forget.
Top 4 Wedding Themes
Romantic 
To start planning your romantic fairy tale, first look for a space that radiates fairy-tale vibes. The ceremonies in the lush gardens undoubtedly convey a romantic wedding atmosphere. Every place/hall can be turned into a romantic oasis with ethereal-delicate details. Send invitations with classical calligraphy (the art of beautiful writing). Floral arrangements with lush hanging details and central decorations on the tables in a romantic style will complete the whole experience. Delicate shades, light lighting, and many flower arrangements. Lots of candles, light bulbs in a row, and pastel colors.
Modern 
For couples who have a sense of all current things, wedding decoration in a modern theme is a great way to show your love for contemporary design. You are a fan of everything fresh and trendy; your wedding should include that. You can't go wrong with the hall, as we have already said, every hall can exude your ideas. Clean lines and an influx of fresh greenery are just a few tricks that can turn any wedding into a modern haven. Your invitations should contain bold text and monochrome colors, which means one color in different shades and a minimalist design. Wedding decoration in geometric details or marble with a combination of lots of greenery and bright flowers will complete the whole theme. Make a cocktail menu that contains creations to your liking contact an expert to create cocktails especially for you.
Rustic 
A rustic wedding is always a popular choice of wedding theme, especially among couples who want to relax on their big day. The rustic theme is timeless, and it is always in fashion. The perfect choice of place would be a farm or a yard since rustic weddings draw a lot of influence from such environments. Wedding decorations should have a lot of natural elements, such as wood, jute, wildflowers, and the like. The floral arrangement with a combination of Gypsophilia, pampas grass, and eucalyptus is perfect. Invitations in brown shades with pastel colors tied with a rope are a great choice.
Boho
A bohemian wedding is like a story from a magic book. Whether outdoors or indoors, the details are in the little things that will make your wedding fabulous. Delicate pastel colors, lots of colorful flowers, light bulbs in a row, and Dreamcatchers are just some ideas to create a boho feel. Lighting in mild shades of amber, pink and blue will complete the entire decor and make it unreal.