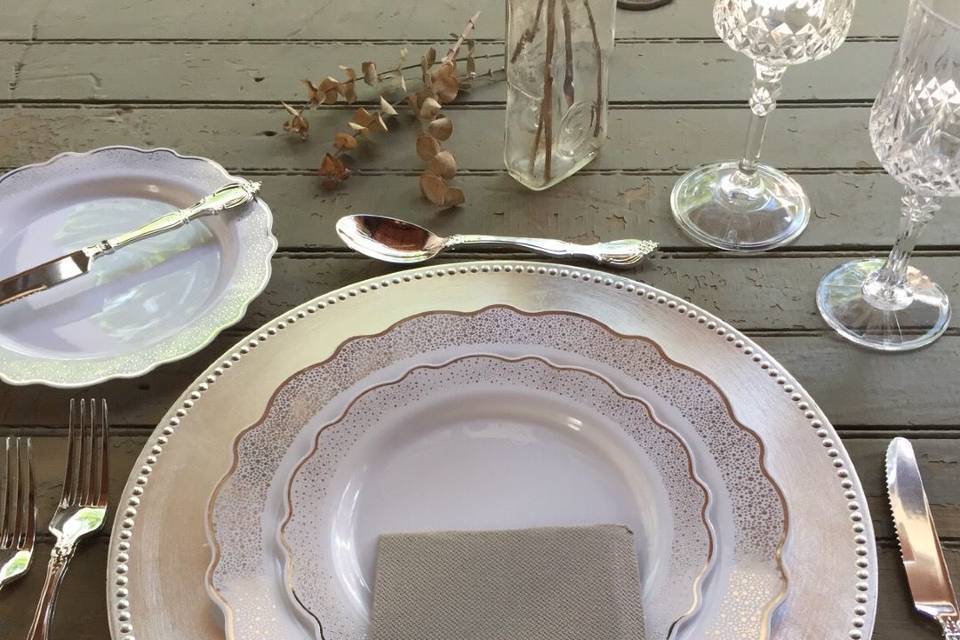 How to Set a Lovely Vintage Place Setting
The main idea of ​​vintage style is the unobtrusive introduction of antique objects and decorative elements into the everyday interior. It is not far from classicism, with some shades of retro and Provence. But the influence of modernity cannot be ignored either. Therefore, there is always room for new, practical designs and materials in vintage space design. The main thing is their external correspondence with a particular era, which causes a slight nostalgia.
The vintage party theme is one of the most unique themes for parties, and this theme mostly opts when the guests are usually older. That isn't some kind of funky theme at all for your kids to enjoy. 
The vibes of the vintage theme are so deep that they can take you back in the past and allow you to experience some great memories. So, when your guests' emotions are attached to the vintage theme, you shouldn't ruin it with poor arrangements.
We've got you covered with a perfect guide on setting a lovely vintage place for your guests to enjoy and have short time travel of the past.
Roses as a Centerpiece
In the late 80s, the table was decorated by placing a bouquet or a basket of flowers. The flowers were usually roses or red geranium flowers. The flower color used to be the same as the table cloth. Therefore, if the table cloth is red, the flowers should also be red. Similarly, the yellow table cloth means a basket of yellow flowers.
The baskets were usually woven so if you're planning to include a basket, go for the woven one, not the one with plastic mesh.
The Woodwork
The furniture was made with cane work, and whenever you look at some epic cane work, it gives some lovely vintage vibes. So, if your budget allows you to have some chairs with cane work, arrange them online. Then, you can use them as a centerpiece rather than an actual chair.
The Outdoor Garden Table Setting
The vintage style of home decoration creates a warm ambiance reminiscent of old times. A yard decorated in this style can become a pleasant, comfortable oasis for rest. Also, combining old and new can create a unique space, and it is effortless for any budget, especially for those with limited money.
The yard's new look is also created with an old piece of furniture such as a chair, table, or couch. A tablecloth in bright colors can be placed on the table, and decorative pillows in similar colors and patterns can be placed on the sofa or chairs.
Add a few vintage metals or wicker chairs to complete your new patio seating. They can be painted in a softer color.
If you add a few vintage details to the yard, such as iron urns, cast statues, a rustic bench and table, or even a wagon wheel, you can immediately create a feeling of the past.
Lots of flowers on the floor and table and creepers hanging on the walls will bring a bit of nature into the yard. Instead of classic vases and pots, you can choose an old pot or jar.
The lush green grass, a shadow of a tree, and an outdoor cookout party are all fabulous ideas if you're thinking of giving your party a vintage look. You can go to a nearby mountain or a countryside area to throw a vintage party.
Table Cloth and Napkin
As mentioned earlier, table cloths were the main items back then. The unique and epic designs on the tablecloth were the benchmark of being premium. There used to be so many tablecloth designs featuring flowery designs. Moreover, the napkins were printed with some colorful designs. And the tables were decorated with different napkin designs and tablecloths.
Candles
Some large candles will do the job pretty well. You can add some scented candles to spread the aroma around the setting. The vintage candle holders can also add some great vintage vibes to your vintage party setting.
 Vintage artificial lighting should not be too strong. A multi-layer arrangement of warm, diffused light sources is encouraged. In addition to chandeliers with spectacular fabric shades, they can be floor lamps with fringes or folds, antique table lamps, and bronze or copper lamps.
Color palette
To create a vintage style orientation in the room, calm, unobtrusive colors are preferred: white, beige, ash pink, pale blue, greenish, and light brown. The presence of floral motifs is mandatory. They can be anywhere: on curtains, wallpaper, bedspreads, napkins, or tablecloths. 
Vintage Dinnerware
You should go for the disposable vintage dinnerware that includes plastic vintage plates, elegant plastic drinkware, and disposable vintage silverware. The plastic vintage dinner plates will make the overall vintage theme look complete.
Along with the plates, the vintage-styled disposable vintage silverware should be there to let your guest enjoy some vintage vibes. To cater to the need for drinkware items, we offer fancy plastic wine glasses and disposable vintage champagne flutes. In addition, we have some epic designs you can use in your vintage-themed party to make it look more antique yet charming!
In general, the interior in vintage style is the perfect solution for creative and self-sufficient people who respect simplicity and practicality. It fills the room with soulfulness and comfort, allowing a slight carelessness and enabling the simultaneous use of old and modern objects. It is a freestyle that allows you to fully express your taste and respect for history. Decorative accessories and elements will add to the finished image of the interior. Vintage style is, above all, a harmonious combination of furniture and attributes. 
The following items will fit perfectly into the interior in vintage style:
Antique table or wall clocks

Boxes

Porcelain or earthenware figurines

Pictures in wooden frames or panels

Service

Dishes

Tea/coffee machines

Candlesticks

Flowers and plants

Decorative vases and wall plaques

Hand decorated baskets

Magazine racks

A mirror in a beautiful frame