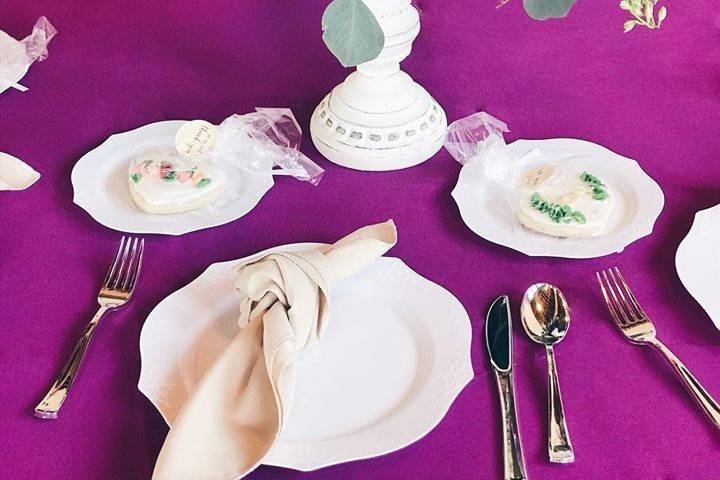 How to Streamline Your Next Dinner Party?
Parties can be stressful for most of us who don't regularly throw parties. It can be even more stressful for those who don't plan much before inviting friends to the party. So to make your next dinner party more streamlined and organized, we're here to give you some helpful ideas.
Composed Serving
Most of the time, you prepare a great meal with a soothing aroma and delicious taste, but what's missing is the way you present your dish. Your serving can make a massive difference because it covers the aspects of both ethics and streamlining your party.
You need to make sure you're using a perfect charger plate collection. Charger plates are must-to-have items for formal parties; you can skip them in the informal settings if you want, but charger plates can make your party more composed. They are there for a reason.
Purpose of Charger Plates
The charger plates keep your tablecloth from getting spilled, and they also maintain the temperature of your meal for quite some time. You need to make your serving ware collection more attractive and professional with our fancy charger plates and plastic serving trays. If you're planning to serve a healthy soup, why not have some disposable serving bowls to make your serving look complete?
Disposable Dinnerware Set
Parties can sometimes be so involved that after the guests leave, you just want a long nap. But what about those cheese-stuck plates in the kitchen? Doing the dishes can be exhausting, and it can spoil the entire energy you just gained at the party.
That is why our elegant disposable dinnerware is a perfect choice. You can just use our tableware and dispose of it after the party - no cleanup necessary. Our plastic dinnerware sets are disposable and have some incredible designs that won't be able to differentiate from the one that comes with ceramic dinnerware.
Disposable Drinkware
We offer a variety of stylish plastic drinkware pieces with great designs to make your hosting service look professional. We have every possible drinkware item you can think of. These drinkware items are also disposable, which means you can simply dispose of them after a party without worrying about cleaning the dishes.
Disposable Plates and Flatware
Our plastic party plates and serving flatware come in various designs and colors. You can choose any of the desired colors to celebrate any special event you're looking to celebrate. We cover every dimension to provide you with precisely what you're looking for.
For formal party settings, we have plenty of options available. Our fancy party dinnerware sets cover decent designs in both white and black colors.
For patriotic party celebrations like the 4th of July, Veterans Day, and Labor Day, you can choose patriotic flatware designs in blue and red colors that will work quite well with your patriotic party theme. Moreover, we also offer value sets to make your decisions more convenient and easy on the pocket. Our value set offers are budget-friendly and cover different combinations of dinnerware items.
All these disposable dinnerware items can make your party hassle-free because you won't have to worry about your ceramic dinnerware getting damaged or cleaning the dishes after the guests leave.
Be a Practical Host 
When it comes to gala dinners where you gather family and friends, the biggest problem is to prepare food that will be interesting to everyone, regardless of age. For that very reason, a buffet where you will serve something for everyone is the best solution, it will make it easier for you and give you more time to be with your guests, and at the same time, it will not seem too formal. Your buffet should consist of three parts, a part with the main course, side dishes and salads, a part with drinks, and a part with desserts. 
Party Food Ideas
Snacks
For a group of about 20 people, prepare at least 30 small sandwiches/snacks that will serve as a cold appetizer. The combination is many. You can cut toast bread into circles, coat them with tuna pate, and put olives on top, or coat the bread with cream cheese and put a piece of smoked salmon or dried meat with sherry tomato on the cheese. 
Beef Roast
Serve beef roast for the main course, and for 20 people, you will need about 10 kilograms of meat, so make three smaller roasts that you will put in the marinade the day before and coat with spices as desired. 
Side Dishes and Salads 
For the potato side dish, you will need about five kilograms of potatoes that you can cut into slices and bake in the oven together with a couple of heads of chopped red onion. For the topping over the potatoes, mix the sour cream and grated cheese, then pour over the potatoes halfway through the baking. When it comes to salads, make a colorful one that is sure to please everyone. Cut cucumber, cherry tomato, and grated carrots, add a little feta cheese, lettuce, and red chicory, lightly season and serve in a large bowl. Finally, serve hot peppers or olives in small bowls.
Dessert
For dessert, it would be best to prepare two or three types of cookies that do not need to be eaten with utensils, without too much cream and whipped cream. Serve fresh fruit or fruit salad on the dessert table, because some people like to sweeten with fruit after eating. In that case, you will need smaller bowls and spoons.
Tips & Tricks
The table for drinks should be separated from the table with food, and for a group of 20 people, you will need 60-80 drinks (we mean glasses of drinks, not types) and let the choice be colorful, from juices, wine, cocktails ( Take out desserts when people have finished eating. Clear the buffet and place the cookies and fruit salad. You can also leave salty snacks or snacks on the table that will go perfectly with your drink.
We have presented you with a practical menu that will simplify the entire organization of the dinner party and allow you to enjoy it too!