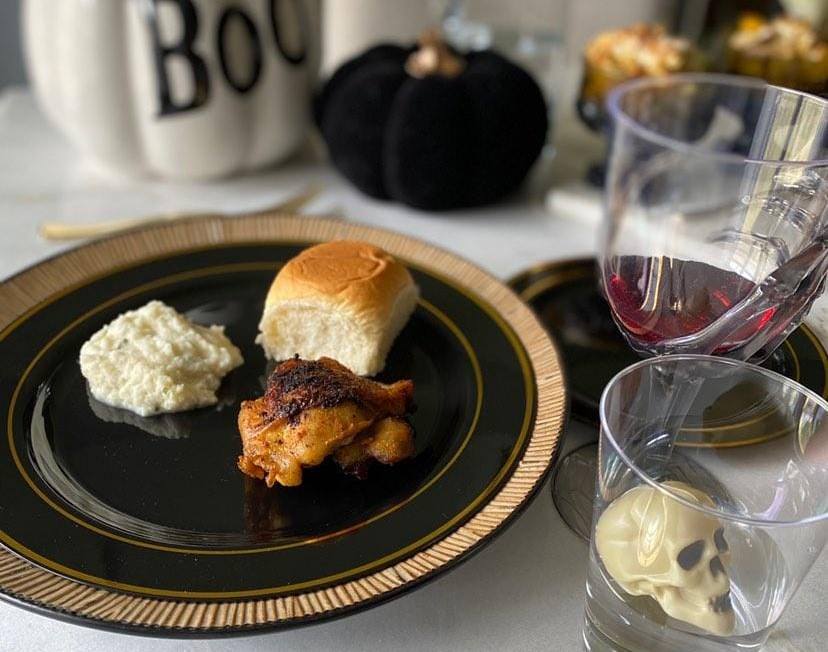 How to Set a Halloween Dinner Table?
As the spooky season is just around the corner, many people wonder about the best ways to set a Halloween dinner table. 
Setting dinner tables is a holy process that must be done with love and affection if you want everyone to adore your skills and appreciate the lovely atmosphere that you have created.
There are countless themes and ideas to go with if you want to set a matchless Halloween dinner table, but when it comes to the steps or procedures, it's generally the same for each. 
Step #1: Counting the Guests
Your step number one is counting the guests. Knowing the number of guests coming to your party makes it much easier to manage since you can now only get the valuable items. 
How odd it looks when there's a lot of room but not enough people, or worse when there are just too many people but not enough food. So counting the guests is necessary for getting the items ready, which also brings us to our next step: choosing the table size. 
Step #2: Choosing the Table Size 
Did you know that restaurant managers book your table according to the number of people to save the budget and provide you with the best? If there are only three people at a medium or large table, there will be too much space, and they could feel cornered. 
Similarly, a petite table will look weird to many guests, so you must choose the table size accordingly. 
Choose a different table if you have some games to place before or after dinner. Your dinner table is only meant to have dinner and a little chit-chat about your life. 
Step #3: Choosing the Table Shape
The shape of the table you have chosen for your guests speaks volumes about your party presentations. This is a highly negligible point, and not many think about this. 
If you have no information about this and are running out of time, then going for a round or rectangular shape is the best. But if you have time to study this, choose different shapes like U or L-shaped table and surprise your guests. 
Step #4: Spreading a Sheet
The color of the sheet depends upon your overall theme. For example, a white sheet could do wonders if you have a white and black piece. But if you have a pumpkin-ish theme, you must have an orange or a black sheet. 
Get a clean sheet, so your guests aren't bothered by filth. Then, they can have their meals while also having the time of the day without worrying about anything. 
Step #5: Choosing a Centerpiece 
After choosing the suitable theme and color for your table, select a centerpiece that stands out. For example, your centerpiece can be a big pumpkin-shaped vase with lightning or a skull-shaped lamp with dead petals. 
Your centerpiece should be according to your theme and must complement the color of your sheet. 
Step #6: Choosing the Utensils
Your dinner table will look awful if you do not have the proper utensils for your dinner, especially the party plates. Forget about your precious china because this is a Halloween dinner table; thus, it is meant to be hilariously spooky.
There are chances that guests might pull a prank at the dinner table, and your delicate crockery might break. This is why disposable plates come in handy. 
If you think standard disposable party plates might be too modest for the day, you can choose slightly fancy disposable plates. Elegant party plates are also a superb option if you have some older guests over. 
Step #7: Choosing the Food 
Choose some funky food matching the theme for a spooky Halloween dinner table. But, of course, you should know the importance of the location of the food on the table. 
You can take the food and try to surround the centerpiece with the food. Keep in mind the shape of the table as well. Your food should be aligned with the table's edges and closer to the centerpiece. 
Step #8: Decorating the Table 
Other than having the perfect centerpiece to make your table look beautiful, also go for some tiny ornaments to place on the table.
You can choose some small skills, pumpkins, or anything of your choice to make your table look spooky. You can also select some ribbons and sparkling glitter to adorn the table's edges. 
Step #9: Illuminating your Table
Candles are a beautiful addition to your Halloween dinner table. A candlelight dinner represents romance; however, it should be for Halloween only since every horror movie has at least one scene with a girl walking down the stairs holding a candle or a lantern. 
If you want to spice things up, choose a lantern or customized lamp instead of a candle. You can place them on the table, but if they seem to occupy too much space, you better hang them above the table. 
Step #10: Leaving your Spark
It's your party and your spark that must be in there. We have told you about all the essential tips and bits, so now it's totally up to your how to make it unique. 
You know your guests better, and your dinner table should be according to your personality, so if you want to mishmash any idea, go for it. That's your stardust which you must leave. 
You need to choose the table size based on your number of guests and table shape. Next, select a sheet that resonates with the theme of the Halloween party. Next, get on tiny decoration pieces suitable for a spooky night. Next, make sure your utensils are perfect for the dinner table. Finally, plates, spoons, and forks must be ready. 
You can check out the Lightweight Premium Quality Plastic Plates by Smarty Had a party and go for Modern and Elegant Plastic Dinner Plates. And Finally, we suggest Elegant & Fancy Disposable Dinner Party Plates that elevate your dinner table. With all these steps done, nothing stops your party from becoming a huge success.