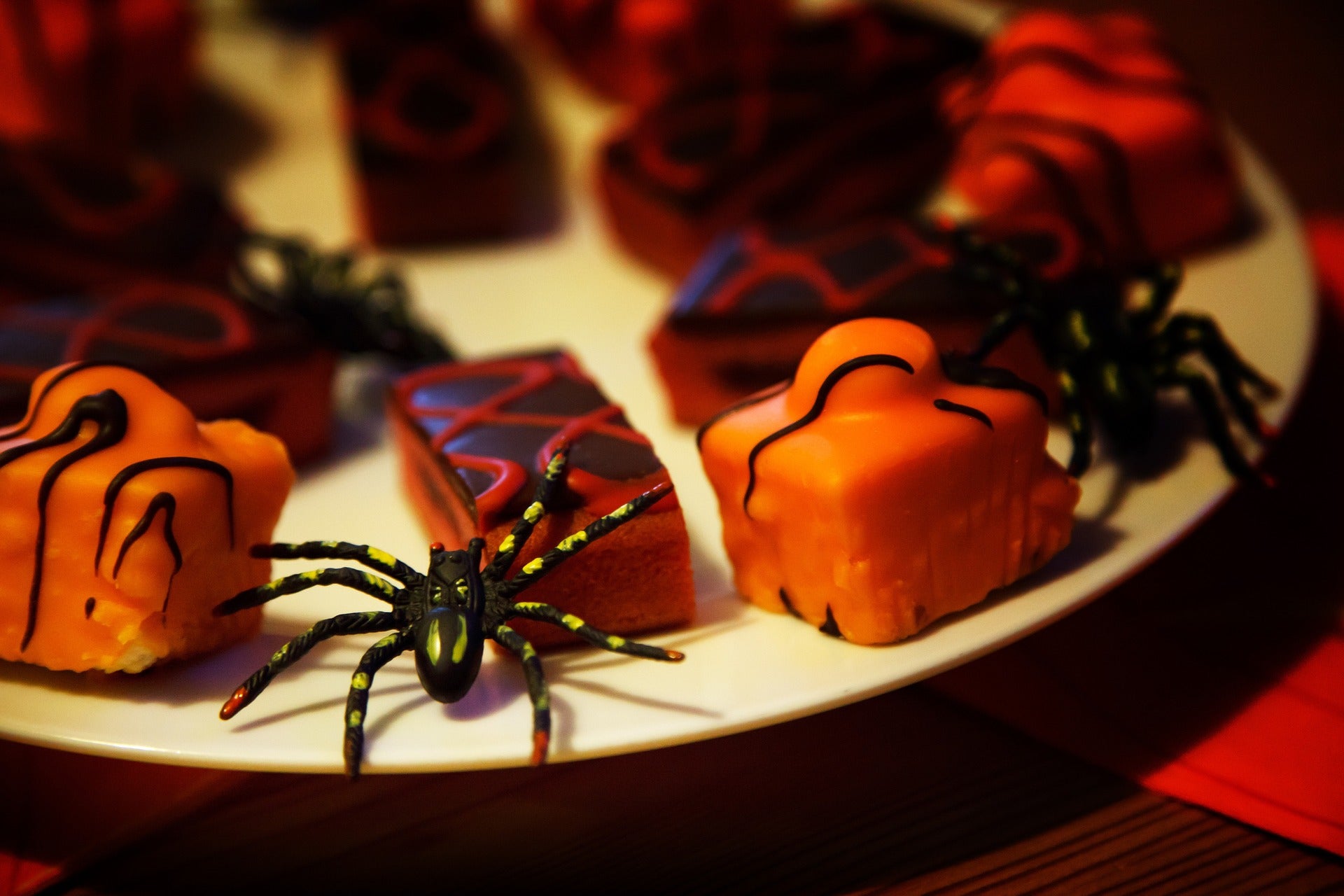 5 Halloween-Themed Food Recipes for a Scary-Delicious Feast
Scary food is the best part of Halloween! You almost have a competition about who makes the scariest and creepiest food.
It's your turn to win the food game this Halloween with the most spooky recipes. We're gonna share some of our top Halloween recipes for a Scary-licious feast!
1. Creepy Edible Intestines
This one is sure to scare your guests! Even eating edible intestines sounds creepy, but it's too delicious to say no to.
It is made with cinnamon rolls - unrolled in a large tray - with red strawberry sauce drizzled on top. Here's what you'll need to prepare the dough:
All-purpose flour (4 cups)

Melted butter (½ cup)

Powdered sugar (5 tbsp)

Eggs (2)

Luke warm milk (1 cup)

Instant yeast (1 tbsp)

A pinch of salt
Mix all the ingredients in a large bowl except the all-purpose flour (we'll add it later). Cover the bowl with plastic paper wrap and place it in a warm place for 25 minutes. You'll see that the dough has risen.
Add the all-purpose flour at this stage - gradually while stirring - and knead the dough for 3-4 minutes. Cover the dough with paper wrap and let it sit for 2 hours.
Flat the dough out in a rectangular shape and add a layer of butter. Sprinkle a mix of brown sugar and cinnamon all over the flattened dough. For just the right proportion, mix:
1 tbsp cinnamon

½ cup brown sugar
Now start rolling from the longer side and cut small rolls out. Now untie each cinnamon roll and place them in a baking tray with butter. The key here is to fold and coil them to look like small intestines. Bake at 400 F for 15 minutes.
Prepare strawberry sauce using the following:
Corn syrup (2 tbsp)

Strawberry jam (3 tbsp)

Cocoa powder (¼ tsp)

Whipping cream (¼ cup)

Red food color (1-2 drops)
Mix all the ingredients in a bowl; add a drop of red food color if you think it needs more. Then, pour it on top of the baked cinnamon rolls (or, should we say, intestines!)
Here's a tip: when serving this dish, use clear plastic serving trays, so the red sauce is visible from all sides.
2. Fake Hands on the Ground
Creepy hands sticking out of the soil in horror movies have scared us all in childhood. So it's time to include them in your Halloween party menu this year to experience the scariest feast.
There are so many ways to make fake hands; we'll use minced meat so you can have a fulfilling meal. The minced meat is put in gloves, frozen, and then baked. You'll need the following ingredients:
Minced chicken (1 kg)

Salt (¼ tsp)

Black pepper (¼ tsp)

Soaked, unpeeled almonds (10)

Silicone gloves
Season the minced chicken with salt and pepper. You can also add other spices of your choice. Transfer this minced meat to two silicon gloves and tie a knot at the end (just like you would a sausage). Put them in the freezer for at least 6 hours.
Take the gloves off and transfer the meat hands to a baking tray lined with parchment paper. Use the peeled almonds as nails for the fingers. Bake at 375 F for 20-25 minutes.
To plate your meat hands, you can place them on a "dirty spaghetti" cooked with a lot of red sauce.
Use red or black-colored disposable serving platters for the Halloween theme. Don't worry about finding colored serving trays for parties, as we have them all! On Smarty's website, you can find dinnerware in almost all colors.
Plus, the disposable serving trays save you plenty of money, and the time you would otherwise spend washing the reusable ones.
3. Pumpkin Head Serving Guacamole
This pumpkin head will serve you dips and chips in the scariest way possible. Because what's a Halloween without pumpkins? And why not use them on your Halloween tables to serve spooky food?
Place a pumpkin on a large serving tray and make a slit at its top part - it should be enough to fit a bowl. Empty the pumpkin from the inside, and cut out its mouth and eyes. Again, the mouth should be wide as we'll put guacamole there.
Stick a parchment paper inside the mouth area and secure it using toothpicks.
Put guacamole on the parchment paper, a serving bowl with tomato sauce on its head, and tortilla chips on the tray. Put as many tortilla chips as you can because the more, the better.
4. Spooky Cookies for the Kids
The recipes mentioned above are too scary for little kids. So instead, we would like to share a recipe for those who can't handle intense horror. Plus, it's an engaging activity for the little ones as they love to indulge in cookie decorating.
Prepare cookies as you would normally - just cut them out with ghost-shaped and round cookie cutters.
Bring out your magic and decorate the cookies using icing in different colors. Make ghosts, pumpkins, and other characters of your kid's choice on the cookies.
Let your kids decorate some of the cookies in whatever way they want. Assist them in the process, and you'll have a memorable family time. As a teaching moment, use eco-friendly serving platters and tell your children the importance of sustainability.
5. Halloween Mocktail to Refresh Your Taste Buds
Finally, we're gonna share the recipe for a refreshing mocktail to tantalize your taste buds after eating all the spooky meals.
Ingredients:
Strawberry syrup (1 tbsp)

Strawberry juice (¼ cup)

Cranberry juice (¼ cup)

Ice cubes

Teeth candy
Pour the liquids into a tall glass until it's two-thirds filled. Then add the ice cubes and top it with teeth gummy candies. For an even spookier effect, you can drizzle concentrated strawberry syrup on the gummy candies to make the teeth look like they're bleeding.
If you want to make this mocktail even more Halloweeny, put edible eyeballs in the glasses too. You can make them by inserting a blueberry in lychee (after taking out its seed) and coloring it with red food color or the strawberry syrup itself.
Since everybody is feeling the spooky season, these recipes will make your Halloween tables a hit. So get creative with your table decor and scare your guests with spooky meals. Good Luck!