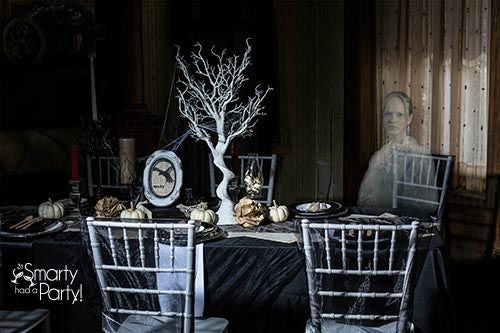 Top 10 Halloween Party Themes
With Halloween just around the corner, all that festive excitement is coming soon! Consider a trip to a pumpkin farm, making your outfits, and attending Halloween parties.
There is no incorrect way to have a Halloween party; as long as you have costumes and sweets, everyone will have a great time!
These frightful Halloween party concepts for any age have a ton of entertaining Halloween-themed décor, food, beverages, plastic drinking glasses, and other elements to give presents.
1. Disco Themed 
The Halloween disco jam session is a fantastic choice to keep visitors moving all-nighters if your pals like dancing!
Search for disco decorations, including reflecting globes, tapestries with lynx patterns, and strobes.
Dance with the tunes; the lights flickered. Any persona or outfit is OK for your visitors to wear. Don't forget to keep "The Monster Mash" and other timeless Halloween songs on repeat throughout the evening.
All you need for outfits are groovy hairstyles, flare jeans, and other items from the 1970s. The cost shouldn't be too high since you may often get them at secondhand shops.
2. Autumn Theme
Are you organizing an outing? An outdoor autumn carnival is ideal for ushering in the Halloween season. Visitors will have fun at the cornfield, wheat maze, and other diversions.
Use autumnal colors to create a helpful banner to let your visitors know where to go for every program. Also, get disposable plastic cups with a water bottle to carry on your way and stay hydrated.
3. Frankenstein Theme
You can easily have a Frankenstein party if you adorn disposable cups with fudge, a few stamps, and a black beverage. Consider matcha or a themed smoothie by adding vegetable pigment to whipped cream.
4. After-Life Theme
Showcasing coffins as décor becomes a way to make an After-Life Theme celebration come to life. We like them because a delightful prank or surprise is revealed when you open them.
You could always mix good and terrible if you desire a combination of both. For example, attendees at an angelic and demons party might dress as heavenly saints or demons.
You can remove the positive and turn the gathering into a Devil's and Demons feast as the theme for a Halloween party.
Decorate a lot of crimson and black, and hang a gigantic demon from the roof for guests to pass beneath as they enter the party.
People can don costumes representing demigods, demons, or their favorite villains. 
5. Boo's Theme
Get each guest a kit for a Halloween-themed beverage. This will be the leading beverage at your party. Hiring a live or online bartender to visit your party and instruct attendees on how to make their unique cocktails can elevate it to a new level.
Give each visitor disposable tumblers and a card with their initials or a unique identification code when they enter. Then, at each table, have them taste the drink before placing their card in a vase, jar, or pot of the drinks they enjoyed the most.
Select a card from each booth, and the winner may get a gallon of their preferred beverage from the sampling with fancy plastic wine glasses.
6. Harry Potter Theme
How fantastic would it be if everyone who attended your Halloween party dressed like a Harry Potter character? How does that sound? With your preferred plastic stemware, make Harry potter-themed drinks and props.
While the party is going on, you may view the films and even have people play their roles. So watch Harry Potter again and start deciding what character you want to be.
Every person must take a particular character, so everyone has a different personality. 
7. Clown Theme
A Halloween party in which the guests are dressed like a clown may be fun and terrifying, according to whom you ask, even though some people believe clowns to be disturbing.
Why not host a terrifying clown-themed Halloween party if you want to give your gathering a spooky circus vibe this fall? It's simple and affordable to put together this party, and it will terrify your loved ones—especially those who find clowns terrifying.
Purchase lovely hanging bats, plastic spiders, skeletons, pumpkins, and ghosts to hang from your ceiling!
8. Pop Stardom Theme
Visitors should dress like a particular or general pop star to channel their inner pop star feelings. Pop music dominates the playlist, filled with vibrant colors beautifying the space.
You can have spooky themes in your decor and wear popstar costumes after strategically deciding on your character. For example, you might want some horror props with sweets inside a guitar with the lid half open.
9. Masquerade Theme
Consider hosting a fancy party this year if you like getting dressed up in a bit fancier than your traditional costume, provided everyone has a mask to wear at the entrance. Of course, you can keep it as formal as you want. 
You can get fantastic masks and tell everyone to do so too. Then, you're in for a spooky evening of eating, dancing, and drinking!
10. Movie-Themed Party
All about scary movies throughout the spooky season: many timeless Halloween songs are available on YouTube. Create your theme around a beloved Halloween film, or organize a local screening of a family-friendly movie.
You can get a list of all the horror movies from Netflix and choose spooky films according to the threshold of your guests and start playing those movies. 
Get yourself and your guests some energy drinks with snacks so that the people can enjoy the movie without thinking about food and beverages. 
Tips & Tricks
Try all the ideas we just told you about in this article, and let us know what you think about them. Every party is incomplete without food and drinks so having some fancy disposable cups & plastic drinkware glasses is an utter necessity. 
Serving exquisite margaritas in plastic wine glasses and a pina colada in elegant stemware enhances the aura of your parties; for a laid-back, disco theme, use party tumblers. So get yourself the best serving ware so you can be ready to throw a Halloween party asap. 
Eat, drink & be scary, Smarties! With love, 
Smarty had a Party
!