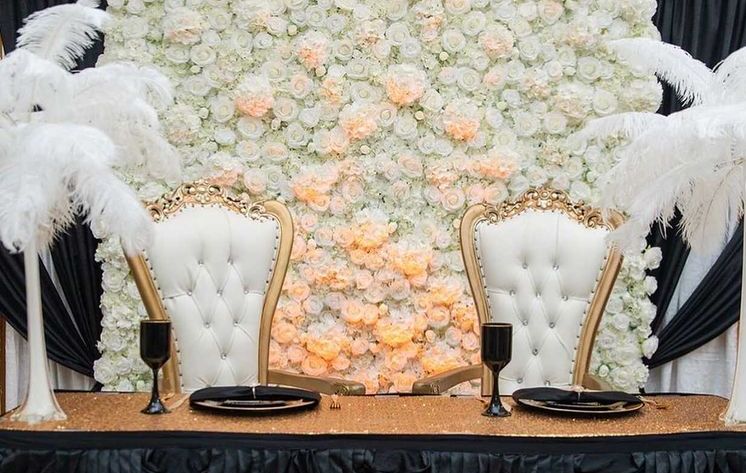 Everything You Need to Set a Wedding Party Table
From the moment your guests arrive at your wedding reception, they should feel like they are in for a treat. And one of the ways you can make sure that happens is by setting a beautiful and inviting wedding party table, whether it is plastic tableware for weddings or just a casual table adorned with disposable wedding tableware sets. Read on to get some fantastic tips! 
Things You'll Need
When setting a wedding party table, you'll need a few key things to create a beautiful and inviting space. First, you'll need a stunning tablecloth. Next, choose a fabric that coordinates with your plastic tableware sets for the wedding and an overall theme. 
Then, add some accent elements like Chargers, Napkins, and Centerpieces. These pieces will help to create an overall look that is both cohesive and stylish. Finally, don't forget the little details that will really make your tables stand out. 
Add personal touches like place cards, menu cards, or even special favors for your guests. With these simple tips, you'll be sure to have wedding party tables that are both beautiful and functional.
How to Set the Table
When it comes to setting the table for a wedding party, there are a few things you need to keep in mind. This can be tricky, as you'll want to ensure that all the table essentials complement the rest of the décor in the room. You'll also want to make sure that the table centerpiece must be of accurate size. 
Once you've chosen the perfect tablecloth, you'll need to decide on place settings. Do you want a more formal setting with multiple forks and knives or a simpler setting with just a fork and knife? Either way, you'll need to ensure each place setting has a plate, napkin, and elegant disposable tableware for the wedding.
Lastly, don't forget to add the finishing touches! A few well-placed candles can add a touch of romance to the table, while some colorful flowers can add a pop of color. Whatever you choose, just make sure it ties in with the overall theme of the wedding.
Place Cards
When it comes to setting disposable tableware for weddings, place cards are a must! Not only do they help your guests find their seats, but they also add a touch of elegance to the table. Here are a few tips for choosing and creating the perfect place cards for your big day:
1. Decide on a style. Whether you want classic and simple or fun and unique, make sure your place cards match the overall style of your wedding.
2. Choose a suitable material. Place cards can be made from paper, cardstock, or even wood. Consider the weight and thickness of the material based on how you want your place cards to look and feel.
3. Add embellishments. Dress up your place cards with ribbons, beads, or other decorations. This is a great way to add a personal touch to each card.
4. Print or write clearly. Make sure your guests can easily read their names by printing or writing in a clear font. Darker colors tend to be easier to read than lighter ones.
Centerpieces
If you're looking for something to make your wedding party table stand out, you need a centerpiece! Centerpieces can range from simple and elegant to over-the-top and show-stopping, depending on your need and style. You can buy a beautiful centerpiece or be crafty and create your own at home!
Napkin Folding
If you want to add a touch of elegance to your wedding party table, look no further than napkin folding! Whether you're aiming for something simple or complex, there are plenty of ways to fold your napkins that will leave your guests impressed.
For a classic look, try the Bishop's Miter fold. This is achieved by folding the napkin in half lengthwise, then folding it in half again. Next, take the top two corners and fold them towards the center, flip the napkin over and tuck it under the glass or plate.
If you want something a little fancier, try the rose fold. This begins with a bishop's miter fold, but instead of tucking the napkin under the glass, you twist it and tuck it through the center hole. This creates a rose-like shape that is sure to impress!
Finally, for something truly unique, try the lotus fold. This starts with a square napkin folded in half diagonally. Then, take each corner and fold it into the center, creating a triangle shape. Next, take the two side corners, fold them into the center, and tuck them underneath.
Tips for a Successful Party
To host a great wedding party, you must be mindful of some tips and tricks below. First and foremost, you want to ensure that your guest list is finalized and that you have enough seating for everyone. You'll also want various food and drink options, and some fun activities planned to keep everyone entertained.
To help you, we've put together a few tips on setting a wedding party table that will make your event run smoothly. 
1. Choose the right tablecloth. A good rule is to choose a tablecloth two inches longer than your table on all sides. This will give you enough fabric to drape over the table's edges and create a nice, finished look.
2. When it comes to setting the table, start with placing the dinnerware. First, place the dinner plate in the center of the place setting, followed by the salad plate, bread plate, and silverware. 
Many things go into creating the perfect ambiance for an event, and a party table is no different. Correctly placing the cutlery on the table matters a lot. The proper lighting, centerpieces, decor, etc., can make or break your event's mood. Use these tips to guide you through the process of setting up a beautiful party table.