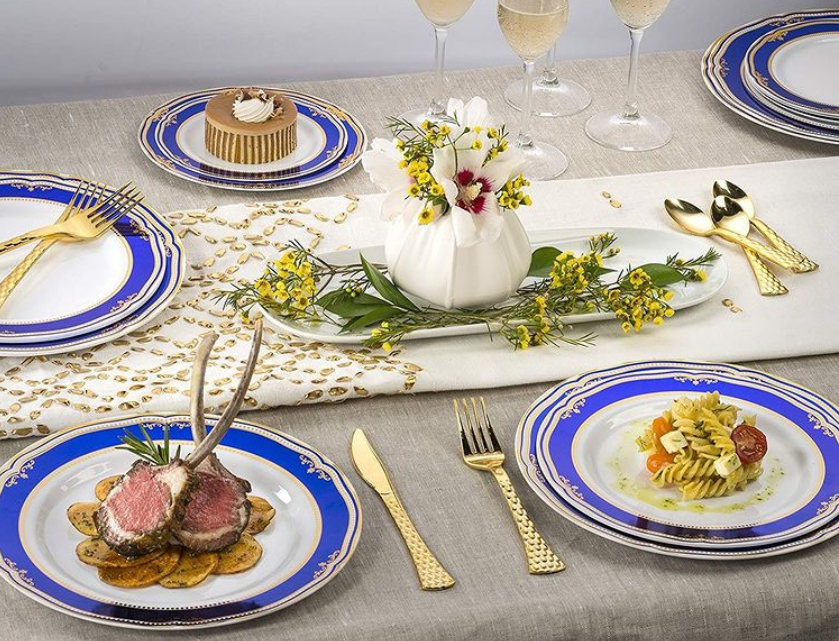 How to Choose the Best Dining Style for Your Next Party?
When you are planning to serve a large crowd, chances are you will be stressed out about service planning and management as there are many important factors involved. 
There are different types of dining styles for parties, and choosing a perfect one for your party can be a daunting task as there are a lot of arrangements to be made to make the experience go to the next level for your guests. 
However, your style of dining for the party depends on many factors, like your event type, budget, and the number of guests you are expecting to serve at a party.
To help you style your dining table in the best possible way for your next party, we have come up with a detailed guide. Let's get into the details and find out what can be a perfect dining style for your next party. 
Take a Clue from Your Venue
Choosing the right venue for your party is one of the important factors that will make your party mesmerizing for your guests. However, your venue also decides what dining style and table settings will suit it. 
For instance, if you are throwing a party for a large crowd in a compact place, then setting up a bunch of tables and chairs in the venue will make it look stuffy and difficult for your guests to go in and out for the washroom breaks. 
In such a situation, you don't need to postpone the idea of throwing a party - it's not that difficult to serve a long list of guests unless it is not done strategically. 
For such a venue, the buffet table setup works perfectly fine, and things will work out without any hassle. With a buffet table set up, you can do more with less to provide the best dining experience for your guests, even with a confined space. 
Buffet Dining Style
In a buffet dining style, you won't need much, and you will need to worry or stress out. It's one of the simplest yet most efficient ways to serve your guests at any event. 
In a buffet dining style, long tables are set up, food served on their tops along with the serving wares, and guests help themselves. There are no servers involved as everything is left to guests to help themselves. 
Buffet dining style is ideal when you are on a budget, don't have furniture or tables to serve guests individually. Also, you can place the food strategically and save the expense items, so it stays until the party ends. If you notice an item being taken away at a fast pace, you can place it at the end of the table. 
How to Set up Buffet Table Settings
As mentioned above, buffet table settings are the best way to serve your guests when you have limited space and a large crowd coming to your party. 
In a buffet dining style, you don't require servers to perform serving duties when it's mealtime. However, you will need to set up long tables and lay down the food for your guests so they can help themselves. 
You can set up the buffet tables in a separate room and seating arrangements in a separate place, like in the TV lounge. This way, you can easily serve a large number of people at a party without any hassle. And, also you will get the time to indulge in a party. 
For buffet service, you will need a lot of serving wares like some extra plates and glasses as some guests usually come back to pick up more food. So, make sure you have some serving wares stocked up for such situations.
Get elegant disposable plates and disposable party plates that come at a fraction of the cost. Smarty offers a wide range of disposable plates that come with the ease of easy after-party clean-up. Get amazing disposable plates and throw parties without being worried about the clean-up. 
Sit-Down Table Service
Sit-down table service is one of the most common and traditional ways to serve the guests at an event. However, some important points need to be considered before locking it up as your dining style for your next party. 
If you are inviting a large number of people to your event and the venue is rented, you need to think about your budget because at a sit-down table dining-style servers are involved to perform serving duties. Hiring servers for your event will increase your bill for the event.
Moreover, the sit-down dining style is a bit luxurious dining style, and it is ideal for situations where you are expecting chief guests whom you want to provide a royal treatment. 
How to set up a Sit-Down |Dining Style
The sit-down dining style is one of the conventional and most preferred dining styles. However, compared to a buffet dining style, it requires some extra effort to get set up. 
You will need to set up individual tables and seating arrangements to serve your guests. As the name of this dining style suggests, it involves serving the guests while they are seated at a table.
For the tables, you can either go with the long ones or the round ones, it depends on the number of guests you are expecting at an event. Long tables are preferable to host a large crowd, and it's a great way to achieve a beautiful look at your event. 
While round tables are also perfect for formal events and provide the best gossip spots for your guests. With appropriate decor on the tabletop, fancy table cloth, flowers, and elegant serving wares, round tables can add charm to any event. 
Moreover, for a sit-down dining style, you will need servers to serve the people at your event. If it's a home-based party, you can ask your friends or family for help. However, for formal events at a rented venue, it's ideal to hire professionals and let them do it their way.