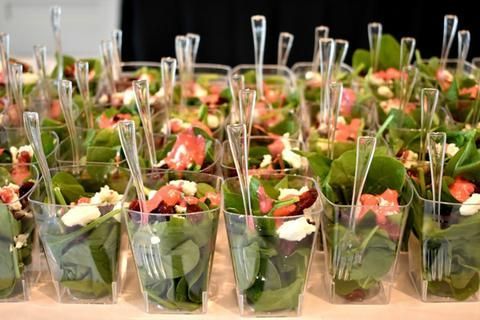 How to Set Up Buffet Service for Any Event?
Spring is here and brings a lot of new opportunities and excuses to have fun, throw parties, and get together with family and friends. However, inviting a long list of people to your party can make things daunting for you, and serving them is next-level stress that you would experience at the party. 
This is where the buffet table setup comes in handy and makes everything seamless and automated. In the buffet, you don't have to offer action service. Instead, you play the actions before your guests arrive. 
Meaning: you set the table for them, and everything is laid down just before they arrive at the party. Buffet table set up makes serving a large crowd a lot easier and hassle-free. To help you set up a buffet service efficiently for your party, let's get into the further of it.
Decide on a Venue
The first thing that you should be considering is a place where you would be setting up your table. The place should offer ample space so the long tables can come easily. Also, the most significant factor is to keep the guest's comfort on the top of the list.
It should offer ample space for your guests to move around and get the food without bumping into each other or on the tables. A hall is an ideal place to set up a buffet, so traffic around the tables can move freely. If you can set up your table in a hall - it should be your priority. 
Plan Table's Layout
This is another one of the important factors to consider and plan about before setting up a buffet table. To provide the best service to your guests: it's necessary to keep the flow of the traffic around the table running. So, figure out the layout of your buffet table.
Two ideal table layouts are mostly used and favorable for most events. One of them is U shaped layout, and the other one is a long table layout. However, it depends on the venue where you would be setting up your table.
If you are setting up your table in a smaller place, then a U-shaped layout is a perfect choice. And, for the hall, a long table layout is ideal to keep the traffic flowing around the tables.
Layout the Food
Once you are done with your table's layout, the next step is to fill out the tops by laying the food correctly in an appropriate way. Start with the serving ware and napkins, so guests should know where to start from.
Layout the food in such a way so each item placed on the table's top counts as a step as they move to the next one. For instance, have napkins and serving ware at the start, then place salad, vegetables, and the cold dishes on your menu. 
Next comes the hot food: lay down the hot of a similar group. If you are going to keep their lids on, make sure to leave a space for your guests to place the lids while helping themselves. 
To add the finishing touches to your buffet table set up, place cards on the food to tell people what they are about to have. You can also print the food ingredients so your guests can read and avoid them if they have any dietary restrictions. 
Place Mini Trash Cans
At many events and parties, we have seen that hosts don't bother to place trash cans for the guests to throw trash generated while having a meal. 
If you aren't going to place trash cans at your event, your guests would find a place to do so, and that place wouldn't be where it should belong. Especially if you are serving them with the disposables, it's a necessity to place trash cans
So, to provide your guests a lovely experience while having a meal at your party and to keep your venue neat and clean, make sure to place mini trash cans at the party venue. 
Set up Drinks Table
Drinks are also one of the important elements of a dinner party, without them, your guests wouldn't be feeling refreshed or energetic at the party. 
To serve the drinks at the buffet table, have a separate table for the drinks. It will avoid rushing around the main tables and prevent unwanted spills on the food table. 
Your drinkware collection will come at the drinks table along with the drink stations. Disposable drinkware is a perfect choice for buffet table service. You wouldn't need to collect all the rented glasses once your guests leave. Instead, you will have to throw them away in a trash bag. 
Also, make sure your drinks table is looking polished and clean. Mop it up regularly to keep it neat and clean throughout the event. 
Have a lot of Elegant Serving Wares
Setting up a buffet table is the most important thing you should be giving your all attention to, as your event's main focus revolves around it. 
For setting up a table, it's necessary to have a lot of elegant serving ware, so your guests don't have to think for a sec while picking up appropriate serving ware to take the food. 
However, when it comes to choosing serving ware, there are a bunch of options available in the market. Ceramics, porcelain, plastic, and the list go on, but these serving wares fall on the top of the list.
Buying ceramic or porcelain or renting can put a burden on your budget. The best option is to go with the plastic serving ware as they are mostly budget-friendly and come with many practical benefits that you would be missing in other materials. 
Smarty offers a wide range of mini party supplies, mini cutlery, mini appetizer plates, and everything that your guests would need at the event while having a meal. Get elegant disposable serving ware at the "Smarty" and have a hassle-free event without worrying about the cleanup.