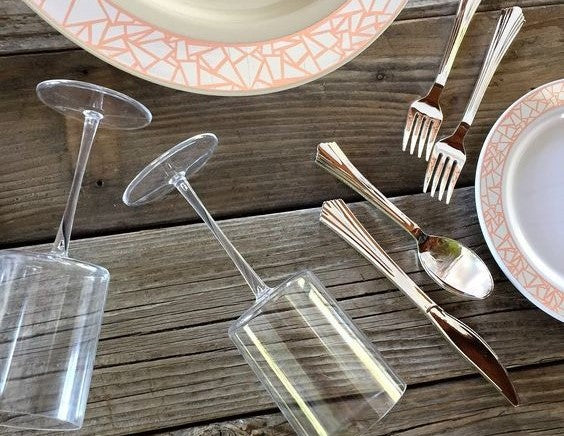 Top 10 Essential Catering Supplies
While throwing a party or managing an event, you need to take care of everything. From choosing a venue to planning a menu: you need to make smart and informed decisions to turn your event into a success story.
All that matters is the experience you give to your guests, so make sure that whatever you're planning is aimed to provide a better experience than your guests can remember for the rest of their lives.
The first and foremost thing that hits the mind when it comes to providing an epic experience is the catering service. How well you manage your catering service tells a lot about yourself.
Grab your notepad to note down some of the most essential catering supplies you'll need to make an impactful statement.
We have designed this article for the commercial catering service providers and individuals doing it for fun. So, let's start with one of the most essential catering supplies you will surely need.
Obviously, Dinnerware!
A catering service is primarily about the choice of your dinnerware. Your entire menu is going to get served in your dinnerware, so make sure to not use ordinary dinnerware sets because we believe there are plenty of opportunities that you can avail yourself of just by choosing the right type of dinnerware.
Choosing a specific design of dinnerware depends highly on your event theme. If it's a formal event, you'd probably go with white-colored dinner plates and other dinnerware items, but if the event is more informal and you're only having your friends and loved ones over for the party, you can choose crazy dinnerware designs.
For wedding receptions, you'd definitely go with designs that look premium and royal.
Surprisingly, we offer a wide range of elegant disposable plasticware that comes in different designs for different events. Choose among our plasticware products and see which type of dinnerware design will match your event theme.
Moreover, our plasticware for parties is available in different colors and shapes as well.
Don't Miss the Rest of the Table Supplies!
Along with dinnerware, don't miss other catering supplies that include napkins, salt and pepper shakers, water pitchers, and other necessary things for a complete table setting. Think of every single item that is considered to be a part of any event.
You can create a checklist and tick mark them once you're done sourcing them.
Display and Decor
If you think catering doesn't cover such domains, you're wrong. A good catering service doesn't only include serving the food on the table, but it's more towards making the entire ambiance of the event look appealing.
You don't have to work on the decoration or theme of the event, well, that's another topic. But when it comes to decor and display, you need to have certain items to bring that vibes to an event.
Risers are great to make certain dishes stand out on the table. You can use the vertical space on your tables and make some food items a bit prominent. Along with risers, you can also add Cakestands, Candle-holders, Cupcake Towers, and everything similar to it.
If you're throwing a formal event, you can use table numbers or board signs that display the names of your guests. Moreover, don't forget to add elegant centerpieces, some vases, and a glass with fresh flowers.
No doubt, these items will look cool on your table, but they have a great utility as well.
Off-Site Catering Supplies
For companies who want their food to be delivered off-site, they need to have insulated food pan carriers that keep the temperature of the food and also make it easy to transport your food items.
This is something worth investing in since it's useful in the long run, and your clients will be complaining if the food isn't at its optimal temperature.
Moreover, portable glass racks are also handy for delivering glassware to your clients.
Beverage Supplies
Parties are incomplete without a perfect wedding bar, so plan for hot and cold beverage supplies to cater different needs of guests. Some of your guests would love to have a hot chocolate shake, and some of them might be looking for something cold and calming!
Ice, a coffee dispenser, and a complete arrangement for a wedding bar are a few items that you should be planning for.
Furniture and Seating
This one is quite obvious. Being a responsible catering company, you can offer your clients a complete package by offering them management of seatings and furniture along with catering supplies as well.
This will not only help your client be comfortable with your wide range of services, but it also helps in securing the deal since it makes clients feel they won't have to go somewhere else for chairs, tables, and stuff.
So, tents, canopies, chairs, tables, and benches are items you must offer alongside other catering supplies.
Commercial Catering Van
Being in a catering business requires a lot of investment, and the biggest one would be a catering van. You can look up a used truck or a cargo van and modify it according to your business needs.
You'll need a foldable countertop with all the accessories needed to run a kitchen on wheels. You can also leave a separate space for storing and delivering catering supplies like the insulated food pan carriers that we mentioned earlier.
You'll need professional support from an auto mechanic or a car-modifying company to build a catering van with all the necessary items installed. It would be a one-time investment but it can attract a lot of potential customers to hire your catering services for a very long period of time.
Cleaning Supplies / Janitorial
Last but not least, being a caterer, it will finally be your responsibility to remove all the trash. You'll need some garbage bags to collect all the trash and dispose of it properly.
You can also place hand sanitizers on the tables and at the welcome spot. You can also take the cleaning supplies to the next level by sourcing a portable handwashing station.
These handwashing stations will require more products as well, like cleaning towels, liquid soaps, and other cleaning supplies.