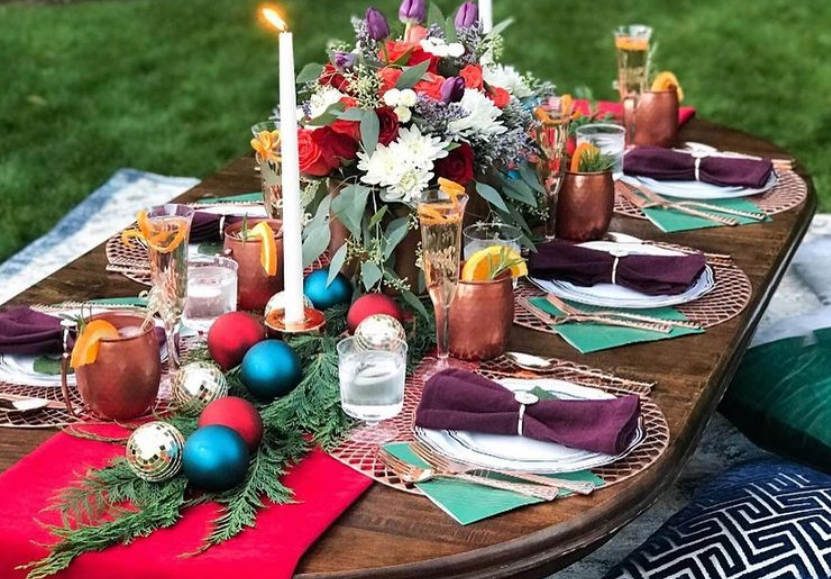 How to Celebrate Christmas in July?
Party lovers are always looking for an excuse to throw parties and have their life full of fun and entertainment. And that's precisely what Christmas in July is for if you are sitting at home idle during summer vacations. 
You shouldn't be anymore; pull your Santa hats, winter sweater, and best recipes list to have an epic Christmas party in July. Christmas is officially celebrated in December. But, originating from Europe, Christmas in July is quite popular now. 
If you are looking for some relaxed and fun ways for your Christmas party in July, we have curated a list and a complete guide on it. Stick to the end to find some epic Christmas decor ideas and a lot more. 
Get Things Organized
To have an epic party, you must go according to the planning and preparations to get the things done on time. So first, organize by planning what type of party you are looking for. 
Do you want an intimate party with close friends and family? Or do you want to plan a big party with a long list of guests? Brainstorm to come up with the idea that suits you and your budget. 
Deciding on all these things will help you narrow down your path to other party arrangements like food, seating arrangements, and serving ware, which you'll need according to the number of guests you'll be hosting. It will also help you with shaping a guest list for the party. 
Send Out Invitations
Since summer is vacation time, everyone tends to travel and go on holidays. If your guests are traveling or planning one, it's better to let them know about the party by sending out the invitations. 
Send out the invitations a month ago or, if there's enough time, as soon as possible. So they can make it to the party on time. Moreover, the invitation cards mention the date, time, venue address, and dress code. 
Prefer sending out the electronic invitations unless you haven't crafted one for the party. Sending out the electronic invitations will save you a lot of time, and you will be able to get an instant response from your guests if they are busy or can join you at the party. 
Decoration the Venue
With the decorations, a party is incomplete. When it is about the Christmas party, you can't go with appropriate decorations that'll set the mood and give December vibes to everyone in July. 
Clean up your house two or three days before the party date to give it a polished look. Then, pull all of your December Christmas decorations and start dressing up your home. However, you don't have to go crazy about the Christmas decorations. 
A few touches to the party space, an elegant table, and appropriate lights will set the scene. Then, look for the creative Christmas decor idea on Pinterest to give the party a thoughtful touch by crafting DIY projects.
Set up an Elegant Table
Whether you would have a buffet table setup or a sit-down dinner style to serve the guests, you should always say yes to setting up an elegant party table that reflects the actual theme of the party. 
An elegant table won't just set the mood of your guests but will welcome them and, of course, make them feel relaxed. So pull out your Christmas party table supplies to decorate your party table. 
If you want something new to add to the party table, spread out a tablecloth coordinating with the party's theme. A few enchanting centerpieces or maybe ice-men will do the job. Add vibrancy to your table by having colorful disposable plates.
Instead of serving your guests with traditional and plain plates, consider using fancy disposable plates that look attractive and add a flair to any table settings. Get disposable plates for holidays at a fraction of the cost from Smarty had a party. 
Shape the Menu
Consider having a diver menu for the party so everyone can enjoy the meal at the party. If you are tight on the budget, you can ask the guests in the invitation cards to bring any eatables to share at the party. 
Moreover, having a barbeque in the backyard is also a great idea to enjoy enchanting gossip as well as a meal. Use elegant party plates to serve the guests as they offer hassle-free clean-up. 
Don't forget to have chocolate cookies and plenty of other cookie items. Also, have a candy bar to win the kids' hearts; believe us, they would love you for it. 
In July, scorching heat demands plenty of water to stay hydrated. So stock up on beverages, fruity juice, and mocktails to keep the guests hydrated and fresh at the party, even in the extreme heat. 
Santa Entry
How would you call it a Christmas party if there's no Santa entry at the party? Consider having a Santa every at the party. Let this be the entertainment part of making everyone enjoy the party. 
Ask some to volunteer for Santa and have real Christmas fun in July. Make sure to have a photo booth at the party space so guests can take photos with Santa. 
Santa dresses can be easily ordered from an online store. Research the internet to find out the discounts on the Santa dress. 
Have plenty of Gifts
Bring the real fun part of Christmas to the party by having gifts for everyone. No need to buy the gifts by yourself for the guests, but ask everyone to bring one gift. Such ladies can buy a gift for the female, and men can get suitable gifts for the males.
Determine the price of the gifts so it's easier for the guests to make the purchasing decision convenient. Can't figure out how to distribute them among the guests? That's where the real fun begins.
Play different indoor fun games by teaming up like head and seek and distribute the gifts among the winning team. Search on the internet to find out about fun game ideas for the Christmas party.