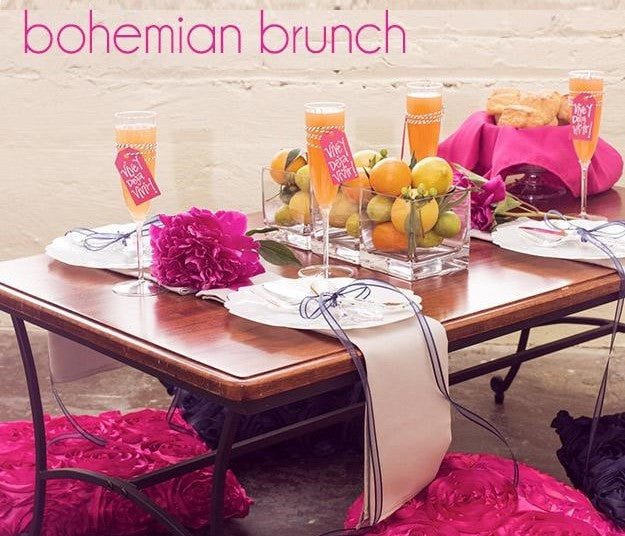 How to Arrange a Boho Themed Table Setting?
Boho style is effortless to love because of the freedom it gives you.
If you are a cheerful person, who loves everything that is wild and at the same time gentle, the boho style is made for you. 
A Boho or a Bohemian style is a personal, unconventional, and rule-breaking style of decorating a living space. If you are a person who wants homes full of life and original items for the world to see, the Boho-themed party is perfect for you. The aesthetics of a Boho party contradicts the modern delicacy and welcomes the relaxed, carefree, and unusual.
Are you looking for a party you can personalize and don't have to follow strict rules? Then why not throw a Boho-themed party at your place with Smarty Had A Party? Since you can do what you want for a Boho-styled party, however, it would be a smart choice to make it sustainable and environment-friendly. Our eco-friendly party dinnerware sets fit in well with a Bohemian-styled party. Their rustic designs and chic aesthetics make your party tables look alluring. 
Boho party decor with a perfect mix of broad style with floral patterns and vibrant colors is everything to make a party look extravagant.
Here are a few ideas to make your Boho party tables look alluring:
Boho Theme Colors
Although there are no hard and fast rules of colors and decorating, warm earthy tones are more common for a Bohemian-styled party. Warm tones include browns and grays as base colors and later accessorize with lavender, blue, and orange. To achieve that tone, get our eco-friendly party dinnerware sets and pair them up with lavenders and rose flowers. Of course, the cute-looking eco-friendly mini partyware will be the cherry on top of the whole set. With the rustic feel of our eco-friendly mini partyware and biodegradable cutlery sets, you can achieve the ambiance of an exquisite Bohemian-themed party.
Serve Made Right with Compostable Ecofriendly Bowls
When it comes to entertaining the guests, it is essential to serve the food items rightly. Serve healthy food items in our 100% natural compostable, eco-friendly bowls and disposable eco plates. Meals look even better when served in big rustic compostable, eco-friendly bowls, or even eco-friendly mini partyware. Don't compromise on your health with our naturally made eco-friendly party dinnerware sets, and give your guests a premium dining experience with our high-end biodegradable cutlery sets. Our disposable eco plates and biodegradable cutlery sets can simply be disposed of as they degrade within two months.
Feel Free to Experiment with Colors and Patterns
Experiment with our eco-aware to bring the best to your party tables. The chic designs of our bagasse and bamboo eco plates come with the great benefit of bringing different vibes to different settings. Whatever you pick to pair them with, be it flowers, candles, balloons, or LED lights, all the decorations will look different yet exquisite without damaging the ecosystem.
As we have talked about the freehand you have while working with a Boho style décor, bring your inner creativity out and do whatever you want to make your party look like yours.
What Styles Can You Pair with the Boho Style?
Boho style goes perfectly with modern, Eastern, rustic, and Scandinavian styles. If you want to break up or refine your dining room, thanks to the elements that adorn these other styles, you can quickly achieve this. In addition, the Boho style is highly tolerant; it easily tolerates accessories, giving you a free hand when decorating.
The rustic touch brings comfort and warmth to the space, while the eastern touch makes it bolder and wilder. Modern elements bring elegance to the room, while the Scandinavian style makes the entire space exude harmony and naturalness, thanks to neutral tones. Floral details and flower decorations on the table are essential when creating this unusual style.
A decorated table in Boho style will give you incredible pleasure while sitting there. Surrounded by bright colors, textures, and furniture that leaves an impression, you will merge with it and, like true bohemians, enjoy this moment because it is the only one we know for sure that we have.
A Breathing Boho Tablescape!
The Boho style is characterized by the brightness and abundance of various interior and decoration items. Combining dishes of entirely different styles, colors, and shapes is possible. Serving looks crazy beautiful when all the glasses are made of other materials, some are blue, and some are pink or green. In addition, this style is characterized by an abundance of textiles. That is, under each plate, several napkins can also be made of various materials, and fringes are welcome, with which you can complete a uniform tablecloth.
Lighting is essential; you can place several lamps, ceilings, and garlands around or above the table. Place candles of various shapes on the worktop with unusual candlesticks or lamps. Small frames and voluminous vases with flowers will fit into the decor interestingly. Bouquets are best made from a mixture of field and garden flowers so that large heads of roses, lilies, and peonies stick out among the greenery.
The table can be decorated with candles of different diameters and colors. Low, thick candles can be placed in shells or on lacquered wooden cuts. Napkins, tablecloths, and the color of plates and dishes are the best chosen for the overall decor.
Colorful, lots of flowers, decorative pillows, and a generally relaxed vibe and atmosphere brought by boho decoration are ideal for every lover of this style, but also for those who want to change the look of their home this way summer - for the better.
Boho style never goes out of fashion and brings a new vision that will surely please you. Enough to include a little imagination and bring a combination of bright colors into the interior. Enjoy