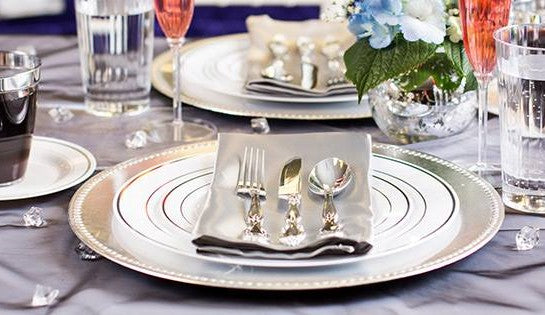 Hanukkah Party Ideas That'll Impress Your Friends
Hanukkah, also known as the Jewish festival of lights, allows us to honor and celebrate the holiday with our loved ones. It is a time to spend with friends and family while eating, drinking, lighting the menorah only after sunset, burning the candles for at least half an hour, and preparing dishes using olive oil.
Whether you're throwing your first Hanukkah party for your friends and loved ones or looking for new ideas for your yearly gathering, we have assembled fantastic Hanukkah party ideas.
1. Lighting the Menorah
The word "menorah" means "lamp" in Hebrew. Menorah is a nine-branched candelabrum lit during the eight-day Jewish celebration of Hanukkah, and it has a religious significance for Jews.
Set a timer for sunset and light the candle with all of your guests if your event falls on one of the eight Hanukkah nights. Hanukkah candles should be lit going from right to left. Every night when the candles are lit, a blessing is said.
2. Food
We all agree that food is one of the most essential components of any kind of party. Latkes, or potato pancakes, are unquestionably the show's star when hosting a Hanukkah party. Keep an eye on the pan when making the potato latkes because you'll use a lot of oil to fry them.
Since latkes are best served warm, you should reheat them while guests arrive. Instead of serving a large sit-down meal, set up a buffet table beforehand and refill the Hanukkah food stations after completing each round of cooking.
 At the buffet table, arrange a display of toppings so that guests can customize their own dishes. For example, you can experiment with jams and chutney and serve traditional toppings like sour cream and applesauce.
Try healthier options like sweet potato or carrot latkes if you want to reduce your carbohydrate intake this year. Salad or fresh vegetables can also be served with the latkes to help soak up some grease.
Jelly donut, also known as sufganiyot, is the traditional Hanukkah dessert. Unexpectedly, they are also fried in oil. After all, Hanukkah is a holiday that celebrates oil! Sugar cookies baked in Hanukkah shapes like stars and dreidels go well with this tasty treat.
To make things easier, you can also organize a potluck dinner and encourage guests to bring appetizers and desserts so that there is a variety of snacks for both before and after dinner. But, again, ask guests to let you know in advance what dish they're bringing.
3. Light It Up
The festival of lights is another name for Hanukkah, so what could be better than lights to celebrate the event. Lights are the only party decoration you should pay attention to. To create a cozy and inviting atmosphere, combine candles with string holiday lights, fairy lights, and tinsel balls LED lights.
Try replacing some regular bulbs with color-changing LED ones if you want something brighter or more colorful. You can change the lighting throughout the event and change the colors to help you create a fun party atmosphere.
4. Decorate Your Dining Table
The way you decorate your dining table attracts your guests, and it makes your meals more enjoyable. Use on-trend linens and innovative centerpieces to make your dining table the talk of the room.
Instead of mixing different colors, try to stick to a monochromatic theme. Modern monochromatic designs give your dining table a clean, sophisticated look without the extra work of color coordinating.
If you plan to keep a white tablecloth, then you should try to set a lush, textured centerpiece on your table to contrast the monochromatic base of your table setting. You can also incorporate a foliage centerpiece into your table décor.
Another option is to use a menorah as your table centerpiece. Decorate around your menorah to make it the focal point of the table decor. To make the menorah stand out, even more, scatter blue and white tea lights all around it.
One of the most important things to consider when decorating a table is your dinnerware. The color of your dinnerware can transform the overall look of your table. So you should pick your dinnerware carefully. We recommend using disposable plastic dinnerware as it is easy to handle and can allow you to enjoy a hassle-free party.
Smarty offers a variety of disposable dinnerware, including fancy disposable plates and disposable party plates. So for your next Hanukkah party, visit Smarty and get your favorite elegant disposable plates.  
5. Host an Ugly Sweater Contest
Ugly sweaters aren't just for the Christmas party! Instead, invite guests to your Hanukkah party in their best Jewish or Hanukkah-themed sweaters. While there are plenty of options for ready-made sweaters in department stores, you can also encourage your guests to get creative and customize their sweaters. 
6. Décor
Try to include blue, white, and silver in your Hanukkah decorations, as these are the traditional holiday colors. The great thing about these colors is that they also work beautifully for a winter theme, allowing you to leave the majority of these decorations up all winter.
Think about purchasing some bright dreidels, blue and white lights, and of course, a spectacular menorah. You don't have to limit candles to the table only. You can decorate every corner of your house with candles.
7. Set Up a Crafty Corner
Menorah and dreidel are the strong symbols associated with this Jewish holiday, and these can be turned into lovely arts and crafts creations. Set up a craft area at your party to give your guests a place to unwind and use their imaginations.
This is a great way to entertain kids but also enjoyable for adults. Set up your own crafting station and make your favorite Hanukkah crafts and decoration items.
8. Take Hanukkah Quiz with Your Guests
Take a fun Hanukkah quiz with your guests to see how much you know about the holiday. Instead of making a quiz at the eleventh hour, you should prepare it before your Hanukkah event. Divide your guests into teams, and the winners will receive a prize.