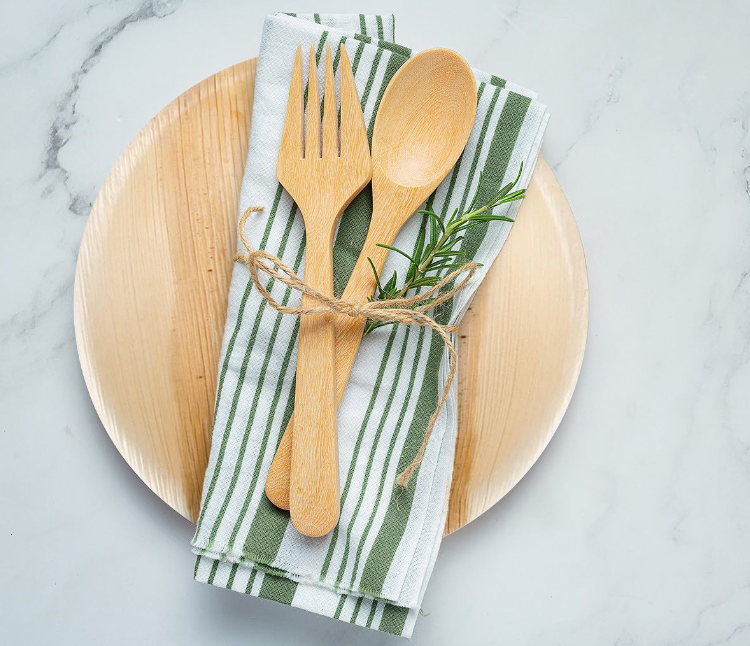 Environment Benefits When You Use Palm Leaf Tableware
In today's world, many people have begun replacing hazardous crockery products with ecologically friendly alternatives. Why? Just to preserve the environment.
Vintage crockery is considerably heavier than biodegradable party utensils made of organic materials. This makes it easier to transport items to a camping site or at any gathering. One of palm leaf tableware's most distinctive characteristics is that they help preserve the environment. 
Let's see how palm leaf tableware is a blessing for our environment. 
An Ultimate Guide to Environment Benefits When You Use Palm Leaf Tableware
Palm trees are unique and beautiful to see. Moving from city to city and looking at them gives a sense of peace and during different climatic changes, especially in the rain, gives us butterflies in our hearts. 
They are primarily spotted in postcards and different sorts of nature advertisements. Secondly, they are a valuable resource now, and you can find a variety of products that are made through the use of palm trees. Mostly the products are tableware.
Thirdly, over 2,000 similar palm leaves have been discovered in humid and dry climates. 
Palm leaf square plates aren't made of tree wood but from the tree's fallen leaves. This shows that even the palm leaves that have fallen on the ground are still helpful and can be utilized in many ways, like creating a palm leaf dinnerware set and many other eco-friendly party supplies you would love to have in your kitchen. 
Moreover, they are more maintainable and way more robust than other species of trees, and they sustain a lot of wear and tear damage and last longer for a lengthy period. Therefore, they are primarily used in restaurants and hotels for keeping food in them, as they are eco-friendly and made from natural resources. 
When they are thrown away after use, they don't produce toxic chemicals that would harm other nature and the resources made from them.
Palm leaf tableware is filled with benefits and uses. They can be used anywhere and at any time of need. What makes them unique is that they are rich in natural elements, and the main factors can be shown.
The Specialties of Palm Leaf Tableware: 
Purely natural

Biodegradable

Free of chemicals

Keep food safe

Frozen and fresh

Safe from any radiations of the microwave
The Surprising Secret to Why Palm Trees Are So Special For Decorations
The secret sauce to the palm leaf's uniqueness and ability to impress anyone for its uses. This tree species has more qualities and sustainability; the qualities you want to know about are in this blog, and you can learn all about them in less than 5 minutes!
Palm Leaves Help You Start a Conversation
When showcasing your eco-friendly plates or eco-friendly bowls, which are made out of palm leaves, this may attract your guests and show their utmost uniqueness in front of them. This will help start a conversation between you and your friend about where you bought it and how you got it. They can be used for picnics, parties, and small areas for gatherings. 
Furthermore, they have a unique style and are way more eco-friendly than you think. You can find eco-friendly items such as plates, dinner, tableware, etc. This will get the conversation started in no time.
Palm Leaves Are Free of Chemicals
Excellent meals and different chemicals are never mixed. First, all sorts of plates, bowls, and other chemicals are filled with toxicity. Secondly, bleaches are used in the sterilization process, which is safe; they are also based on plants. It is entirely organic and biodegradable.
Palm Leaf Tableware
Cannot Be Wrecked
The disposable eco plates are durable and cannot be shattered. So you don't need to suffer any sort of shortage of plates if one breaks in a party or a huge gathering. No more mess; you can eat huge items on this plate as it is not as delicate as the others.
Skip Cleaning Dishes
You don't need to clean dishes any more. No one likes to clean a set of dishes in a day. The best part of the palm leaf plates is that they are naturally degraded into the soil, so it's not such a big deal anymore. They are absorbed into the ground so you can throw a stack of them away into the field.
Cost-Friendly and Easy to Purchase
You don't need to look around for costly plates and use them over and over again. Furthermore, the plates are easy to find in local markets. The palm leaf plates are always on the discount rate and bundle prices, which excites the customer, and its stylish design makes it even better.
Here's Why Using Palm Leaf Tableware Shall Be Considered Mandatory 
Palm leaves are fascinating things to purchase and have a thoughtful experience of them. Whether you're at a nearby market or finding it internationally, it will probably be worth your time and money.
Palm leaf tableware is available in different shapes and sizes and saves you from any sort of embarrassing or awkward situation. 
Get your hands-on green and functional tableware and dinnerware made of palm leaves. Fashionable for restaurants, eco-friendly for family gatherings. Bowls and plates and store them for any surprising events. 
You can put an appetizer or a dessert on the palm leaves if you want to. You can surely use them for business meetings as well. It would create a new professional look for discussion with designs that fascinate your clients or workers. 
Professional chefs even recommend using palm leaves to endure hot food that wouldn't melt down the plate in any sort of manner. You can enjoy yourself with your family, friends, and colleagues. The palm leaf also has a beautiful scent once the plates are manufactured. 
The scent is quite unique and gives the feeling of lively air around you when you want to be in complete peace. So enjoy your beautiful moments with the refreshing palm leaves!