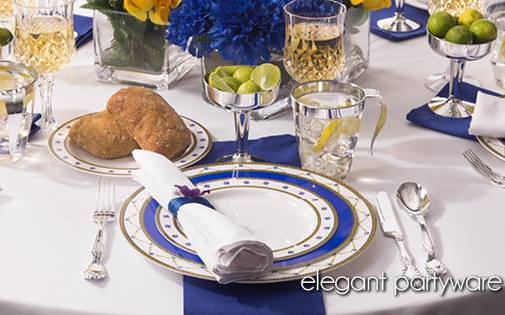 Elegant Table Decor Ideas for an Unforgettable Hanukkah Celebration
If you live in America, there is a high chance that you know what Hanukkah is. If you have any Jewish friends for whom you'd want to throw a Hanukkah party, try to have the most beautiful settings. 
We will provide you with some incredible ideas for table decor, as tables are the center of attention at parties, and these inklings will help you set a bashing theme for the party. But first, let's glimpse at what Hanukkah is.
What is Hanukkah?
Hanukkah is a religious holiday celebrated by the people of Jewish belief. It is beautiful scenery with a combo of mainly two colors: stunning blue and starling white. This decor has some pretty ornaments that beautify the scenery, like a menorah, dreidels, and many more little accessories in blue and white color. 
Hanukkah decor is an excellent addition to festival decorations; everybody wants to pull out this theme, but it needs proper planning. Well! We are going to solve this issue for you guys. These epic table decor ideas will make your party look much better. 
Star Place Setting
Star shape setting is an inexpensive yet unique addition to your table that can be quickly brought about by taking some leaf branches and creatively molding them in starred shape. Then, you can simply put the star on the napkin, creating a great look.
Some people need clarification about how to make this star and which leaves they should take etc. Well! That is not a big deal. You can take some extra leaves from the stems, and they are good to go. The extra glamor it puts on is the color addition, which is the stem color that even beautifies the whole look.
Dramatic Table Runner and Napkins
Table runners and napkins play an indispensable role in the whole of vista, so try to go for bold, tie-dyed designs that make the food pop on the table. Imagine what a killer look it would bestow when the commendable runners and napkins are paired with a dashing combo of blue and white.
Try to add a bouquet of seasonal flowers like calla lilies and purple fountain grass on the center of the table, and we bet it would be a nailing upswing for the decor.
3D Stars Napkin Rings
These 3D stars make a covering ribbon for the napkins, and these ribbons look stunning. So now the query arises about how to make these 3D stars. 
You can draw small half-stars on the computer sheet or any other paper or soft card you want to use and then cut those half-stars with the craft knife but make sure you cut them only partially. Then, just go along with the drawing and leave it when you feel you have the desired look. 
After this, you can fold the 3D starred paper and tuck it around the napkins. Repeat this procedure for other napkins filings as well.
DIY Concrete Marbled Menorah
DIY Concrete Marbled Menorah makes the perfect centerpiece that you can place right on the center of the table but make sure you can quickly move them when you want to. For example, you can take small diamond-shaped marbles in five to six numbers and place them in a row. 
After that, you would place medium-sized candles on each marble piece, and you are ready to rock the decor. One more element you can overstate on the table is that you try to choose lighter shades of blue and white and darker shades of the tablecloth, like navy blue, to make the menorah prominent.
Stars of Hanukkah Serving Dishes
The crockery part for the holiday get-together is essential and breathtaking. However, it requires a lot of time to finalize which crockery set to choose, which one would go with which glass set, etc. We have got a perfect idea to erase this dish's selection dilemma.
Just get the plain white plastic dish set and take a foil tape. Cut the tape into small and thin strips with sharp ends and adhere them creatively to create a star shape on the plates. This is a unique idea, and it would enhance the elegance of your table as well.
Simple White and Blue Setting
You can add small creatures and decoration pieces in the traditional Hanukkah colors. For example, you can place a star-embroidered napkin in light blue, some votive holders, a pretty tablecloth, and many more cute things like these would amplify the beauty of the scenery.
Ribbon and Fabric Setting
To pull off the fabric and ribbon decor, the best thing that you can do is run a pretty scarf having blue and white or silver shade in it down the table and tie napkins at different places on the table and make sure you choose the lighter shades of blue to make a good contrast on the dining table.
White Colored Crockery
White-colored crockery would be a core cause of setting an elegant Hanukkah evening this year. You can even make it attractive and relaxed by placing a small gift on its top for each guest. Isn't it a thoughtful touch?
Adorn the table with your disposable silverware, which will elevate its look and give it a chic and luxurious look. The plastic flatware will amplify the variety on your table if you have different spoons, forks, and knives for different purposes. Your fancy plastic silverware looks expensive if you get it in white color.
With all these epic ideas, we are sure that you will create a breathtaking sight for your friends this Hanukkah. Sitting at the table and having the time of their lives will be their much-awaited part. Especially if you get your disposable plastic silverware from collections of flatware, flatware value sets, and cutlery sets from Smarty Had A Party that is beyond perfection. You can't find these anywhere else at such an affordable cost. So, immediately check out the disposable flatware and other utensils and buy some for your Hanukkah party to have a perfect ambiance.