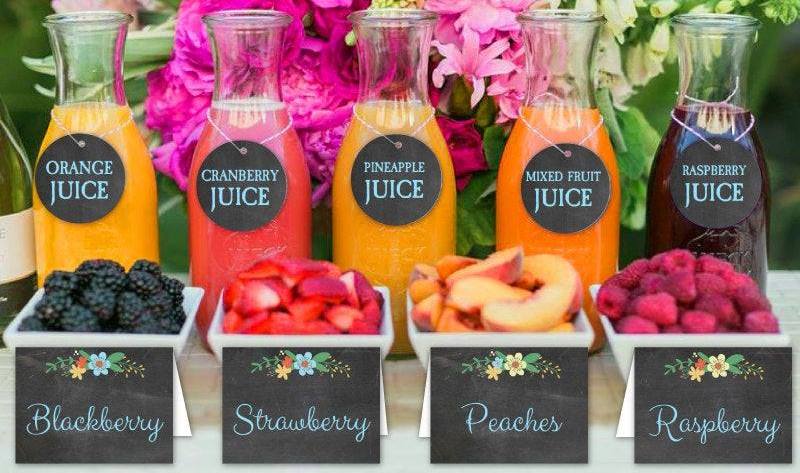 Brunching in Style: Ideas for a Picture-Perfect Mimosa Bar Setup
The sun-drenched mornings, the laughter of friends, the clinking of glasses, and the aroma of freshly squeezed juices mingling with bubbling champagne—there's something magical about brunch. It's not just a meal; it's a leisurely ritual that combines the best of breakfast and lunch, inviting us to savor the flavors of the moment and the joy of togetherness. And what better way to elevate your brunch experience than crafting a picture-perfect mimosa bar?
Elevate Brunch with a Stunning Mimosa Bar
Discover the art of stylish brunching with a delightful mimosa bar setup that adds sophistication and creativity to any occasion. From intimate gatherings to lively bridal showers, we'll guide you through creating an Instagram-worthy experience that leaves guests amazed and taste buds delighted. Join us for ingenious ideas, expert tips, and an inspiring journey to curate an elegant and fun mimosa bar. Here's to unforgettable brunch moments and the enchanting world of stylish sips! Cheers to brunching in style!
Serving with Disposable Elegance
When hosting a brunch with style and practicality, the right choice of serving supplies can make all the difference.
The Convenience of Disposable Party Supplies
Gone are the days when disposable party supplies meant sacrificing elegance for convenience. Modern disposable options offer a remarkable blend of style, functionality, and ease. They allow you to focus on creating a visually stunning mimosa bar without worrying about fragile glassware or cumbersome cleanup. The magic lies in finding the perfect balance between disposable practicality and the aesthetics that elevate your brunch gathering.
Smarty Had a Party Online Store
Smarty Had a Party's online store is a treasure trove of options for those seeking a curated selection of high-quality disposable party supplies. From elegant plastic champagne flutes to versatile disposable plastic carafes, Smarty provides a range of items that emulate the look of traditional glassware without fragility. With Smarty Had a Party, you can indulge in the beauty of well-designed table settings without compromising convenience.
Embracing Sustainability: Choosing Responsible Disposable Options
While embracing disposable party supplies offers undeniable convenience, it's also essential to consider their environmental impact. Smarty Had a Party acknowledges this concern and provides options that prioritize sustainability. Look for products made from recyclable or compostable materials, allowing you to enjoy the benefits of disposable elegance while minimizing your ecological footprint.
Setting the Scene: Plastic Champagne Flutes and Disposable Plastic Carafes
Elevate your mimosa bar setup with plastic champagne flutes that mirror the allure of crystal glassware. The advantage? These flutes are shatterproof, ensuring safety without sacrificing sophistication. Pair them with disposable plastic carafes for holding fresh juices and mixers. These carafes are stylish and designed for easy pouring, enabling guests to craft their mimosas with finesse.
Chic and Functional: Paper Beverage/Cocktail Napkins for Added Style
Incorporating paper cocktail napkins into your mimosa bar setup serves practical and aesthetic purposes. These napkins are more than just functional wipes; they're an opportunity to infuse your theme and color scheme into the details. From classic whites to intricate designs, they provide a touch of elegance that complements the entire setup.
Displaying Freshness: Plastic Bowls for Vibrant Fruit Garnishes
A well-decorated mimosa bar is incomplete without an array of vibrant fruits inviting guests to create personalized concoctions. Plastic bowls elegantly showcase various fruits, from succulent berries to zesty citrus slices. These bowls add visual appeal and maintain the freshness of your ingredients throughout the event.
Crafting Your Mimosa Bar
1. The Essentials: Fresh Juices and Bubbling Champagne
The essential ingredients that create the iconic fusion of flavors and bubbles are at the core of any mimosa bar. Freshly squeezed juices and effervescent champagne form the canvas upon which you'll paint your mimosa masterpieces. These components are the foundation of every mimosa creation, providing the perfect balance of zest and sparkle.
2. Going Beyond Orange: Exploring Juice Varieties
While orange juice is the classic choice for mimosa-making, feel free to think outside the citrus box. Explore an array of juice varieties that add depth and intrigue to your mimosa bar. From tangy grapefruit to sweet pineapple and succulent peach to vibrant cranberry, a diverse selection of juices offers endless possibilities for flavor combinations that cater to every palate.
3. The Fizz Factor: Choosing the Perfect Champagne
Selecting the right champagne is crucial to achieving your mimosas' desired effervescence and taste. Opt for champagne that strikes a balance between dry and slightly fruity, as this will harmonize beautifully with the juices you've chosen. Don't feel limited by traditional champagne; prosecco or sparkling wine can also be excellent alternatives that infuse their unique personalities into your mimosa creations.
4. Garnish Galore: A Bounty of Fresh Fruits and More
Elevate your mimosa bar by offering an abundant selection of fresh fruits for garnishing and enhancing the visual appeal of each drink. Luscious berries, zesty citrus slices, delicate melon balls, and exotic fruits like kiwi or dragon fruit—all contribute to a visually captivating display that tantalizes the eyes and taste buds.
5. Herb Infusions: Elevating Your Mimosa Creations
For those seeking an extra layer of sophistication and complexity in their mimosas, herb infusions are the secret ingredient you've been looking for. Fresh herbs like mint, rosemary, or basil can infuse subtle aromas and flavors into your drinks, creating a sensory experience that intrigues each sip. Let your guests experiment with herb-infused combinations that take their mimosas to the next level.
6. Sweet Touches: Syrups, Liqueurs, and Flavored Sugars
A well-rounded mimosa bar offers a variety of sweet enhancements that allow guests to customize their drinks to suit their preferences. Offer flavored syrups, fruit liqueurs, and even unique flavored sugars to add a touch of sweetness and depth to the mimosas. These options allow creativity and experimentation, letting guests craft mimosas that resonate with their tastes.
Designing the Perfect Setup
Mimosa Bar Location: Indoor vs. Outdoor
Indoor or outdoor for your mimosa bar? Consider weather, season, and guest preferences. Make a comfy and inviting space.
Tablescaping 101: Choosing the Right Table and Linens
Pick the right table and linens for your mimosa bar to match the style and theme of your event. Choose a table with personality and linens reflecting your desired color palette. Crisp whites for a clean look, pastels for a whimsical feel, and bold hues for a vibrant ambiance.
Displaying the Goods: Organizing Your Mimosa Ingredients
Organize your mimosa ingredients intuitively with tiered trays or decorative platters to guide guests through the creation process. Height and dimension add visual appeal and functionality to your presentation.
Aesthetic Appeal: Adding Floral Arrangements and Decorative Elements
Add fresh flowers in stylish vases or mason jars to your mimosa bar for a natural charm. Consider adding decorative signs or labels for ingredients to create a welcoming ambiance for your guests.
Lighting Matters: Creating Ambiance for Daytime Brunch
Use natural light during daytime brunches for a standout mimosa bar by setting up near windows or outdoor areas. Add fairy lights, lanterns, or candles for evening events to create a cozy, inviting atmosphere for conversation and relaxation.
Hosting Tips and Tricks
DIY vs. Assisted: Allowing Guests to Create or Hire a Mimosa Mixologist
Consider the atmosphere you want for your mimosa bar. Do you want a casual, interactive vibe or a more refined experience? Think about your vision and your guests' preferences.
Temperature Matters: Keeping Your Ingredients Chilled
Keep your mimosa bar ingredients cool using ice buckets, chilling stations, or refrigerated carts. This ensures your champagne, juices, and garnishes stay fresh and crisp throughout your event.
Hydration Station: Providing Water and Non-Alcoholic Options
Offer guests non-alcoholic and lighter beverage options, such as a hydration station with still and sparkling water, flavored waters, and fresh fruit-infused options.
Mimosa Bar Etiquette: Guiding Guests Through the Setup
Help guests feel comfortable making their own mimosas by providing simple instructions on the ideal juice-to-champagne ratio and order of ingredients. Display these creatively, like on chalkboards or signs.
Capturing the Moments: Designating a Photo Corner
Create a photo corner near the mimosa bar with backdrops, props, and lighting. Encourage guests to take pictures of their drinks and the setup for lasting memories.
Frequently Asked Questions (FAQ)
1. Are disposable party supplies eco-friendly and sustainable?
Disposable party supplies have come a long way regarding sustainability. Many options available today are made from recyclable or compostable materials, reducing their environmental impact. Now, you can enjoy the convenience of disposable items while making a conscious choice for the planet.
2. What are the benefits of using plastic champagne flutes and carafes?
Plastic champagne flutes and carafes blend elegance and practicality. They're shatterproof, especially for outdoor events or gatherings where accidents can happen. Additionally, they are lightweight and easier to transport than glassware, making setup and cleanup more manageable. Choose high-quality plastic items that mimic the appearance of glass for a sophisticated touch.
3. Can I personalize or decorate disposable party supplies?
Absolutely! Many disposable party supplies are designed to be customizable. You can find options that are plain and ready for your personal touch. Decorate plastic champagne flutes with adhesive labels, stickers, or ribbons that match your theme. Use markers or paint pens to add creative designs to paper napkins. Personalizing these items allows you to tailor your mimosa bar to your event's aesthetic.
4. How do I calculate the quantity of ingredients for a mimosa bar?
Plan each guest to have 2-3 mimosas for a mimosa party. Multiply the number of guests by the estimated number of mimosas per person to determine the total amount needed. Have enough champagne, juices, and garnishes for everyone.
Here's to raising the bar on brunching, capturing the essence of elegance, and embracing the magic of every moment shared. Cheers to you and your remarkable ability to turn ordinary moments into extraordinary experiences.
Party on, Smarties, With love, Smarty had a Party!