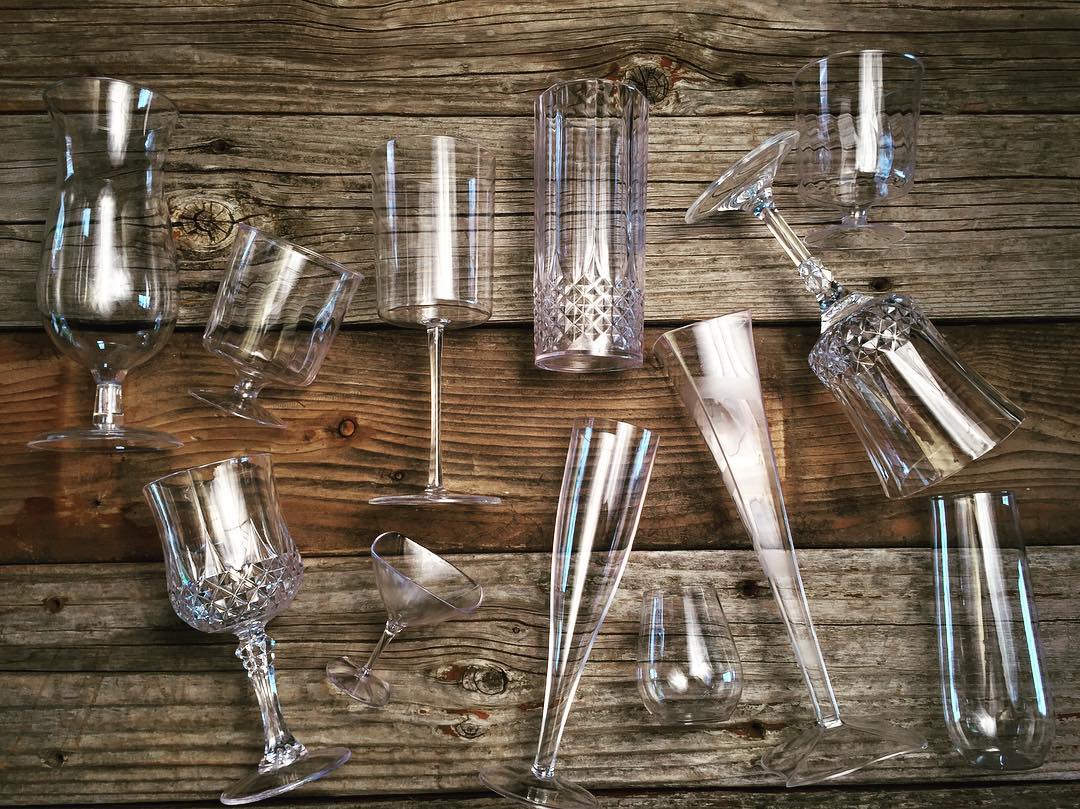 Dishwasher Safe Plastic Cups
How often have you found white spots on glasses when unloading a dishwasher? They look bad, and you can't serve them on your party tables - the guests would think they're dirty. But, we have the solution to save you from that frustration! Read along for tips to wash plastic cups without staining or scratching them.
Complete Guide to Dishwasher Safe Plastic Cups & Glasses
We have everything you need to know about how to clean plastic glasses. We will also answer your questions about dishwasher safe plastic cups, like, "is plastic glassware dishwasher safe? Or where do I get dishwasher safe plastic glasses?"
How to Clean Plastic Glasses
There are several ways to clean your plastic glasses. For daily cleanup, you can wash them by hand or in the dishwasher - not an issue. However, the problem begins when they start to stain or get scratched. So let us tell you how to make your plastic glasses sparklingly neat.
Be careful not to use a rough scrubber on the glasses as it might scratch them. Use a soft sponge instead. For tougher stains, dip the sponge in vinegar and clean the glasses.
If the stains are too tough to clean with vinegar, put a small amount of lemon juice and baking soda in it. These three ingredients combine to make the most effective cleaning agent.
How Often to Hand-Clean Dishwasher Safe Plastic Cups
If you're considering washing your plastic cups by hand, you should wash them after every use. Likewise, keeping your drinking glasses clean and free from bacteria is crucial.
Since germs can get on your glasses through your hands and mouth, you should clean them regularly. First, use a dish cleaning detergent and a soft sponge to clean them. Then, rinse with water and wipe with a towel.
Handwashing Plastic Wine Glasses
You can handwash the plastic wine glasses if you don't think of using a dishwasher. For that purpose, keep a few tips and tricks in mind to attain a clean and clear glass.
First, do not use a rough scrub on the glasses! You might not notice the scratches, but when you serve them to your guests at a party, they will. The abrasions on those glasses become more prominent in lights - so they can downgrade your party tables.
Second, use a mild cleansing agent for common stains and vinegar for tough stains.
Third, handwashing requires you to dry the glasses with a clean piece of cloth. If you don't do so, the water drops will stain the glass.
Cleaning Plastic Glasses in Hard Water Areas
Plastic glasses can stain when washed with hard water. The main reason behind this staining is the reaction between soap and hard water. The cleaning agent can react with the magnesium ions in hard water, forming a white stain on the glasses. That stain looks so bad and needs to clean up.
You can clear these stains with bleach. Put a small amount (about 10 grams) of household bleach in a cup of water and use it to clean the glasses. Then, rinse them thoroughly to remove the bleach odor.
Cleaning Cloudy Plastic Glasses
So, how to clean cloudy plastic glasses? The answer is vinegar. Use a combination of vinegar and baking soda as a perfect cleaning agent.
Put ¼ cup vinegar in a bowl and add one teaspoon of baking powder. You will see bubbles forming - wait until they settle down. Dip a soft sponge in this mixture and gently rub it on the cloudy plastic glasses. Rinse with water and dry with a microfibre towel.
Checking Your Polycarbonate Plastic Glasses Regularly
This tip is for all the restaurant and business owners who want to keep their glasses spick and span. First, check your polycarbonate plastic glasses to ensure they have no scratches or damage. You don't want to serve your customers with scratched drinkware.
The care for your polycarbonate glasses doesn't stop here. After you wash them, dry them with a soft cloth, and store them in a safe place.
Steps for Cleaning Plastic Wine Glasses
You can clean wine glasses in no time if you follow the correct procedure. Here is a step-by-step guide to cleaning your dishwasher safe plastic glasses.
Put half a cup of white vinegar into a bowl. If the stains are stubborn - like the hard water stains or cloudiness - put a tablespoon of baking soda and stir.

Dip a cleaning sponge and a small towel into the bowl of white vinegar. Let both soak most of the vinegar.

Once the sponges soak up the vinegar, take one of them and put it in the glass. Make sure it covers the glass from the inside and reaches every stain.

Take the towel soaking up the vinegar and place it around the glass. This vinegar-soaked towel should cover the glass from the outside.

Let the glass sit for about 6 hours.

Take the sponge and towel off the glass and rinse it with water. You'll notice so much difference in its appearance. Wipe it with a dry towel and store it in your kitchen cabinet.
How to Prevent Cloudy Glassware
Alright, now we know how to clean cloudy plastic glasses, but how do we prevent it from happening in the first place? You can do that by following a few simple tips.
Dry the glasses with a microfibre cloth after washing. If you let water drops stay on the glasses for a long time, they will leave white spots.
Use soft water in the dishwasher. If you live in an area where only hard water is available, put a teaspoon of baking soda in the water. The soda will dissolve the magnesium and calcium ions, making the water soft.
Buy Fancy Disposable Plastic Wine Glasses at Smarty Had a Party
Now to answer your question, "are plastic cups dishwasher safe?" Yes, ours are! And you might want to give them a try. Shop from our wide range of disposable plastic cups and use them in whatever ways you like. Wash them by hand or toss them in a dishwasher - they will stay the neatest!
Smarty Had A Party is your go-to, one-stop shop to buy any plastic dinnerware. Whether you want plastic coffee cups to take with you in the morning or fancy plastic wine glasses to serve at parties, you can find it all on the website.
FAQ
How do you remove cloudiness from plastic drinking glasses?
You can use vinegar to clear up cloudy plastic glasses. Add a tablespoon of baking soda to the vinegar if the cloudiness persists. We've stated several such ways in this blog.
Can I use vinegar and water to clean my plastic cups?
Vinegar is our holy grail product for cleaning almost all stains on the glasses. Vinegar will work effectively, whether it's hard water stains or coffee stains. You can use vinegar as it is or mix it with equal amounts of water - both ways are great.
Why do my drinking glasses get cloudy?
Plastic drinking glasses get cloudy mainly because of hard water, not drying after washing and etching. However, you can make your cloudy glasses shine again.
Does vinegar damage glasses?
Vinegar won't damage your drinking glasses. However, it might do harm to your eyeglasses. Its acidic nature can dissolve the mineral deposits from plastic glasses but will scratch your spectacles.